Caribbean Castaways
is creating Salty Travel Tips & Exclusive Castaway Content!
Select a membership level
Swab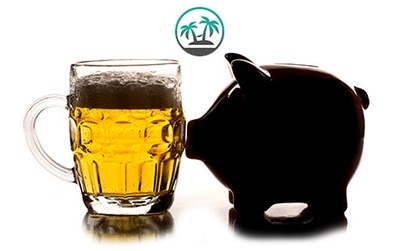 This is the "Hey, I love Caribbean travel too! Have a drink on me" tier. Support real people making real stuff. By joining our castaway crew, you can help us grow as independent artists and get better at what it is that we are doing.
All patrons receive: 
Early Access To New Videos
Access to Q&A Ask Us Anything Videos! 
A virtual high five
This also helps us keep ads off our website. No body likes being interrupted by ugly banner ads. I know we hate them! With enough support at this level, we will be able to kick those nasty ads to the curb forever. Cheers!
Mate
Seriously, you are an AWESOME human! Thanks for getting behind us and keeping us afloat.
The Mate Tier You Get:
We will send Caribbean Castaways Logo Sticker.
Access to our Patrons Only Facebook Group
Early Access To New Videos
Access to Q&A Ask Us Anything Videos! 
You guys help us in the process of posting content, be it a blog, video, or podcast, you are a huge help! All donations go towards better equipment (we have lost a drone in the Virgin Islands, and it probably won't be the last time) so we can continue to improve the quality of our videos, and produce content that helps you find those hidden-gem beach bars, and must stay hotels. 
When you get the sticker, send us a DM photo on Instagram and we will share the photo and send you a personal thank you!
The private Patrons Facebook Group is awesome! Just a bunch of salty castaways talking about the Caribbean and planning their next trips. We are in there and will help you with planning and giving you recommendations on lodging, charters, restaurants, best beaches and anything else you need to make your trip super amazing!
Pirate
Woohoo thank you guys so much for the support castaways! We love sharing this adventure with you all, and the challenge of travel costs, producing videos, weekly podcasts does add up, but with you, more Caribbean content is coming your way.
For your 15 bones and on top of everything above, you shall receive:
2 x Beer coozies plus
2 x Caribbean Castaways stickers (minimum two months)
The Caribbean Cocktails Recipe eBook (digital)
Private Patrons Only Facebook Group
Early Access to Videos
Access to our Q&A Ask Us Anything Videos
There's a rumor going around that drinks (beer) tastes even better in our Castaway Coozies! We might be bias, but I think the rumor is true. If you support us at this level you'll get two coozies, two stickers, and a heap of gratitude from Crystal and I. 
When you get your Caribbean Castaways swag, we invite you to take a photo of it in use and DM us on Instagram. We will share the photo in our IG story and send you a personal thank you. Thank you!
About
Our passion is to explore the Caribbean and inspire others to experience the magic of these islands.
Close your eyes and remove yourself from the everyday. Now picture your toes sinking into soft white sand as waves kiss your ankles. It's a serene feeling that everyone should experience. Hi, we are Ryan and Crystal (RumShopRyan and Castaway Crystal) a husband and wife team that travels the Caribbean in search of the best it has to offer so we bring it back to you and give you better vacation experiences. 
Who Is RumShopRyan?
Howdy! I'm Ryan and I hail from the land-locked, can't get any further from the ocean, state of Kansas. I moved to laid back southwest Florida in 2001. I didn't know a single person and didn't have a job. Risky I know, but the ocean was calling and I had to answer.
I'm a huge fan of Kansas City sports, so you'll probably see a lot of Jayhawks, Chiefs and Royals attire in my photos. Kansas City is a great town and I'm glad I'm from there, but the coastal life was calling. It's kind of like Kenny Chesney's "island boy" song. Check out the lyrics and you'll see what I mean.
I write because I'm passionate about the Caribbean and the island lifestyle, and it's my way to share it with you. If it has anything to do with the Caribbean, rum drinks, beach style music, or Caribbean culture, you'll be able to find it on this site.
When in the Caribbean you'll find a camera around my neck and note pad in my pocket. This is how I document the experiences in unique and interesting ways and bring it back to you, the Castaways.
Who is Castaway Crystal
I was raised in Southwest Florida so it's no surprise that I have a love for beaches, water and nature. As a child, most weekends were spent fishing in the warm gulf waters on the family boat.

As an adult, most weekends are spent soaking up the sun on Ft. Myers Beach. Even though I have always loved the coastal life, I don't think I fully appreciated it until I moved to Nashville, TN. I'm all about experiencing new things, and as a Licensed Massage Therapist I thought it would be amazing to massage some of Nashville's biggest stars (a girl can dream right?). But I missed the sun and sand too much—and let's not forget the rum runners! After a year I couldn't take it anymore, this sun bunny moved back to her coast of somewhere beautiful.

I've always been passionate about photography and writing but my passions never really had a purpose until I met Ryan. I couldn't be happier being Ryan's first mate and sharing my photos and stories with you. May they inspire you to go after your tropical dreams and wishes. Make a plan…Set a date…Just go!

Recent posts by Caribbean Castaways
By becoming a patron, you'll instantly unlock access to 1 exclusive post
By becoming a patron, you'll instantly unlock access to 1 exclusive post