Carnal Instinct
is creating an Adult RPG
Select a membership level
Acolyte
Includes:
Access to Patron-only development news (NSFW updates)
Access to Patron-only Discord Server
Access to High-res versions of promotional screenshots
Our gratitude for your support
Includes Discord benefits
Behind-the-scenes content
Avatar
Includes:
Access to latest monthly uncensored Patron-only builds with more features
Patron-only polls for new characters, animations, features, etc
And everything in the previous tier
Includes Discord benefits
Behind-the-scenes content
Ascended One
Includes:
Early Access to uncensored Patron-only game builds
Access to Ascended Support via Discord.
Access to regular Developer Q&A via Discord.
Vote in exclusive Ascended-Only Polls.
Name added to the Tomb of the Ascended (in-game zone).
And everything in the previous tiers
Includes Discord benefits
Behind-the-scenes content
About Carnal Instinct
"I am an Avatar of Kethra, God-Queen of lust. Gaze upon my perfect form ye mighty and despair"
Nameless Follower of Kethra

Our journey begins in a realm of ancient myth, where the life-giving waters of the Euphoris river meet the sandswept ruins of Sabu. The God-Queen Kethra has not been seen for a thousand years, but rumors of her return are uttered in hushed tones throughout the sprawling villages along the shoreline of the once mighty waterway. Deprived of its divine empress, Sabu has fallen under the rule of eight demigods, powerful beings that once served Kethra as bodyguards. Unchecked, these immortals now vie for power as warlords, their conquest bathing Sabu with the blood of the innocent.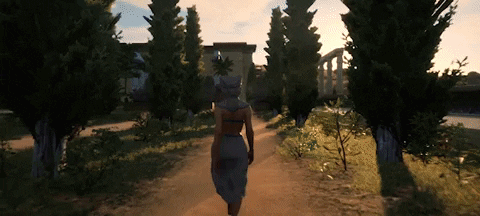 You enter this world as a slave, a prisoner of fate and the cruelty of others, but you will find that your future is as changeable as the sands of Sabu. The path of fate is yours to tread and your story is not yet written...
Carnal Instinct
is an Adult RPG with an emphasis on AAA quality visuals and compelling erotic interaction. Our team has over 20 years development experience and brings that formidable expertise to bear in this ambitious open-world adventure.


Our initial release features playable races on the first step of their ascent to godhood; echoes of the deities themselves, humanoid in form but with elements of animal gods influencing their appearance. This is but one form you can adopt, and as your power increases and development continues, so too will you be able to shape your body - from one which retains the majority of your once-human form ( Monster Girls), to the truly primal shapes of the ancient gods (Centaur, Naga, Sphynx, and more).

Key Features:
A range of visually distinct playable races. Customise everything from your skin tone and outfit to your animal aspect and genitalia. 
Fully realised 3D sex acts. Whatever takes your fancy, from vanilla to kinky, a plethora of tastes are catered for. All scenes feature highly-detailed 3D animations, sounds, voice acting, and particles to bring you right into the action.
Multiple NPC partners. Some NPCs are interested in sex with strangers, others may require you to undertake quests or even topple warlords before they're open to your advances.
Immersive open-world RPG. Not just a porn game, Carnal Instinct features a vast and beautiful hand-crafted open world that is teeming with stories to unravel and secrets to uncover. The game features everything you'd expect in an RPG, with quests, dialogue, inventory management, trade, and more.
You have my sword. And my... bow! An open-world RPG would not be complete without combat - take the fight to monsters and bandits alike with your blades. Archery, thrown weapons, and combat magic are already in development too, watch this space!
If you see it, you can reach it. Todd made the idea a meme, but here we're actually doing it. The entire world will be open to you - no invisible walls. With our climbing and vaulting system you can scale every distant mountain - and with our detailed world full of all kinds of hidden "interactions" it's well worth your time to do so. 
Upcoming Features:
Constant expansion of playable content every month. More sex scenes. More playable races. More clothing. More customisation options. Expanded worldmap.
Dynamic sexual interactions. Pushing our sex scenes to the next level, we're currently developing more fluid and interactive systems to give you total control over every thrust and squeeze.
Photo studio mode. Pose, light, and show off your unique character with this mode. Be they standing heroically alone, or caught in the act with a conquest, it's up to you.
Stealth upgrades. What's the point in climbing down a cliff into an enemy camp if you can't restrain or dispatch them silently. We've a wealth of sneaky surprises yet to come.
Exotic races & sex scenes. Currently only ingame as NPCs, we're bringing Centaurs, Nagas, and all manner of exotic forms out to play. Constrict as naga, swim as merfolk, soar as dragonkin, or thunder across the sands as a centaur. The order in which we implement these final-tier forms will be decided on Patron-poll.
Environmental hazards. Sabu can be a dangerous place, many forgotten things lurk in the tombs beneath the sands. Things which lust for the warm flesh of the surface dwellers.


Which version of the game is right for me?
There are two versions of Carnal Instinct,
subscription
and
perpetual
. For the latest content access the
Patreon
and
SubscribeStar
versions offer
monthly updates for all tiers
, with Ascended tier patrons getting multiple updates per month.
Steam
on the other hand will run behind the subscription version and only receives content updates once every three months.
Some tiers include Steam Keys
, offering the best of both worlds. If you're interested in purchasing the perpetual game you can buy a Steam Key right now
via our website
(
unlocks March 1st 2021
).
PATREON BILLING PSA
Due to the way Patreon manages up-front billing, whatever date you pledge,
your access to updates will only last to the end of the month in which you subscribed
(after which time you can still play your latest downloaded version but can no longer update the game). This is unfortunately unavoidable for us and something we hope Patreon will resolve in the future.
Please contact us directly if you have any issues.
Please note that we cannot reply to exit surveys as these are anonymous.
Vastly increased volume of new content per update.
Frequent 'bonus' updates (in addition to usual timetable).
Core team all become full-time on the project.
1 of 1
Become a patron to
Unlock 45 exclusive posts
Connect via private message
Recent posts by Carnal Instinct
How it works
Get started in 2 minutes