Cassie De Pecol
is creating Exclusive Travel/Fitness Content and Educational Materials
Select a membership level
The Explorer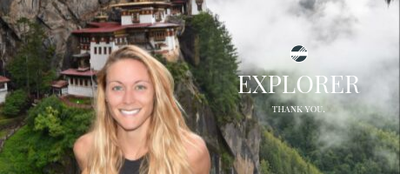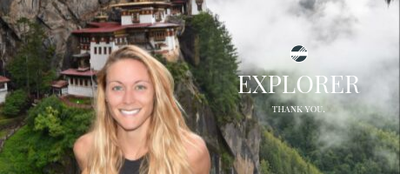 Thank you for committing to this epic journey of education and exploration as well as supporting my ongoing efforts to provide the best possible content for you! 
The Voyager
◦ Thank you (by name) in next YouTube video
◦ Early release of select YouTube videos one week before they are released to the public! 
◦ The exclusive Patreon only feed
The Trailblazer
Limited (100 remaining)
◦ Signed copy of book (worth a $50 value)
◦ LIVE stream event where I'll breakdown a certain topic of travel with LIVE Q&A
◦ Monthly travel tip newsletter subscription 
◦  Patreon community message board
◦ 10% discount on online store
◦ Thank you by name in next Instagram story
◦ ALL the rewards from the previous tier
To be eligible for this award, you'll need to be a $50 Patron for at least two months
About Cassie De Pecol
When I was a kid
, I had a dream to travel the whole world and make it a better place. I had never traveled much growing up, and could never afford any of the high school trips my friends would go on, so when I reached 18, I decided to take my college education out of my own country to begin my journey of exploration. Through student loans, working for free room and board, starting a blog, babysitting and lifeguarding along the way, it wasn't until the age of 24 that I committed to making travel my lifelong career.
For 3 years
, I worked myself to the ground to make my vision a success. After being edited and portrayed in such a negative light on Discovery Channel's 'Naked and Afraid', and working to make minimum wage 85 hours a week as a babysitter, I wanted none other than to do this alone, and do it well. In those three years, I must have sent out over 2,500 e-mails to potential companies and organizations 
to partner
with for what was 'Expedition 196', my philanthropic and record-breaking odyssey to every country in the world. For every 100 e-mails, messages and conversations I had with potential backers, I'd get three 'Maybe's', and of those three, only one would commit, maybe financially, maybe only for product, or maybe just for support.
In 2017
, I became the '
Fastest Person
' and '
Fastest Female
' to travel every country in the world, and in doing so, became the 
first woman
on human record to have traveled every country in the world. Along the way, I spoke to over 16,000 university and high school students on important world issues, as well as planted trees to offset my carbon footprint, collect water samples from our worlds waterways to test for the presence of micro plastics, and handed over a declaration to our worlds Ministers of Tourism and Mayors of towns and cities. My book, '
Expedition 196: A Personal Journal from the First Woman on Record to Travel Every Country in the World
' released the summer of 2018.
I recently formed 
Her International Inc.
, a 501(c)3 non-profit organization whose purpose is to fund female-driven businesses that support one of the United Nations Sustainable Development Goals.
Of course though
, I have a life out of travel and business, and that is 
triathlon
. I've been training for and racing triathlon for over 15 years now, and having just released a fitness app, '
World Fitness by Cassie
' (in Google Play, Android and iOS), I've got a lot of exciting programs for you to share in the coming months. With your support, I'm able to make these projects come to life, to better help you on your journey to 5k, full Ironman or next Guinness World Record holder in Travel.
My journey of exploration
and education has only just started, and with your help, I'm able to share my valuable knowledge, tips, and expertise in a field of travel as a woman that really, only I can provide as the first woman publicly and on record of having traveled to every country in the world.
Thanks so much
for visiting my Patreon and being a part of my journey in life. All I want to do is educate, inspire and encourage. Please consider supporting my Patreon if you have a love for traveling or triathlon and want exclusive content and information on both :). 
In Health and Travel,
Cassie De Pecol
Once I reach a collective monthly commitment of 500 Patrons, there will be two exciting milestone events.

1. I will host a giveaway and choose two winners to receive a bag of my favorite travel must-haves.

2. I'll take a trip anywhere in the USA and take only my Patrons along with me for the ride; posting my journey for only you guys to follow along with (no one else!). Best part? By unanimous vote, YOU will choose where I will travel within the USA and suggest what I should do!
1 of 3
By becoming a patron, you'll instantly unlock access to 2 exclusive posts
By becoming a patron, you'll instantly unlock access to 2 exclusive posts
Recent posts by Cassie De Pecol
How it works
Get started in 2 minutes