Catherine Herrera - Flor de Miel Media
is creating Film, Photography, Art and Writing
Select a membership level
Supporter Love!
Showing Love - Keep Moving Forward!
This encouraging Membership Tier shares the love!
* Receive a brief monthly update on the impact of your contribution
Step by Step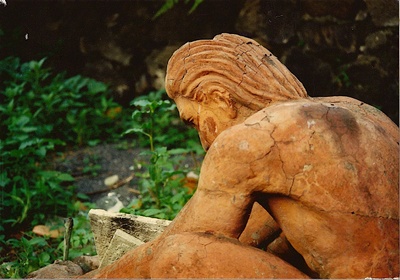 Walking with You! 
This membership tier offers: 
*access to a monthly featured photo or artwork from my collection delivered digitally for Patreon members for private viewing
* monthly update of new work and upcoming event
Ocean Lover!
Ocean Lover Membership is for those supporters who are really connect with the mission to bring greater awareness to coastal ecology and promoting healthy co-existence. 
This membership tier offers:
* Monthly Update on Coastal Projects supporting the ocean, sea animals and California Coastal 
About
Thank you for exploring more about my art, photography and films, and investing in the arts as a catalyst for dialogue, change and compassionate healing. I create art to connect with people, especially on issues that we face universally, as human beings living on this planet, at this moment - our moment - in history. I offer art that mirrors my own journey yet, reflects beyond to common questions, issues and themes, often on topics of belonging, home, healing from colonial trauma, and embracing ancestral connections as guides for today. Over the last 30 years, I have adapted my storytelling to the medium best suited for the project, and often, that was the medium in which I had a chance of completing the work within the financial, social and cultural limitations before me. I feel so fortunate that the connection through my art has lead to invitations to screen, exhibit, collect, and explore my photography, films, and art. I am super grateful for the Patreon platform as a means to connect with supporter and members, and for the immediate change to connect and share the progress of projects long before the exhibition, screening or presentation. Here is recent feedback from my 2019 public performances and exhibits:
'I feel so lucky to have been able to witness up close some things about your art and the way you work. I am still feeling affected on a near-daily basis by the Spirit Doll of Light and the feelings and messages you communicate through that work and your images as well. Thank you so much, I feel really honored that I was able to be involved in this project with you. As it relates to my own journey, I have some new tools and language for thinking about how the past and present relate to each other.. how the past reaches forward to change the present, and also how the present moment can reach back to interact with the past. Thank you for this, I am eternally grateful.'
  Laura Steenberge, Indexical, Feast of Beams with Carmina Escobar'Happy New Year and New Decade!! Just wanted to drop a few lines, recapping the year and thinking about your beautiful work. Hope we meet again soon!' Carmina Escobar, Performance Artist
Thank you for contributing and supporting the creation, sharing and broader distribution of this art designed to add beauty and healing to the world; thanks to you, now reaching further and wider than I could have ever dreamed possible!
Investment Rewards
No matter the membership level you choose, you will be making it possible to scale up and implement broader reach for the creations underway.
Join the journey as we explore the issue of Public Coastal Access, support and participate as the Spirit Doll Project as the exhibits and workshops expand further out in the world, make possible a quality art book and accompanying online video short series sharing the stories behind the photographs selected for the book.
Projects Currently Underway
Multi-Media Film and Art Project: Shifting Tides (working title)
Shifting Tides is a media project that tells the story of Martin's Beach just south of Half Moon Bay, California as the beach is closed by a private tech venture capitalist, and the ensuing fight that many coastal communities face attempts to erode public coastal access. The Martin's Beach story was covered in press around the world, and particularly in Asia where the tech venture capitalist was well-known for Green Tech.
Sundance Collaborative for mentoring and to workshop the Coastal Access Multi-Media project
Summer 2019 Production Filming of interviews and Martin's Beach
Fall 2019 Trailer editing
Spirit Doll Series
The series of coastal wood and shell dolls exhibited recently at the Triton Museum of Contemporary Art elicited 'joy' and 'celebration' from museum goers sharing with the exhibit curators. The dolls retell history about Mission times in California, and speak to notions of wholeness when injured or disabled. The Spirit Doll Series began while recovering from a major injury and disability and genealogy research on my family helped me in the healing process.
2019 Exhibition Schedule

de Saisset Museum, Santa Clara, California through June 2019
Triton Museum of Contemporary Art, through April 2019
The Photography of Catherine Herrera Hard Cover Book
October 2020 is the launch date for an exhibit and book of photographs selected from my portfolio and marks a retrospective of my journey as a photographer.
The Book Proposal and Business Plan is developing to the next stage of finding and working with editors for selecting final images.
I have some exciting rewards that will brighten your day, offering content not found anywhere else and a valuable investment where traditional venues fail to see the potential based on part work and effort.
A quick word about me..
I fell in love with photography early in life after a class using a pinhole camera.Until I could buy a camera, I used the old framing with my fingers which taught me how to frame an image.
In college, I worked for my school newspaper, and loved seeing my images in print. More than that, I made my first portrait sale and was told my photo revealed something not seen before.
After school, I made my first film,
'Alphabet People,' screening at film festivals, and on public television.
I moved to Mexico with a Fulbright and began working as a photojournalist for U.S. and Mexican publications.
I expanded professionally into news and documentary production in the U.S. and Mexico and exhibited my personal photography projects in the U.S. and Mexico.  
My professional career and personal work began to shift as I began reconsidering my purpose and what I felt called as an artist to pursue. That transformation required more inward reflection in contrast to always focusing the lens outward.
My art work today reflects the themes that I have been drawn as an artist and human being.
In San Francisco, my art has been exhibited at the de Young Museum, Triton Museum of Contemporary Art, U.C. Berkeley, San Francisco Art Institute, MACLA, MCCLA, de Saisset Museum and Guadalupe Cultural Arts Center.
I am a San Francisco-based exhibiting filmmaker, photographer and artist. Your contribution makes possible expanding exhibiting in the San Francisco Bay Area, Texas and Mexico over 30 years on assignment, commission and developing personal projects in film and photography.

Conclusion
Thank you for joining the membership to receive Patreon-only rewards. Thank you for sharing and supporting on social media if a donation is not a good fit right now. Visit again for as new project specific rewards are rolled out.
Follow me on Instagram for free postings of work!
Mention Patreon to receive a discount on any Catherine Herrera photo print or product.
Spring is coming close to Summer and its a great time to be mobile with the coastal access project! Your support will make possible increasing the quality level of the 'Spirit Doll' series by making it possible to get professionally printed labels, cards, and related 'Spirit Doll' cards and merchandise to expand our summer presentations on coastal access.

The professional presentation means the 'Spirit Doll' series can expand our audience and begin approaching partners already working in the arena of coastal access and education. 

The labels will be printed on green paper products and incorporate a stylistic synergy to the dolls with a rustic design. The design carries over into the postcards, also professionally printed, two-sided that speaks to both the 'Spirit Doll' series and on one side, information on coastal access with links to partners and valuable resources. 

Since the 'Spirit Dolls' are collector's items, I am introducing related merchandise such as note cards, canvas prints and posters. Professionally printed samples of 10 for each of the three categories will be created and made available for sale.  

Your investment will make it possible in this first year of operation, to assess the full potential of the 'Spirit Doll' series as art with a healing message to attract sustainable sales, and in the mean time, allow for expansion of the project through the important summer months when interest and venues are most abundant on the coast. 
1 of 4
By becoming a patron, you'll instantly unlock access to 1 exclusive post
By becoming a patron, you'll instantly unlock access to 1 exclusive post
Recent posts by Catherine Herrera - Flor de Miel Media
How it works
Get started in 2 minutes