CATMANTOO
is creating content to help cats live long healthy happy lives
Select a membership level
Smart kitty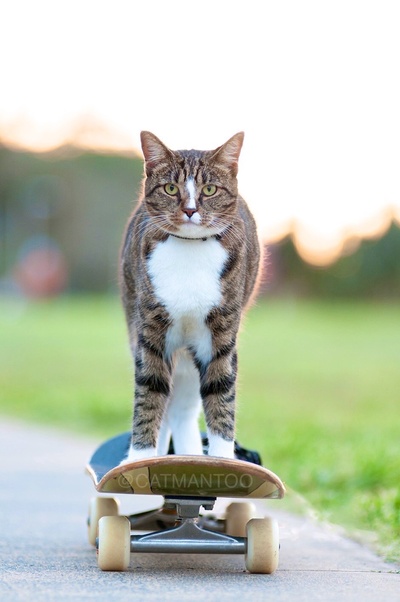 Thank you for supporting my passion. At this level, you've now gained access to some of the most comprehensive cat training and behaviour modification videos/information on the web. One video shows you how in just 30 seconds to a minute of training a day you too can have a well trained cat.
Example of some of the tutorials at this level? Sit, stay, down, come, leash training, clicker training, litter box problems, pet carrier training, dog tutorials, some BTS and some extra training tip content
Who's a Smarter Kitty?
Thank you for supporting my passion for helping cats! Your generous contribution it will be put to good use, and help me reach my goal quicker. 
Patrons at this level will have access to more tutorials and extra content, such as more advanced tricks like sit-up, high-five, stand and spinning 360, how to teach a cat to ride in a bike basket, plus more behavior modification videos, establishing boundaries, scratching/biting you, teach your cat not to wake you up at night, and more. 
Who's the Smartest Kitty?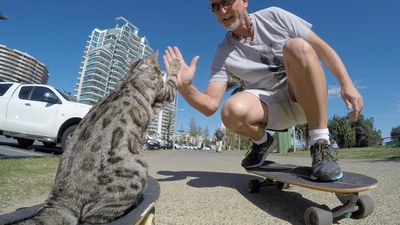 Thank you! Your cat will soon be the smartest ;-) because this is an above average contribution which shows you have faith in me and value my advice. 
To say thank you, you get...
More tutorials like Roll-over, Sit in one hand, target training, with more BTS and special content
All previous levels rewards, plus a few extras
Direct access to me through Email support - One question per month. You must send messages/questions through Patreon so I know you are a patron. 
High definition digital print photo (emailed to you) of Didga & Boomer at the beach. Some people use the picture as screen saver, or have a print made to hang it on the wall.
Sneak Peek before everyone else of new videos, I may need your opinion or your help naming the video? 
Access at this levels exclusive footage/tutorials/behind the scenes footage. 
About
Hi, My name is Robert Dollwet, I have over 35 years experience as a professional animal trainer/behaviorist. I have the CATMANTOO channels on social media, and Didga the most talented cat in the world. 
I'm here to share with you my expert cat/dog knowledge, but making tutorials is a lot of work, so I need help from the community to continue to:
1. Make informative trick and behavior fixing tutorials
2. Use this page to directly communicate with my patrons.
3. Continue to be a voice for animal welfare causes, adopt/rescue, ban declawing, spay and neuter, and more.
4. Continue to foster cats/kittens, teach them how to walk on leash and other things, share their progress on my social media, all to increase their chances of adoption.
5. Continue to educate the public about cats
 
I owe our popularity of 1.5 million followers to a cat name "Didga" (short for Didgeridoo.)  She was adopted from a shelter and is now an ambassador for shelter cats. She and Boomer, who are both Guinness world record holders, are going to assist me in helping you and your cat, plus help cats all around the world. We're known from our many viral videos, but I'm taking a break from that so I can share may expertise with all of you. That's why I'm on Patreon, I can use some help from you guys to continue making tutorials helping cats and cat owners.

What becoming a patron will do: It will help me continue my passion of helping cats, it will allow me time to communicate with our patrons, giving me the time and incentive needed to make informative tutorials, allow me time to provide bonus content at various levels, make more behind the scene videos, sharing my trick training/filming secrets, And best of all, with your help, the more content/tutorials we put out, the more my channel and audience can grow, giving me a larger voice for the animals in need.

Note: All previous tutorials are currently being revised (re-produced), Most will only be viewable to patrons on this channel. Many new written or video tutorials are being planned (at many of your requests) like: Boundary training, cat to cat introduction, aggressive issues, litter box/house soiling problems, Pet carrier training,  riding in a car, how to sit-up, roll-over, go to a mark, skateboard, walking backwards, and much much more 

Thank for joining us here at CATMANTOO
Robert, Didga and Boomer

Reaching this level will allow me to produce content more frequently for all levels, I'll look into hiring a part time helper (human) which is desperately needed, if you've been following us for some time you may have seen a dramatic drop in posted content, reaching this level will help me produce more entertaining content and informative videos/tutorials! Things can only get better. Robert
2 of 3
By becoming a patron, you'll instantly unlock access to 122 exclusive posts
By becoming a patron, you'll instantly unlock access to 122 exclusive posts
Recent posts by CATMANTOO