Cathrine's Studio Vibes
is creating Art videos and interesting art stuff
Select a membership level
Studio-Patron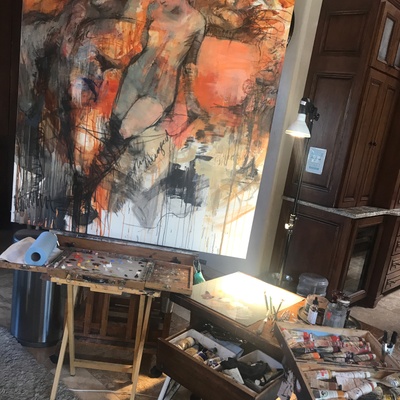 If you like what I am doing, your "Studio" contribution keeps things going and supports me with my studio's ongoing expenses to air my free 1 hr livestreams on Instagram.

Besides my deepest gratitude❤️here is what you will get in return:

PATRON-ONLY-COMMUNITY
Get access to my video pot casts, where I will mix it up:
- I will be sharing valuable information about painting and drawing and my experiences in the art world in general
- I will give you the latest info about what's happening at my studio, painting/stretching/varnishing but also like shows and upcoming workshops.
- I will take you to exhibitions, (once that is possible again)
- You can listen to me talking to other inspiring artists and exchanging
ideas.

WEDNESDAY LIVESTREAMS
-Watch me paint on my Wednesday livestreams, viewable anytime to your convenience for my patrons only!


Thank You, I appreciate you!
Cathrine


You can easily change or cancel your membership at any time;-)



Cup of coffee - Patron
If you like what I am doing, your  "cup of coffee" contribution in supporting me with my studio's ongoing expenses as well as for the extra materials needed to air my free 1 hr livestreams on Instagram and art demos as well as the extra content (exclusive art demo videos and clips) for my Patreon community .

Besides my deepest gratitude❤️here is what you will get in return:

PATRON-ONLY-COMMUNITY
Get access to my video pot casts, where I will mix it up:
- I will be sharing valuable information about painting and drawing and my experiences in the art world in general
- I will give you the latest info about what's happening at my studio, painting/stretching/varnishing but also like shows and upcoming workshops.
- I will take you to exhibitions, (once that is possible again)
- You can listen to me talking to other inspiring artists and exchanging
ideas.

WEDNESDAY LIVESTREAMS
-Watch me paint on my Wednesday livestreams, viewable anytime to your convenience for my patrons only! 

1 UNCUT VIDEO/MONTH
Watch me paint!

Thank You, I appreciate you!
Cathrine


You can easily change or cancel your membership at any time;-)




Lessons & Workshops
If you like what I am doing, your "Lessons & workshops" contribution will support me with my studio's ongoing expenses for extra materials needed to air my free 1 hr livestreams on Instagram, art demos as well as the extra content, lessons & workshops for my Patreon community!

Besides my deepest gratitude❤️here is what you will get in return:

PATRON-ONLY-COMMUNITY
Get access to my video pot casts, where I will mix it up:
- I will be sharing valuable information about painting and drawing and my experiences in the art world in general
- I will give you the latest info about what's happening at my studio, painting/stretching/varnishing but also like shows and upcoming workshops.
- I will take you to exhibitions, (once that is possible again)
- You can listen to me talking to other inspiring artists and exchanging ideas.

LESSONS & WORKSHOPS - I will announce and post downloadable workshops, free and exclusively for my patrons, one lesson at the time, week by week, month by month.

WEDNESDAY LIVESTREAMS
-Watch me paint on my Wednesday livestreams, viewable anytime to your convenience for my patrons only!

1 UNCUT VIDEO/MONTH
Watch me paint!

Thank You, I appreciate you!

Cathrine


You can easily change or cancel your membership at any time;-)
About
Have you ever wondered what I do at my studio all day?

Would you like to peek in on a regular bases and see?

NOW YOU CAN!

Starting with under the price of having a cup of coffee with me/monthYou can become a patron of my art studio!
_____________________________________________


WHAT IS PATREON?
By supporting creators you love on Patreon, you're becoming an active participant in their creative process. As a member, you receive exclusive content, community access, behind-the-scenes updates, and the pride of fueling work that matters to you.

CAN I CANCEL MY PLEDGE ANY TIME?
Yes, you can easily cancel or upgrade your pledge at any time!



___________________________________________



Not only does your generous contribution help me with
buying extra art materials,
that are needed to produce and edit my clips,
like video/pod casts, new higher resolution videos and more...
...as a patron you will also get exclusive access to:
My live Studio

where you can see my newest artwork in the making
watch me sketch, paint and print
how I prepare for a show
as I stretch & varnish my artwork
Here is where you can see who's involved in my life
and everyday operations
See me experimenting...
...and so much more!
Online studio
You will get special access to more demos, videos as they become ready
as well as longer higher quality livestreams!
Video podcasts
Valuable inside knowledge about what I learned in my
30 year experience as an artist and educator
Uncut and with lots of tips & tricks
________________________________________________
Now, check out the different levels of patron ship!
And thank you for becoming a patron of my studio!

Thanks for being there and for going on this journey with me.
I appreciate you all!
Cathrine
When I reach $600 per month, I will include some extra mini lessons to my Patreon page!
1 of 1
By becoming a patron, you'll instantly unlock access to 19 exclusive posts
By becoming a patron, you'll instantly unlock access to 19 exclusive posts
Recent posts by Cathrine's Studio Vibes
How it works
Get started in 2 minutes