Back of the Cereal Box
is creating Pop Culture Podcasts
Select a membership level
Digital Tip Jar
Drop  tip in the digital tip jar as a way to show us you appreciate our work!
Behind-the-scenes content

Cereal Box Comix Sneak Peeks
Friends of the Show Tip Jar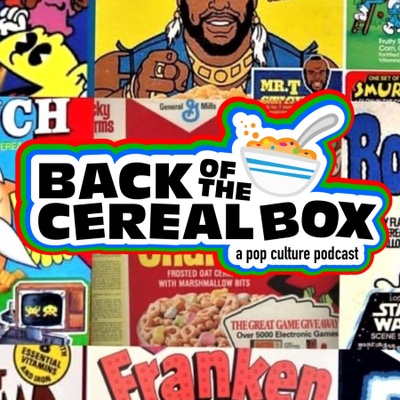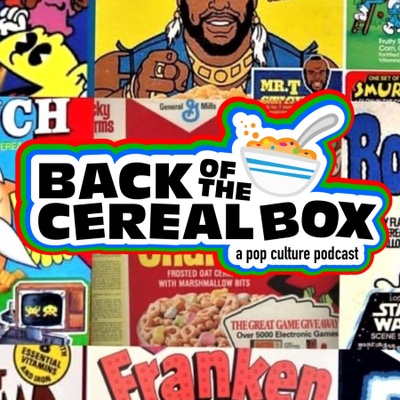 Get early access to all episodes, and be recognized supporter on the shows!
Cereal Box Comix Sneak Peeks

Behind-the-scenes content
About Back of the Cereal Box
Hey there friends & foes! 
Thank you for dropping by to check out our shiny new Patreon page! 
And there came a day, unlike any other day when the question was asked: "Wouldn't be cool to get all your friends together on Saturday morning, eat big bowls of cereal and talk about cool pop culture stuff?"
The answer was yes, and the Back of the Cereal Box podcast was born!
We are about fun.
Reliving the adventures of our youth and launching new adventures in our adulthood. The show is FUN. We eat breakfast cereal on the air and wear our pajamas! Imagine a Saturday morning show and tell after a friday night slumber party
It's the only podcast with 8 essential vitamins and minerals!
Let's open the box and see what's inside...
2021 Goals
Ready to take on new challenges and adventures, we have five main goals for 2021:
To grow the Back of the Cereal Box network on YouTube, Apple Podcasts and Spotify and in the summer of 2021 launch our own streamin channel on Roku and Amazon Fire Stick platforms!
To form and promote Cereal Box Comix which will publish the League of Impossibilists and Wytches and Wyrmholes web comics as well as find and promote other artists and web comic projects that align to the network's mission.
Upgrade and maintain studio equipment to provide the best sound and audio production possible, and distribute across as many platforms as possible!
Convention guesting as a podcast/artists/panelists at as many conventions as possible.  
Pay our creators for their time and talent. Right now, creators have the option to secure direct sponsorship for their shows, but we want to remove some of that burden and offer them direct compensation from the network!
ABOUT OUR FOUNDER:John B Pyka
has had an extensive career as a professional entertainer and storyteller. In 2020, he made a pivot from live entertainment on stage to a focus on podcasting and writing.
As a Podcast host, producer and director, Johnny directed and hosted over 117 consecutive episodes of Tales From The Geek on ComicsPriceGuide, and over 130 consecutive episodes of Comixstravaganza on GraphicPolicy. Those shows averaged a viewership of 80,000 and 108,000 views over week respectively.
John is also the producer and host of the Dieselpunk Podcast for 10 years, averaging over 40,000 downloads per episode! John knows how to create and audience and is on pace to strike gold again with Back of the Cereal Box!
John is the author of 4 books on magic, including the industry best-seller Theatrical Magic. His first novella Night Reich is published by Seventh Star Press, and his original comic series The League of Impossibilists will be available in digital and print format in the Summer of 2021!
ABOUT THE HOSTS:Dee Bartee
has been John Pyka's broadcasting partner for over 10 years, having appeared as one half of "The Power Couple of Pop Culture" on Tales From the Geek and Comixstravaganza. Dee is a talented model, actress and photographer and is the only member of the BOTCB family that can boost a restraining order from former Superman actor Dean Cain! She is also the only cast member who thoroughly rejects breakfast cereal!
Aubry Brewer
, also known as "Geek Girl AubryX" is the video gaming and anime expert of the Back of the Cereal Box crew. She claims that her superpowers are sarcasm and cuteness and she's not afraid to use them! Aubry is a popular twitch gaming streamer @aubryx1 and has 1,000s of followers who tune into her weekly twitch streams to see her conquer another video game!
D'Elle Memphis
is the madness behind I-Scream Queens, the BOTCB series that covers the horror and gothic sides of geek pop culture! "The Pinup Cosplayer" is recognized at conventions throughout the Southeast US for her stunning cosplays that fuse her love of rockabilly pinup and comic book characters! She is the lead singer of the jazz/blues band The Murdering Crows and is no stranger to geek pop culture broadcasting. She hosts a regular product review show called Digging Deeper on her own YouTube channel! The first album from the Murdering Crows is scheduled for a Spring 2021 release!
Kelly Guentner
started as a guest on the show and became the first personality to host her own BOTCB spin off show! As the host of the Back Issue Breakfast Club, Kelly couples her encyclopedic knowledge of comics with her unbearable likability to create on of the most refreshing shows in digital entertainment! Kelly is one half of the popular cosplay duo Phoenix Sisters Cosplay and the host of Drunk Comics on her own Phoenix Sisters Cosplay YouTube Channel! She is also the author (Kelly Edwards) of the supervillain urban fantasy novel Scorcher: Forces of Nature! It's available wherever books are sold, and a sequel is on the way!
D.E. LaRiviere
AKA the "Geek Gumshoe" is a writer, photographer, and filmmaker with 15 years' experience as a police detective. D.E. is an instructor in the fields of photography and crime scene investigation and is an expert in computer and cell phone forensics. He is the investigative contributor on Cryptid Crunch providing forensic and investigative commentary about featured stories, with a slightly irreverent skeptic bent. D.E. is also a popular convention cosplay photographer (Toy Robot Visuals) and one of the founding members of the Rockabilly band The Murdering Crows! 4,620 Social Media Followers
Kat Malone
is a West Tennessee native who grew up watching horror films and frequenting every heavy metal show that she could get her foot in the door. She's always had a natural love for entertainment of all creations that are creepy. Kat is a pin up enthusiast who curates her style from the mediums of goth and horror. When it comes to adventure, she's not afraid to dive into the supernatural, hauntings or ancient mysteries!
Lauren Knight
AKA GeekyGothicGamerGirl is a cosplayer and TikTok personality. She's known for her comedy TikTok skits and gothic alt girl gender bent cosplays. She was the lead singer of The Right Mistakes and rewrites popular songs into parodies. She is 1/3 of the I-Scream Queens, covering horror and gothic flavored goodness!
We will hire a video and audio editor to standardize the video editing process.
3 of 3
Become a patron to
Connect via private message
Recent posts by Back of the Cereal Box
How it works
Get started in 2 minutes