Chambana Weather
is creating Weather info for Champaign-Urbana and surrounding communities!
Select a membership level
Cup of Coffee
As your local meteorologist, I rise well before the sun does to make sure I've got the forecast prepared when your alarm sounds. For the price of a cup of coffee, you'll help keep Chambana Weather going! In addition to funding local weather, you'll receive a shout-out at the end of the month with all of the other coffee-level supporters!

Daily Weather Subscription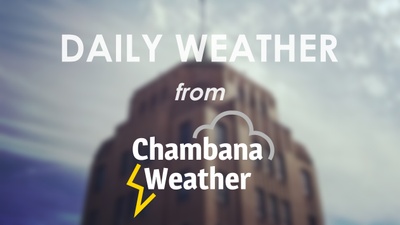 I'll add your email to the Daily Weather subscription mailing list! Every weekday Monday through Friday you'll receive a detailed forecast for today, tomorrow, and the next day, plus details on what to expect with any potentially hazardous weather expected in the area - the same forecast that local radio stations receive from me each morning. After that, you'll get a summary of any impacts expected from upcoming disruptive storm systems. Also included is the Chambana Weather Morning Minute - the most accurate, local weather analysis you'll find, tailored to our backyard. The Morning Minute will help fill in the gaps and give you the information you need to plan your day. Daily Weather also drops in the Today at a Glance and 5-Day Outlook forecast graphics, so you don't have to hunt them down on the social media pages or mobile app. The email will typically arrive between 5 AM and 7 AM each morning, Monday through Friday.

Sponsor the 5-Day Forecast
For one week, you can sponsor the 5-Day Forecast! Your personal/family, business, or organization's name will appear on the 5-Day Forecast graphic on social media, the web, and in daily forecast video content. Sponsorship will be done in chronological order as sponsors are received.

About
Technology has increased convenience everywhere, including the way we get our weather forecasts. The proliferation of free weather apps and widgets has grown mistrust in weather forecasts, at a time when our ability to forecast the weather is higher than ever! Why? More and more of our weather forecasts are generated by computer weather models and a real human meteorologist never looks at it before it's available on your device. It's my belief that we can do better, and Champaign-Urbana deserves better.

I created Chambana Weather in 2014, originally only existing as a Facebook page where I could share my thoughts on the weather forecast for Champaign-Urbana and surrounding communities. Over the last 5+ years it's grown into a full-fledged private weather consulting company providing weather forecasts for the Champaign-Urbana area via social media, a mobile app available for android and iOS, subscription services, and through several local media outlets. In the name of keeping Champaign-Urbana and surrounding communities weather aware beyond the daily forecast, I hold annual public events focused on severe weather preparedness, present at local schools, and work with our local emergency management agencies to insure we're ready when the big one hits.

My goal is always to keep Chambana Weather a service that provides daily weather forecasts for the Champaign-Urbana area, free of charge to those who want or need it. Ignoring the time and labor costs involved, monthly recurring costs have always been something that I have taken care of. Subscription costs for access to weather forecast data, hosting fees for the web and mobile app, etc.

Beyond simply continuing to fund the technology needed to create the daily weather forecast, your support here keeps me in local classrooms, or in front of home schooling groups. I refuse any speaking fee from these groups, so any contribution here also supports my ability to continue to be a resource to the public without them incurring any additional costs.

By becoming a patron, you'll instantly unlock access to 1 exclusive post
By becoming a patron, you'll instantly unlock access to 1 exclusive post
Recent posts by Chambana Weather