Charlotta
is creating Pattern Making Tutorials And Sewing Videos To Inspire Your Makes
Select a membership level
Studio Assistant
My deepest thanks for your support! This tier is perfect if you would like exclusive early access to all my Youtube Pattern cutting and sewing project films and my studio diaries, but aren't necessarily interested in additional drafting tutorials.
Get Exclusive access to my Patreon-only activity feed, showing you my studio diaries, how my garments come to life and drafting and sewing inspiration.

First Look at all my pattern cutting and sewing project films, one week before the public.
Pattern Maker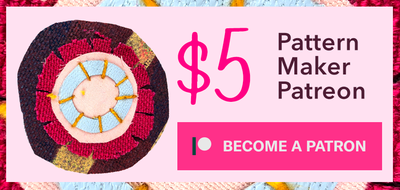 Your'e a pattern maker now! This tier is perfect for getting the best out of all my drafting and sewing tutorials and walkthroughs. Get access to all rewards in the previous tier, plus:
Exclusive full drafting tutorials and sewing walkthroughs to accompany each of my Youtube project films. Taking you through the full process of garment design, development, drafting and sewing.

My deepest thanks in helping me to create films and tutorials.

Access to a growing archive of drafting skills videos. Watch new drafting skills videos that I upload monthly.
Drafting Designer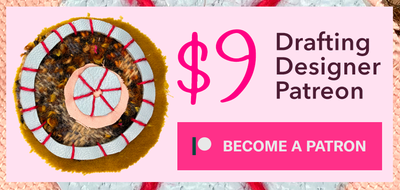 FREE enrolment to my brand new course:
How To Draft A Made To Measure Bodice Block To Fit You

You're part of the team! Help to shape future drafting and sewing tutorials and more! Get access to all rewards in the previous tiers, plus:
Exclusive monthly look at my past and present sketchbooks. With analysis of all my design techniques and how to use sketchbooks to develop projects.

Welcome to the team! You get to vote on upcoming monthly drafting skills videos.
About
Welcome! I'm Charlotta, a professional pattern cutter and home sewer and I make drafting and sewing films and tutorials. My Patreon page is a place for me to share my love of drafting and making clothes with you, giving you exclusive access to my films, my project based tutorials, drafting skills videos, plus the entire story of my process. From design development to the final stitches and all the ups and downs in between.   
I am here to grow a passionate community of makers from around the world who love to draft and sew their own clothes, and whether you've been making for a while or are just getting started, I want to inspire you to make magical things happen in your making!
When you become a patron, you pledge a small amount each month to support me in my mission to create an inspiring archive of pattern cutting and sewing films and tutorials we can all enjoy as a community. Your support means everything to me and in return, you get access to special rewards such as early viewings of my films, exclusive tutorials, pattern cutting diaries and more!
I work with a very small team of people who help me to plan, create, shoot and edit the films and tutorials for you. I'm lucky to be working with them and your support really helps with that and also helps with the supply of fabrics and pattern making materials. This all helps me to create the tutorials YOU want to see. If it wasn't for your generosity, I couldn't do any of it! 
In return for your amazing support, you'll get access to the following rewards:
Become a Studio Assistant Patron 
★
Access to my patron-only activity feed. ★
Come chat with me and see exclusive updates - my behind the scenes diary, showing you how the garments come to life, bags of inspiration and sharing my love of drafting and making clothes for myself and others. Just for patrons!
★

Be the first to see my new videos, before the public! 

★


Become a Pattern Maker Patron


★

 All of the above 

★
★
Full drafting and sewing tutorials
★
I take you through the entire drafting and sewing process of each project in easy to follow along tutorial and walkthrough videos
★

Access to a growing archive of drafting tutorials

★
Watch my archive of videos that cover drafting techniques to full garment pattern making

Become a Drafting Designer Patron
★ RECEIVE FREE ENROLMENT TO MY BRAND NEW COURSE: ★
HOW TO DRAFT A MADE TO MEASURE BODICE BLOCK TO FIT YOU
Please allow up to eight hours for enrolment, for global time differences


★

 All of the above 

★
★

A look at my past and present sketchbooks
★
A monthly peek at my sketchbooks as I share the process designing and developing personal and professional projects. 
★

Exclusive voting on upcoming drafting skills videos ★

Thank you so much for your generosity and taking the time to be here!




Do I have to pay in US Dollars? 

NO - Pay in any currency! As this is a US-based website, everything is written in Dollars, but you can use any currency and it will be automatically converted.
How many and drafting sewing videos will you release a month?

I release videos every other week on my YouTube channel, so I release regular project  which will include full drafting tutorials, sewing walkthroughs and behind the scenes diary videos. You also have the option to pledge for additional drafting and sewing skills tutorials.
I don't have much money, can I still become a Patron?

Yes, please only sign up to donate what you can easily afford. Even $3 per month adds up, and helps me to keep going. It is hugely appreciated! :)
Can I stop donating in the future if I can't afford it?

Yes, of course! You can log in to change or cancel your pledge whenever you want. I definitely don't want you to contribute if you cannot afford to. The fact you are here and interested in what I'm doing means the world to me.
I'm still confused. Can you help me?

Absolutely! If you have any questions about your Patreon payments (such as signing up, changing your membership settings, canceling your pledge or refunds), just email me by clicking 
here
and I'll get back to you ASAP. 
With this wonderful support I will be able to give my trusty Bernina sewing machine a much needed service so it can keep going!
1 of 4
By becoming a patron, you'll instantly unlock access to 63 exclusive posts
By becoming a patron, you'll instantly unlock access to 63 exclusive posts
Recent posts by Charlotta
How it works
Get started in 2 minutes