Davy Jones
is creating Digital Comic Books - Comic Strips - Coloring Pages
Select a membership level
Basic Support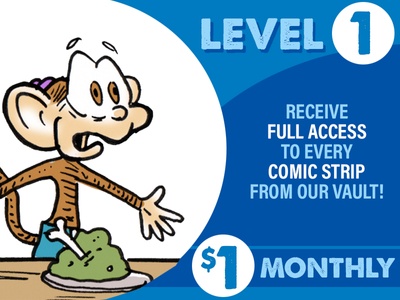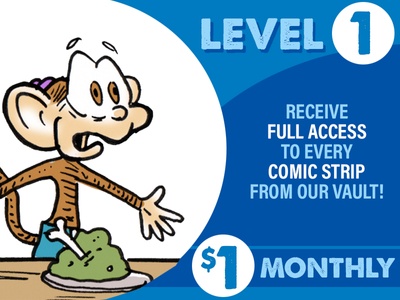 Level One - ENLISTEE
Pledge $1 per month


ACCESS TO COMPLETE ARCHIVE -  $1 entry-level gives you access to my entire archive history. Years are collected with unique hashtags for a well-organized read!
Your pledge will help me finally realize my dream!

Thank you for your support of my dream!!!
Lower Level Support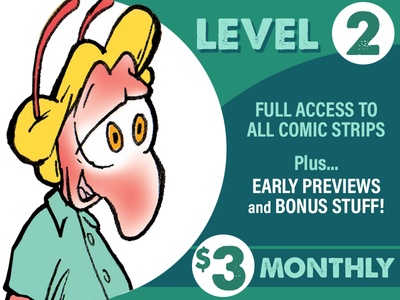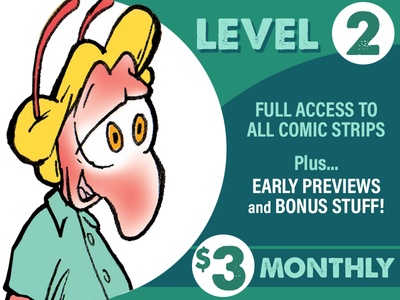 Level 2 - Private First Class
Pledge $3 per month

You get everything mentioned before in the Basic Support... PLUS you get...


STRIPS POSTED EARLY -  Patrons will see weekly strips a few days before they are released to the public.

EXTREMELY EARLY PREVIEWS - See all of the comic strips from the next month as soon as they are completed. You will see my strips an entire month early AND see them all at one time.

FREE COLORING PAGES - Occasionally, I will add a FREE COLORING PAGE for my supporters pledging $3 or more monthly.



Mid Level Support
Level 3 - RANK - CORPORAL
 Pledge $5 per month
 
You get all the benefits of the lower level, plus...

FREE ART - Receive one  ORIGINAL Sketch Card annually drawn by Davy Jones. After one year of uninterrupted support, you will earn an original 2 1/2 x 3 1/2 inch (baseball card size) sketch card just like Davy sells at his comic con appearances. You choose the character and Davy will draw it and ship it to you for FREE!

FREE DIGITAL COMIC BOOKS - You can download my digital comics for FREE. Just download them to your hard drive and read them whenever you want.

FREE SNEAK PEEKS - See even more of my work in progress!!! You will feel like you are in the studio with me! You will see full strips as the PENCILS are completed. You will see my comic strips BEFORE they are even inked!!!!

NOTE: PLEASE DO NOT SHARE ANY DOWNLOADS.

About Davy Jones
WHAT IS DAVY'S CAMPAIGN?
My Patreon campaign has been established to support my dream of being a full time cartoonist. Syndication is not an option these days as the number of newspapers shrink and comic sections vanish. I am running in 5 weekly newspapers. I act as my own syndicate, emailing and calling newspapers one evening every other month. In 2019, I will be working one evening each week, contacting newspapers across the U.S.

In order for me to monetize my cartooning dream so I can continue doing what I so passionately love, drawing my comic strip Charmy's Army. I need you support.

Funding is crucial because marketing my work at comic cons and growing my fan base is expensive. Rarely do I make any profit at these shows. More often than naught, I lose a few hundred bucks per show. These shows are investments. I add a few dozen fans at every show.

Your support will help me spread the word about my comic strip and with that, you will help me realize my dream and expand my work into newspapers across this amazing country... and in return I will reward you will a ton of EXCLUSIVE MATERIAL. including  FREE digital posters and all sorts of awesome ORIGINAL artwork!


WHEN WILL I SEE UPDATES?
I will post something weekly. My comic strip will appear once each week. If you are supporting me with at least $1 monthly, you will see the strips a few days earlier. I will post exclusive sketches and first looks at my storyboards and my strips in progress. Cartooning is what God put me here on Earth to do and I am going to work hard to achieve my destiny.
I publish more material than the other cartoonists here on Patreon!
Depending on your level of support, I offer...
* Behind the scenes look at sketches and Work In Progress
* Free High Resolution Posters
* Free High Resolution Collector Card
* High Resolution Scans of all my Sketch Cover Commissions* Videos will be added soon as well
* FREE ART! Yes, over a set period of time, you will earn free drawings.
DO I HAVE TO PAY IN US DOLLARS?
NO - Pay in any currency! As this is US based website, everything is written in Dollars, but you can use any currency and it will be automatically converted. And PAYPAL is now accepted!
I DON'T HAVE MUCH MONEY, CAN I STILL BECOME A PATRON?

Yes, please only sign up to donate what you can easily afford. Even $1 per month will make a huge difference and would be greatly appreciated. My costs to produce this strip run me well over $100 per month with website fees, art supplies and production costs. Each Comic Convention costs me around $800 and that is without airfare included. I am only doing local shows in Houston this year. Next year, I would love to do shows in four different states... or more! Those shows will each run close to two grand each!!!!! So, I appreciate every cent I can get.
CAN I STOP DONATING, INCREASE, OR DECREASE MY DONATION?

Yes of course! If you can't afford to donate in the future, or you want to move up or down to a higher or lower support tier, that's absolutely fine. You can just log in to change or cancel the account whenever you want.
Once I reach $50 per month in pledge earnings, I will begin doing a monthly private group chat with my patrons supporting with $5 or more per month.
3 of 7
By becoming a patron, you'll instantly unlock access to 997 exclusive posts
By becoming a patron, you'll instantly unlock access to 997 exclusive posts
Recent posts by Davy Jones
How it works
Get started in 2 minutes