Chase the Story
is creating a Video Series about Sailing Adventures
Select a membership level
Pledge $1 per video
For your dollar, you will receive:
I will take all the help I can get! And your dollar means a lot. Thank you!
Pledge $2 per video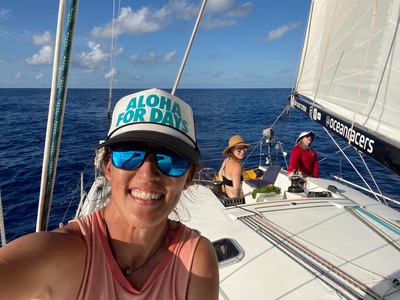 For your 2 bucks, you will receive:
Patron-only updates 
Exclusive video previews
Cue the party lights! THANK YOU! You're an amazing person for making these videos possible - you are about to become part of the adventure!
Pledge $5 per video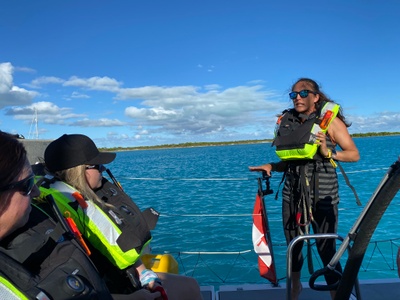 For being such a generous soul, you get:
Patron-only updates
Exclusive video previews
Advanced notice of sailing courses offered by Tasha

Tasha is doing a little celebratory dance! I love sharing this adventure and your patronage makes a real difference.
About
Chase the Story is a YouTube Channel about sailing adventures. It is narrated by me, Tasha, a captain who sails boats all over the world, teaches offshore sailing courses and films and edits stories about those adventures.
"Chapter 1" of Chase the Story (the first 49 episodes) saw me sailing around the world on a catamaran called Cheeky Monkey with my now-ex-husband. But that chapter ended abruptly in May 2017 when we split up in Tahiti after sailing across the Pacific Ocean.
And that is why Story 49 ends awkwardly with a short clip from me on a mountain top in Lake Tahoe explaining that Ryan and I were getting divorced and Cheeky Monkey was for sale in Australia. Link here:
https://www.youtube.com/watch?v=xEsu9GlLgR8

I took the liberty of not going back and editing the stories that were filmed during the period immediately leading up to the end of my marriage because it was too painful to go back and watch the footage. So I allowed myself to put that footage away and start from the present. And I hope you all can understand that.
So now, "Chapter 2" arrives after my 3-year break from video storytelling, during which time both of my brands (Chase the Story and Turf to Surf, her sailing blog), were in ownership dispute because of the divorce.
Over the last 3 years, I haven't stayed away from boats completely, however. I got my US Coast Guard Captain's License (Master Near Coastal, 50 ton) and my US Sailing Instructor's Certification. And now I'm back on camera telling stories about my work sailing with Ocean Racers (www.oceanracers.net) on a Pogo 12.50 race boat, filming race boats in Caribbean regattas, helping a woman fix her Tayana 37 in Mexico, and teaching offshore sailing courses to women.
So why am I back on Patreon after all this time?
Well, it turns out video production is expensive! Not to mention, time-consuming. And I'm now a one-woman show (literally) in that I'm running the cameras, editing and uploading my work, not to mention sailing boats while doing all this and trying to support myself!
In the last few months alone, I've lost a few good cameras and a DJI drone to Neptune and so I'm looking for some help and motivation to keep telling the kinds of stories that I think my audience would love to see.
I know my exit from YouTube, social media and Patreon was abrupt, and that it's been a long time since you've heard from me. But I didn't want to come back to this platform until I was absolutely sure that I had something I could offer -- and now I do. I have a new logo for Chase the Story and a new series of videos for "Chapter 2" of the YouTube Channel...which is also "Chapter 2" of my life, in so many ways. *shaking head with face in hand*
Your support is what had kept me going when this whole endeavor of video-making at sea seemed like an impossibility, and I'm asking you to continue your support now as I move into this new phase of sailing, video production, and life on boats.
I've been amazed at the enthusiasm of supporters who have tracked me down in ports and anchorages all over the U.S. and the Caribbean over the last 3 years while I was in hiding. I love it when people buy me a drink, give me a hug and tell me they loved my videos on Chase the Story! The support and appreciation I've gotten even while I was not online making videos  has made all the effort seem worthwhile. And I want to continue showing you what's out there from my storytelling perspective, and now from a new angle -- as a single, female captain.
So THANK YOU from the bottom of my heart. Whether you become a patron or not, my videos are always free and available on YouTube, and I enjoy creating them (otherwise I never would have come back).
I can't thank you enough for supporting what I do and continuing to come along for this wild ride, which has taken quite a drastic turn in the last few years.
Stay tuned for those stories...
Love,
Tasha
(Chase the Story)
(Turf to Surf - Tasha's blog)
$72.90 of $3,000
per creation
When I reach $3000 per month, I'll offer my services to a Patreon supporter to come to their boat and teach a sailing lesson (and film a story about it).

1 of 1
Become a patron to
Get discounts to an online store
Connect via private message
Recent posts by Chase the Story
How it works
Get started in 2 minutes