Select a membership level
THE BEHIND-THE-SCENES CLUB
You are now in The Behind-the-Scenes Club, and you will...
see all the behind-the-scenes content from my studio!
can read my monthly Patron-Only Updates.
choose what I draw each month!
help support me to earn a living as an artist. Thank you so much!
will have all of my art love 💙
THE COLOURING CLUB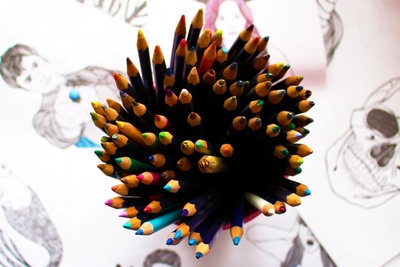 You are now in The Colouring Club, and you will...
access all of the benefits of The Behind-the-Scenes Club.
receive a digital downloadable artwork colouring page for you to print and add your unique creativity to at home!
will have all of my art love 💙
THE POSTCARD CLUB
You are now in The Postcard Club, and you will...
access all of the benefits of The Behind-the-Scenes, and Colouring Clubs.
each month you will receive a snail mail art postcard that I have hand-written with a little bit of inspiration just for you!
will have all of my art love 💙
About
WHO IS CHLOE HENDERSON?
Hi there! My name is Chloe Henderson.
I am an interdisciplinary artist based in Edinburgh, Scotland. I am mainly known for my highly-patterned illustrations. I also trained as a jeweller, and I am developing a passion for making art films. I have just graduated from The Birmingham School of Jewellery with a Masters degree, and I previously gained an Undergraduate Honours degree from the University of Dundee in 2014 in Jewellery and Metal Design. I am greatly inspired by nerd culture, the natural world, the human condition, mythological creatures, and anything a little bit magical. In my spare time I tame unicorns and swim with mermaids.
WHAT DOES CHLOE CREATE?
It was during my studies as a jeweller that I discovered my love for illustration. I became enamoured with nitric acid etching, where I delighted in revealing the delicate line-work on the metal in this process. This passion for creating patterns developed into the highly-decorative drawings that I create now. This style is highly relaxing and a very meditative process, which has become my coping mechanism for the anxiety I suffer from.
My favourite part of the drawing process is hand-drawing every tiny detail of my fantastical obsessions and transforming them into something strange out of my world! I create artwork inspired by nerd culture, the natural world, and faerytales. Check out my latest illustration in the timelapsed video above!
Shh… don't tell anyone… but I am also best friends with The Chimera Artist!
The Artist likes to infect humans with her Chimera virus, and she transforms her victims through new goopy appendages. The Filmmaker sometimes likes to make films about all this oddness… but… you will just have to subscribe to figure out what I am talking about!!
WHAT DO YOU GAIN AS A SUBSCRIBER?
I joined Patreon to allow me to fund my art and the films that I create. It also gives me the chance to interact more with you guys, and to show you all the secret behind the scenes shenanigans that happen in my art world!
Your
support
allows me to focus on creating all of my awesome projects like new illustrations, YouTube videos, art timelapses, useful tutorials for you, art-filled blog posts, blue Chimera infections, and much more! I hope to bring you joy, and spark that motivation in you to unlock your creativity, so you can produce your own amazing artwork!
Your subscription helps me to buy art supplies, pay my bills, feed my pets (I mean, if nothing else, you wanna
subscribe
just for the pet photos that I post… they're adorable… #justsayin), but most importantly, your support gives me the time, and mental space to focus on creating even more exiting art projects!
As a Patreon…
YOU will be the FIRST to know what illustrations I am working on, and will see exclusive sneak peeks before everyone else!
You will have your say on what you would like me to draw next.
You will see behind the scenes in my illustration studio, get to hear my secret thoughts on my work, see my art timelapses (check out the latest one above!) before the rest of the world, and receive the drawing tips and tricks that I have learned through my process!
You will have access to Patreon-Only giveaways when I hit my goals, and exclusive discount codes during the holidays for my store.
Art advice, and support from me for your own creative projects.
And of course, do not forget about the ART REWARDS!!!
HOW DOES IT WORK?
If you like my work, and you want to help me create more of it, just choose how much you want to
pledge
per month (even $1 makes a huge difference!). Scroll down the column on the right, and you can pick your very own ART LOVE reward. Every month you will receive a digital and/or physical package of art to love, wear, rock out with, and decorate every corner of your life! Awesome, huh?!
And do not worry! You can edit or cancel your pledge anytime you want.
Welcome to the world of Chloe Henderson…
Much arty love.
Please note: I am UK-based.
If you live somewhere across the waters, your reward parcel may take a few weeks to arrive. I will keep you updated of when rewards are going out via my Patreon-only update posts.
*$s converted to £s are accurate at the time of writing, but may fluctuate slightly due to conversion rates.
Oh so soon, Patreon is rolling out a change that will allow me to display my Patreon in £s!! Coming soon...
Any questions about the rewards or my Patreon in general? Email me at info[@]chloehenderson.co.uk

Want to see more of my artwork? Visit my website
HERE
.
Filming Tutorials

Hitting this goal will fund the launch of my tutorials and how to films. I really need to update my filming equipment, and software, before embarking on my goal to create art tutorial films – both for my YouTube, and as Patreon exclusives.

When I hit this goal, we will celebrate by launching a Patron-Exclusive competition where one of you could win a commissioned illustration of your choice!

1 of 5
Become a patron to
Unlock 129 exclusive posts
Connect via private message