Chris P Austin Coaching
is creating Become Your Best in Business, Relationships, & Sports
Select a membership level
Get Involved
$2 per month. $24 per year. It's very doable. For our patrons who just want to help and get that Chris P Austin energy.


INCLUDES:
- Weekly Become Your Best quotes by Chris P Austin.


EXTRA BENEFITS:
- Name shoutout on the Chris P Austin website

Breakfast Club Support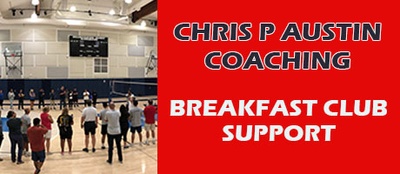 The "Breakfast Club Support" Tier is for the patron who wants to help, but doesn't have much money to offer.  You can still help us each get a meal each month at a tournament or after training!


INCLUDES:
- Access to Monday Mentality Patreon blog
- First to see latest Chris P Austin YouTube Channel video content with specific experiences, actionable items for you, and special guest interviews 
- Weekly Become Your Best quotes by Chris P Austin


EXTRA BENEFITS:
- Name shoutout on the Chris P Austin website wall

Business | Become Your Best
For the one wanting to get their business and finances on point. The behind the scenes techniques and tools to become your best in business.  Business | Become Your Best content includes the #FinancialFriday content from Chris P Austin and access to the live stream group conversations. These things, in addition to what the "Breakfast Club Support" Tier offers.


INCLUDES:
- Financial Friday Chris P Austin video of the week
- Access to Monday Mentality Patreon blog
- First to see latest Chris P Austin YouTube Channel video content with specific experiences, actionable items for you, and special guest interviews
- Weekly Become Your Best quotes by Chris P Austin


EXTRA BENEFITS:
- Signed copy of Chris P Austin's first book "The Way GRV"
- Name shoutout on the Chris P Austin website wall
About
"I am Chris P Austin, and I have dedicated my life to becoming my best so that I can be the bridge to you becoming your best in the focus areas of business, relationships, & sports."

After completing his second college degree and Division I sports career, Chris P Austin (CPA) pursued a professional sports career in Europe. Over a three year period, CPA spent nine months per year in Europe and three months per year in the United States. Reading books, building businesses from a distance, and writing his first book, he returned to the United States to live full time and begin influencing others on what he had learned... How to Become Your Best.

Hearing Chris' story will give you a full and relatable understanding of what it means to make the most out of what you're given. He works daily to raise the level around him and help humans understand how to maximize what they currently have, and then achieve beyond that. With a strong emphasis in Business, Relationships, & Sports, if you are becoming a patron of Chris P Austin Coaching, it is because you want to get involved on the fastest way to become your best.

When we reach 50 patrons, we will be able to compete in at least one domestic tournament per month this year.
2 of 3
Become a patron to
Unlock 62 exclusive posts
Connect via private message
Recent posts by Chris P Austin Coaching