Christ in the Margins
is creating resources for community
Select a membership level
CIM - Members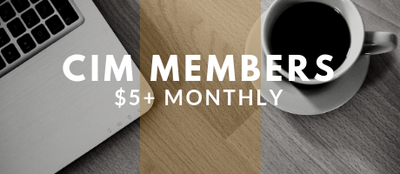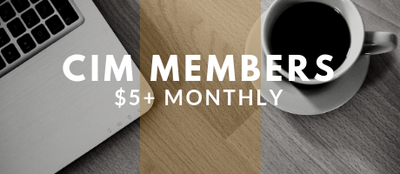 Do you feel alone in the hard places? 
Do you wish you had more people who understood or who could encourage you? 
Do you want to engage deeper but your public Facebook wall just isn't the place? 
Do you want to engage but feel that you don't know how or where to start?
Do you have limited resources or just need a place of support and community that isn't going to cost very much? 
If any of these questions describe you then you are a perfect fit for our online community! 
For $5 a month, you will have access to the Christ in the Margins (CIM) exclusive online community where we (Dan and Casey and other key influencers) will post regularly and provide a safe place to cultivate discussion surrounding 5 key areas of kingdom centered justice and their impact on marginalized communities.
It's a place of sharing, discussing, and belonging for those who desire or want to pursue Christ's Kingdom in the margins.
CIM FRIENDS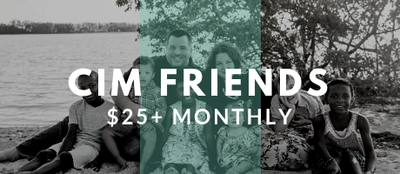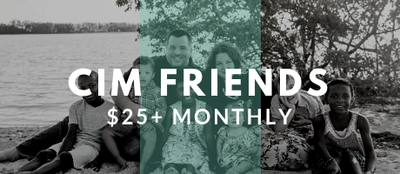 This support level of $25+ says "I want to be a part of this incredible online community AND I want to support and hear more about your family's pursuit of the kingdom as you pursue life on life involvement in the context of neighborhood, community, and school."
Friends will receive additional updates as well as equipping on how to live life on life, seeking out the kingdom in hard places in your context where God has you! 
We will regularly update you through posts and videos in order to give you more personal insight and encouragement on engaging through life on life discipleship, and pressing in to marginalized areas in your context. 
CIM - Invest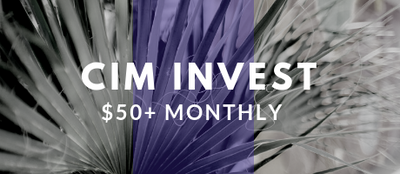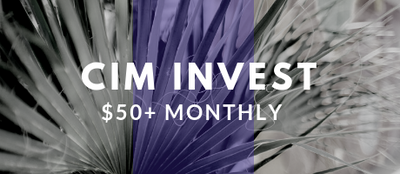 This level $50+ of monthly support includes access to the CIM online community, equipping and encouragement through CIM Friends  +  Partnering with us in ministry as we grow Christ in the Margin and expand the influence we can have through aspects like podcasts, speaking engagements, research, and more. 
About Christ in the Margins
Who We Are:

Dan and Casey Chappell live in the DFW metroplex in TX with their 6 children. They are passionate about seeing believers press into hard places and discover the kingdom in places we have been taught to fear or avoid. They love the local church and its many expressions of community, worship, and witness. Dan and Casey (and their multi-ethnic family) seek to model aspects of downward mobility and living life on life with their neighbors in community. They hope to champion believers everywhere to live on mission for others, especially the most vulnerable living in the margins our world has created.

Christ in the Margins (CIM)* Is an online community focused on providing education, awareness, and encouragement relating to 5 areas of marginalization in our culture:

Poverty and Inequality
Race & Ethnicity
Adoption & Foster care
Issues of Life and Ethics
Sexuality & Gender

*Christ in the Margins (CIM) is replacing the formerly known Identify Network as we have expanded our vision and areas of impact and education.

We are deeply moved by the margins of our world, the harder places, the often-ignored voices of those without power. We are moved because Christ was moved and consistently sought to identify with the outcast and the common, in order that they may identify with him.

We are moved when we see Christ in and among the lives and places of the poor, the disabled, sexual minorities, immigrants, refugees, and those in underserved communities.

We are moved by the incarnation of Christ and seeing his church live in light of the incarnation.

We are moved by the ways we see Christ's redemption bringing justice and dignity to those created in his image.

We are moved when we see Jesus' church push back against injustice, exploitation, and inequality that devalues the dignity of those created in his image.

We are moved by a holistic approach to life and ministry, seeing redemption and compassionate social action in unity with each other.

We are moved by open honest conversations that strive to listen to those whose voices have been systemically silenced or oppressed.

We are moved by Christ's upside down kingdom and desire to see it expressed on earth as it is in heaven.


Dan & Casey Podcast Series:
We would LOVE to start recording bi-monthly podcasts surrounding issues about incarnational leadership, downward mobility and the missional and multi-ethnic church movement in America. If we find that it's something our online community would benefit from we will use the resources from here to invest in the planning, time and equipment and to do so.

1 of 2
Become a patron to
Connect via private message
How it works
Get started in 2 minutes