Christy Mann
an opportunity to help everyone live Life on Your Terms!
Select a membership level
Level 1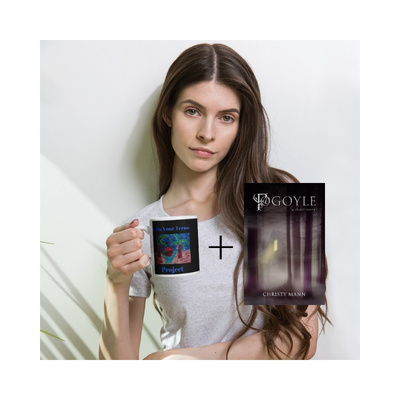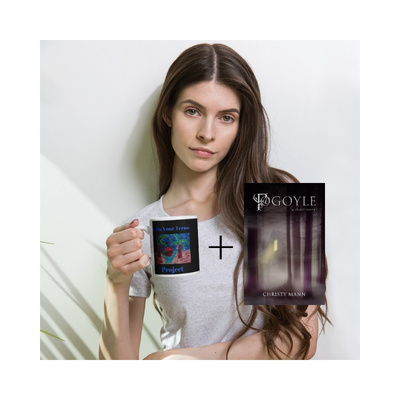 As a symbol of my thanks for donating at the first level, I'll send you this special coffee mug, a signed copy of my book Fogoyle: A Short Story, and a personal thank you card.  You will have contributed $120 at the end of the year, and that will go a long way. 
Your donation is added to the Life On Your Terms and used to purchase things like SD Memory Cards, musical instruments, and even laptop computers. 
The recipient receives a letter from me, explaining the intent of the gift and a list of the first name and last initial of everyone who has contributed to the fund to date sending their encouragement and support of people Living On Your Terms. 
Level 2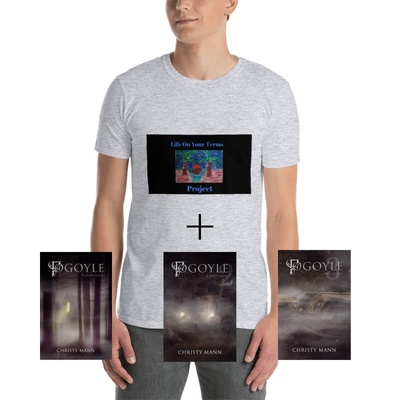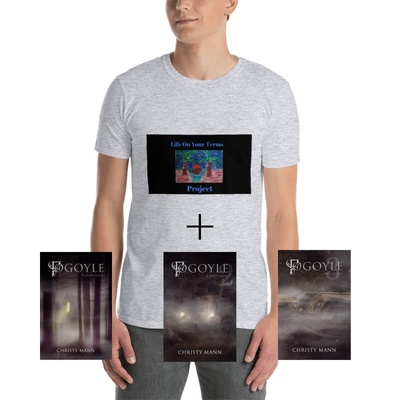 As a symbol of my thanks for donating  at the second level, I'll send you this special T-Shirt, signed copies of the Fogoyle short stories 1-3, and a personal thank you card.   You will have contributed $240 at the end of the year, and that will go a long way.  
Your donation is added to the Life On Your Terms and used to purchase  things like SD Memory Cards, musical instruments, and even laptop  computers. 
Also, Recipients receive a letter from me, explaining the intent of the  gift and a list of the first name and last initial of everyone who has  contributed to the fund to date sending their encouragement and support  of people Living On Your Terms. 
Level 3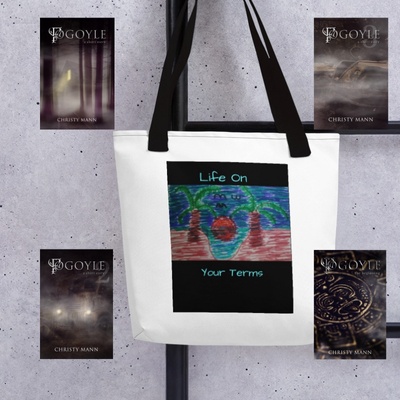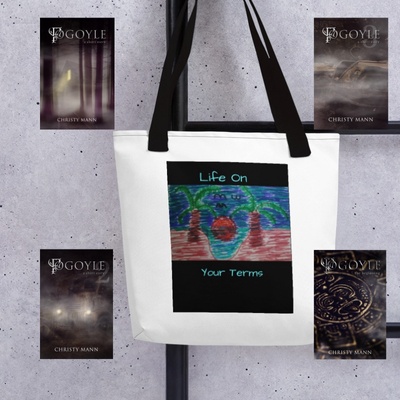 As a symbol of my thanks for donating at this third level, I'll send you this special LOYT Tote Bag, a signed copy of each of the Fogoyle short stories and Fogoyle The Beginning, and a personal thank you card.   You will have contributed $600 at the end of the year, and that will go a long way.  
Your donation is added to the Life On Your Terms and used to purchase  things like SD Memory Cards, musical instruments, and even laptop  computers. 
The recipient receives a letter from me, explaining the intent of the  gift and a list of the first name and last initial of everyone who has  contributed to the fund to date,  sending their encouragement and support of people Living On Your Terms. 
About Christy Mann
The Life On Your Terms Project
The Life On Your Terms Project is something I started in 2019, and it's gone through a few changes already, but it has always been a dream of mine. I want to give back but I want to do so much more than just give money to people that could use it. I want to help people become genuinely happy. I believe the key to that is having the support we need change our lives and make them what we want them to be. 
Living life on my own terms is a really big deal to me. I've been doing it for the better part of 10 years, now. It isn't always easy, and there were some really rough times. I'm certain there will be many more before it's all over. Life on my terms to me means I will live on the street next to a library with a laptop and my words if need be. It totally depends on me and what I am willing to do or not do.
Homelessness has been a threat more times than I can count, and the loneliness that comes with it sometimes is enough to make the strongest person contemplate horrible things.  I had a belief in myself, and a system in place that kept either from being a reality for too long. Many people don't.
I believe that many of us don't even think it's possible anymore. We all want to live our own perfect and happy lives, but a great number of things hold us back. The biggest being the fear of losing the support system we have in place currently. We want to be and do very specific things, but the moment that doesn't match up what the support system wants, needs, or expects from us we lose the support. It sounds awful, but the truth is, 90% of the homeless are there because this is exactly what happened. They made a choice to be happy, and the support they once had disappeared.
As a result, we have reached the point that, as much as we want happiness, our lives are set up for the total opposite. We are all at the mercy of someone or something else. Be it family and friends, or bill collectors. We don't like it, we want different, and yet, we don't want to end up homeless, so we stay where we are. We medicate, distract, and destroy ourselves, and then wonder why we are sick,  in terrible relationships, and are generally unhappy as a whole.
We are seeing a lot all over the place these days about living life on our own terms. We call it all kinds of different things, but when you break it all down, it really is all about living life on our own terms.  One of my absolute favorites to follow is Gary Vaynerchuck. I love him! I'm watching, learning, and sharing just about every word he says, because he is absolutely spot on about how to do it. It's been a big part of the driving force behind my creating this project. Gary is great, he knows what he's talking about, but he's not going to step in and support people when they take the leap, and they don't make it.   
Think about it for just a moment and consider how long it's been drilled into us that success equals happiness. We are also forced to believe that success is wholly based on having an income, the ability to keep it coming in, and doing the right things with it. Whether we are good at it or enjoy it is irrelevant. You just have to do it because that is just how life works. That isn't happiness for 99% of the planet!
How many of us continue to go to jobs we despise every day or stay in relationships we know are unhealthy, simply because we would lose everything, up to and including the support of those around us, if we didn't? We struggle just to survive, even the most wealthy among us. Homelessness is on the rise. Suicide rates are up substantially, and the median age is getting lower and lower. The scary and sad part is that we do it to ourselves and to each other.
Who said that is how it's supposed to work? We all do. We say it every single time we get up in the morning, get dressed, and head off to that place we hate to be once again. We say it when we convince ourselves that the bills have to be paid or our lives are over. We say it when we stay in situations that we know are unhealthy and unhappy. We say it every time we allow something outside of our own happiness, to influence a decision we make. I want to change that.
So, I started the Life On Your Terms project. It's a fundraising project at it's basest point, but it is so much more than that. The intent is to be the stable support system, both financially and mentally, while teaching people how to change their views and take steps to change their lives and be genuinely happy, Keeping people who attempt to live their dreams from ending up homeless and contemplating suicide.
Loss of support from others is the first thing that happens when you work toward being genuinely happy. When you stop focusing and following the wants,needs, and expectations of others, others lose interest in having anything to do with you. It is the reality of life and is extremely painful in the moment. Especially when the others are parents, spouses, and children. I believe this pain to be the leading cause of suicide.
You are either genuinely happy and alone until you are able to build a new support system, or you deny your own happiness to be supported by others. This isn't new information. We see it every day.. Knowing it is what will happen is what keeps us from even trying. That leads to a perpetual cycle of unhappiness with life, and the only way to break the cycle is death. It's no way to live. Think about all the celebrity suicides we've experienced over just the past few years.
Preventing homelessness and reducing suicide rates is a key focus of the project. Providing support by paying bills temporarily allows for focus on planning and setting up the future without ending up homeless and alone, or dead, in the process. Providing tools and resources that are necessary to reach goals that are happiness based, not employment based, is another.
I believe that is the biggest failure of our assistance programs today. Employment, as opposed to enrichment, is the focus. It doesn't matter if you like a job or not, if it is hiring, apply for it. If you get it, keep it because once you have it, we are withdrawing our support and we won't help you again. Something is better than nothing and we hold on to that so tightly because the way the homeless are treated is horrific and the way suicides are viewed is deplorable. I want to change it. Prevention is the key.
The Mission
The objective of the project is to create and sell a line of
Life On Your Terms products
and use 100% of the proceeds combined with donations, fundraisers, and other events and means, to provide education and financial support to participants while they work toward living life on their terms, The end result being a reduction in homelessness and suicide rates going forward, and achieving a state of genuine happiness over all, around the world.
The Why
I have been fortunate to have the tools and the time I've needed to live life on my terms. I've had people willing and able to put me up while I work on my writing and publishing career. I've had the resources or know how to obtain or create them that I've needed at most points along the way. Most of the people that I know, do not. They would lose everything if they turned their focus toward their own happiness.
I firmly believe that most people, with the resources and time to figure out and focus on what would make them happy, without worry about losing everything, would work their asses off and become successful. Everyone around them would benefit. We help each other out when we aren't worried about losing ourselves.
That process is already well underway. Influential people are preaching it all over the place and social media is helping the message thrive. I want to see it continue and know that the change will happen anyway. What isn't being addressed is how to fully support it and without support, a lot of people are going to become homeless or die in the process.
The How
There are two aspects of the program. Financial support and Education. Making a change like this takes time and an effort to act and move in the desired direction, even when everything seems to be stacked against you. Preparations have to be made both mentally and financially if participants are going to succeed. You can't just throw money at it and hope.
I'm building trainings and workshops that teach skills in coping with loss and transformation, things like mindset changes, modifying expectations to match reality, and creating and celebrating wins. I'm also building business management skills programs as a base part of the project. A big part of living life on your terms is doing work that is fulfilling and satisfying and that isn't how the workforce of the moment functions. Some may want to own and run their own businesses, but don't have the skills necessary, cant' afford to go to school, or can't take the time off to learn how to do it successfully the traditional route.
The trainings and workshops will expand over time to include things like emotional support groups and coaching services, and will be provided by experts in the field on a volunteer or paid basis depending on which the project can afford. The long term prospect is that eventually, participants will go on to form programs of their own to share with the project and  carry the concept forward and spread it around the world.
Participants would receive the educational support from the start and on an on going basis. Financial support would come as needed as they progress through the program. Supplementing income while they reduce hours at their job to make time to work on building the business of their dreams. It could include covering all of their bills for a set period of time, but would be used mostly to provide a safety net in emergency situations while things transition, so they can work on their terms full time. It will vary from participant to participant based on their needs through the process and be focused on them becoming a source of resources for themselves and others, on their terms.
Products, Donations, and Sponsorship
It's my dream that the program be self-sustained. Products are made specifically for the program, and eventually by the program participants as well. The proceeds from sales of the products go into a fund that supports the project. Trainings, workshops, support groups and the like are provided free of charge or for minimal fees if costs can't be covered in house. It's not for turning a profit, but, like anything, it does need funding to run and grow.
Right now, the products are my own creations. I use Printful and Woo Commerce to create products with a special LOYT logo on them. It is the hope that as participants move through the program and begin to create their own products, they can donate some of them to the program, should they choose to. It is the hope that they would, but is not at all an expectation or a requirement. The only expectation is that they move forward and live life on their terms.
Donations are always welcome, in any amount or form. Financial donations are accepted via
PayPal
and are forwarded into a physical business bank account set up exclusively for the Life On Your Terms project. Donations can also include anything from sharing links consistently all the way through to becoming a mentor to a participant, hosting support groups, and/or donating tools and supplies. 
If you have comments, thoughts or suggestions, please
email me directly.
I'll connect with you as soon as possible. I'm still working to get the program off the ground and there are a lot of things to put together and make work and I can use help.
I'm building the trainings and workshops. I'm also looking for others with expertise in various areas to help provide trainings. There is so much I want to do with this program that I don't have the ability to draw it all out at once.
Sponsorships are also welcome and greatly appreciated. The estimated cost to assist 1 participant through the program is equivalent to $5,000 a month between education and support and will last between 3 and 6 months for active participation, and $500/month for on going support up to 1 year.
I can provide an itemized breakdown of how I came up with the amounts upon request, but for general information purposes, it's a rough estimate of the average single person's monthly living expenses times 2 months. It's the minimum recommended by financial gurus that everyone should have in savings at any point in time.  Extended support is for regular progress check meetings, support group participation, advanced business training and resource support.
It's my strong belief that genuine happiness is possible for everyone and everyone should move toward it. I also firmly believe that without a proper support system in place, the ability to advance on it for the majority due to financial obligations and expectations, will hinder the movement. Homelessness and suicide rates, mental health and addiction issues will increase, and actual happiness will never be achieved. 
Change happens when all the resources and support are available and it takes more than one to create it.  Your support is greatly appreciated by me and anyone that will ever come through the program will have you to thank for it.
The small things to keep them going
Things like art supplies, paper, memory cards and flash drives, strings and reeds for instruments and such are treated like hobby items or toys. "Maybe next paycheck I'll get some more and get going again" is the common phrase, and is rarely possible next paycheck. Talents and tools are set aside and forgotten about for the weekly exchange of check to bills. There is no "next paycheck".

This goal will allow me to stock up on these items and more to give away like candy to those that are works in progress already but need the small things to keep going.  They will put them to good use and stay motivated.


1 of 3
By becoming a patron, you'll instantly unlock access to 1 exclusive post
By becoming a patron, you'll instantly unlock access to 1 exclusive post
Recent posts by Christy Mann
How it works
Get started in 2 minutes