I'm Chris Wisnia. I have a day job, a wife and two kids, a mortgage, and I've been professionally making comics since 2004. Over that time, I've created a TON of 
"laugh-out-loud" (Jeffrey Brown, Darth Vader and Son), "unique" (J.H. Williams III, Sandman: Overture), "awesome" (Jhonen Vasquez, Invader Zim), "eccentric" (Daniel Clowes, Ghost World)
comics.  But despite the respect and testimonials from so many amazing pros whom I admire (see
HERE
), I haven't managed to find my following or get to "that next step."
I've created a place here at Patreon, where I can share everything about the creative process: all my comics, video commentaries about the work I make and what goes into it, original art, and
conversations with some of YOUR favorite comics creators
and the struggles THEY encounter in choosing this profession, for my upcoming documentary, 
"Diary of a Struggling Comics Artist" - CLICK HERE
or see below! 
If you enjoy comics AND behind-the-scenes peaks at the creation of comics, and if you would like to support in a way that can directly, positively affect THIS artist with a long track record, who continues to work hard to create a wide range of unique, smart, thought-provoking content for you, I hope you'll consider pledging to help support my endeavors.   
SEE BELOW FOR A COMPLETE LIST OF REWARDS you can receive!
THEN, SEE BELOW THAT, for how to NAVIGATE around my PATREON PAGE!


and HERE is a LIST of EASY LINKS to all the FEATURES


REWARDS:  A BUCK
gets you access to all my comics!  I'll post a few new pages of story every week, in a clump!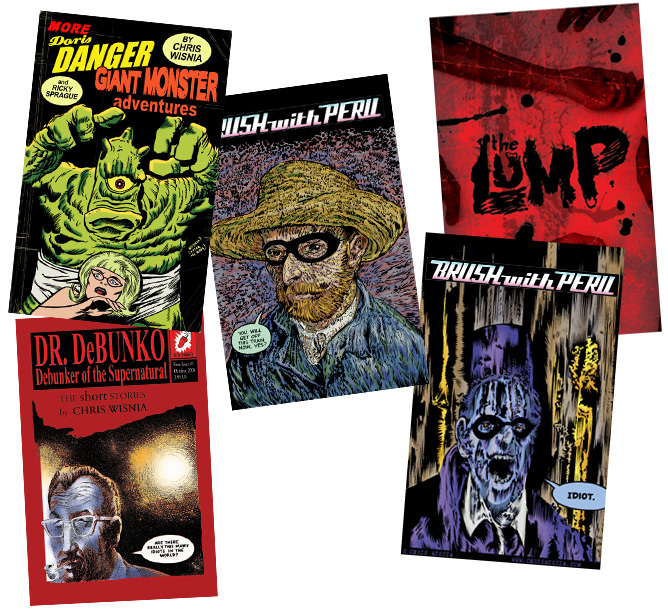 FOUR BUCKS
 ALSO gets you access to high-res printable posters and art images of my comics!  I'll post a few new ones every month!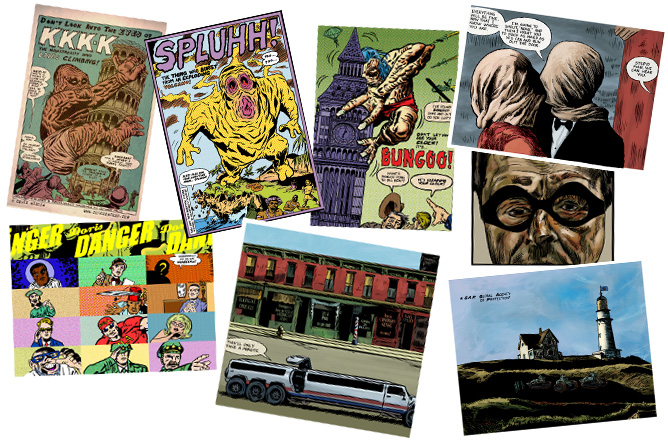 SEVEN BUCKS
 ALSO gets you access to clips from my upcoming documentary, 
Diary of a Struggling Comics Artist (CLICK HERE TO READ MORE)
, where I interview some of the biggest comics artists in the industry!  Also included are videos I've filmed of myself in exotic places, talking about ... my comics!  New videos every week.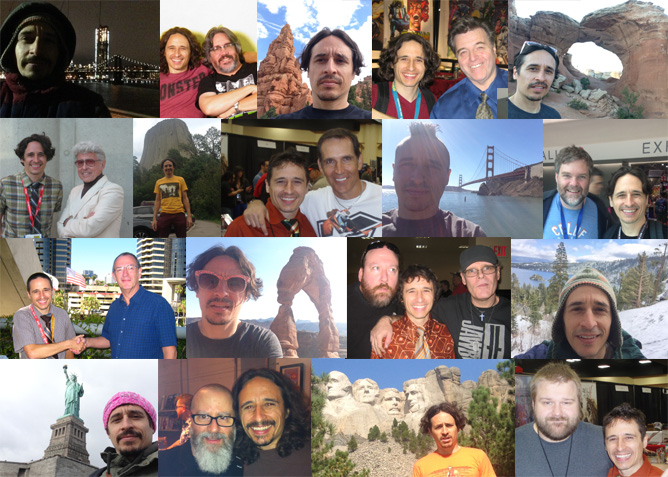 Every six months that you donate 
TEN BUCKS,
 you're ALSO eligible for either:
(1.) up to $25 in books at 
www.tabloia.com
(my official website),
(2.) an 11x17" signed print (choose from the monster prints
HERE
), or
(3.) a 7"x8.5" B&W inked original sketch by me, mailed to your door!  Non-continental US residents will need to pay additional shipping, or maybe wait seven months? Here are some GIANT MONSTER sketch samples: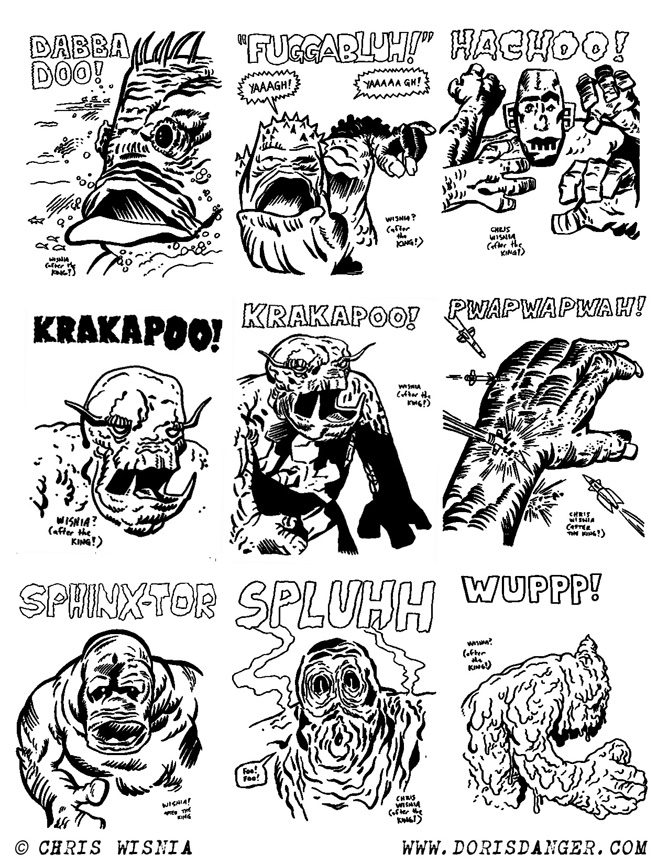 TWENTY-FIVE BUCKS
 ALSO makes you eligible to own an original 11"x17" B&W inked, published comics page, sent to your door!  Minimum six months for the most inexpensive (six or more panel) pages, or let the money ride to choose something more valuable (15 months for the most expensive full-page splash)!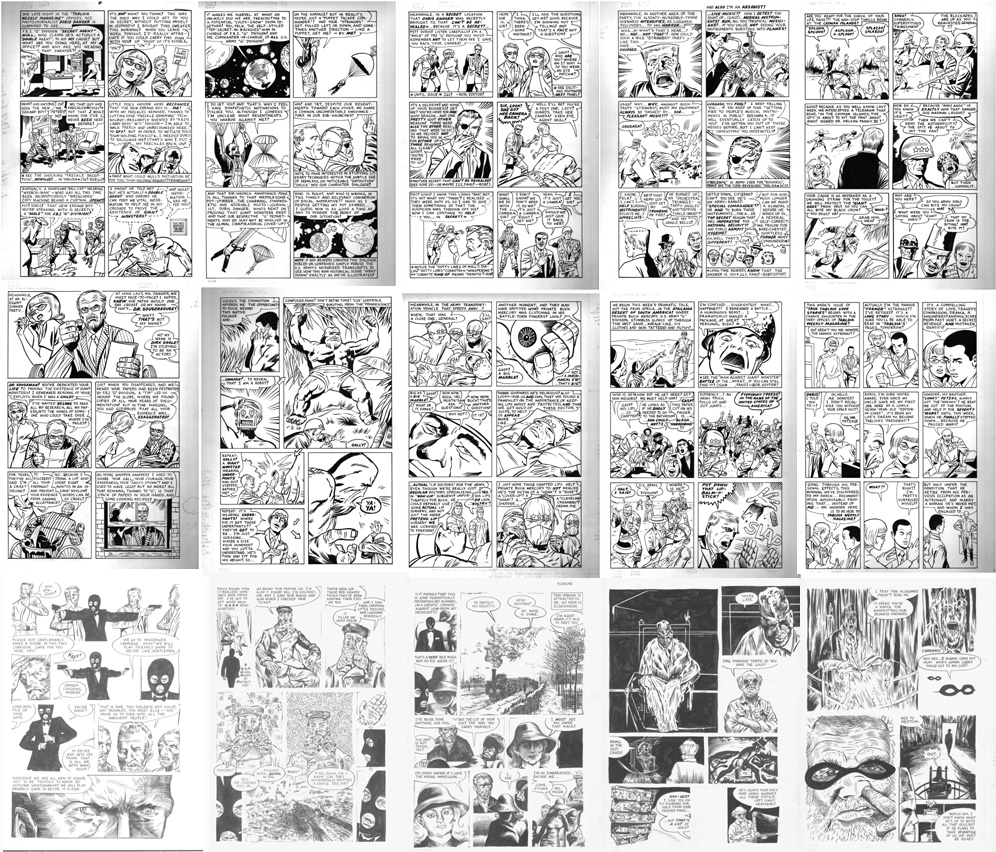 NAVIGATING THIS PATREON PAGE
Unfortunately, everything is easier to view from your computer, because some of these functions are a bit clunky from your phone.
Here's a handy LIST of EASY LINKS to all the FEATURES
Or...
At the top set of tabs, if you click
"POSTS"
 you can access ALL my reward content, listed as a stream or Facebook-style feed, with my most recently posted material at the top.
A little lower down the screen, on the left, are my
"FEATURED POSTS"
 - a particular comics series like "Doris Danger" or "Brush with Peril," for example.  You can click the one you'd like to access.  "Behind the Scenes" lists all my creator commentaries (which are like DVD commentaries) where I talk about the different projects.
If you want a more specific search, then after clicking "POSTS," you can scroll below the "FEATURED POSTS" on the left, where two more filtered options are available to click.  First is
"TAGS,"
which are other comics projects that aren't "FEATURED."  
Second is
"TYPE,"
which is the cost of each reward.  This is handy, because for example, all comics are in the $1 type, all prints in the $4 type, and all videos in the $7 type.  Good luck, and enjoy! 
WWW.TABLOIA.COM
is my official website, where you can find EVEN MORE fun info about all my work and process.

Thanks for stopping by!  --Chris