Cittadini del Mondo
is creating a library, a school, and a clinic for refugees
Select a membership level
Basic Welcome
Every little bit helps adds up. Even a dollar a month can buy soap or sterile pads to help our clinic or stuff our welcome bags, and give those in need what they need most. You will get a photo emailed every month of Cittadini del Mondo's activities, and reports of what's going on from time to time.
Benvenuto! (Italian for Welcome)
Our budget is tiny, so even $5 a month means one more refugee who gets a new pair of shoes after a long journey, or two who get a life-saving dose of vaccine. You'll get a photo emailed every month of Cittadini del Mondo's activities, and reports of what's going on from time to time.
Bienvenue! (French for Welcome)
$10 a month can buy new children's books in much-needed languages, or fund bureaucratic aid to help a refugee register for benefits, or contact family to let them know they're safe. You'll get a photo emailed every month of Cittadini del Mondo's activities, and reports of what's going on from time to time. 
About Cittadini del Mondo
Cittadini del Mondo (Citizens of the World) is a tiny team, nine core staff plus some part-time volunteers, which cares for thousands of refugees in Rome. Founded in 2002, we provide a medical clinic, intercultural library, language classes, prenatal care, and legal aid to thousands of new arrivals each year, and serve Rome's largest permanent refugee community, 
Selam Palace
.
Corona Virus has hit Italy's refugees especially hard.
You can donate immediately via PayPal or Credit card to fund masks, gloves, disinfectant, and clean clothes to protect one of the world's most vulnerable populations.

Cittadini del Mondo fills a gap in international refugee aid. Italy has a relatively open door policy, welcoming many thousands each year who come fleeing violence or famine in Africa, the Middle East, Asia and other parts of Europe. But once people arrive taly provides very few services, and without local contacts or Italian language skills many find it impossible to find housing, work, social services, even treatment for urgent medical conditions contracted during the arduous journey, all of which are inaccessible without some local help negotiating the bureaucracy necessary to get aid, education, and healthcare.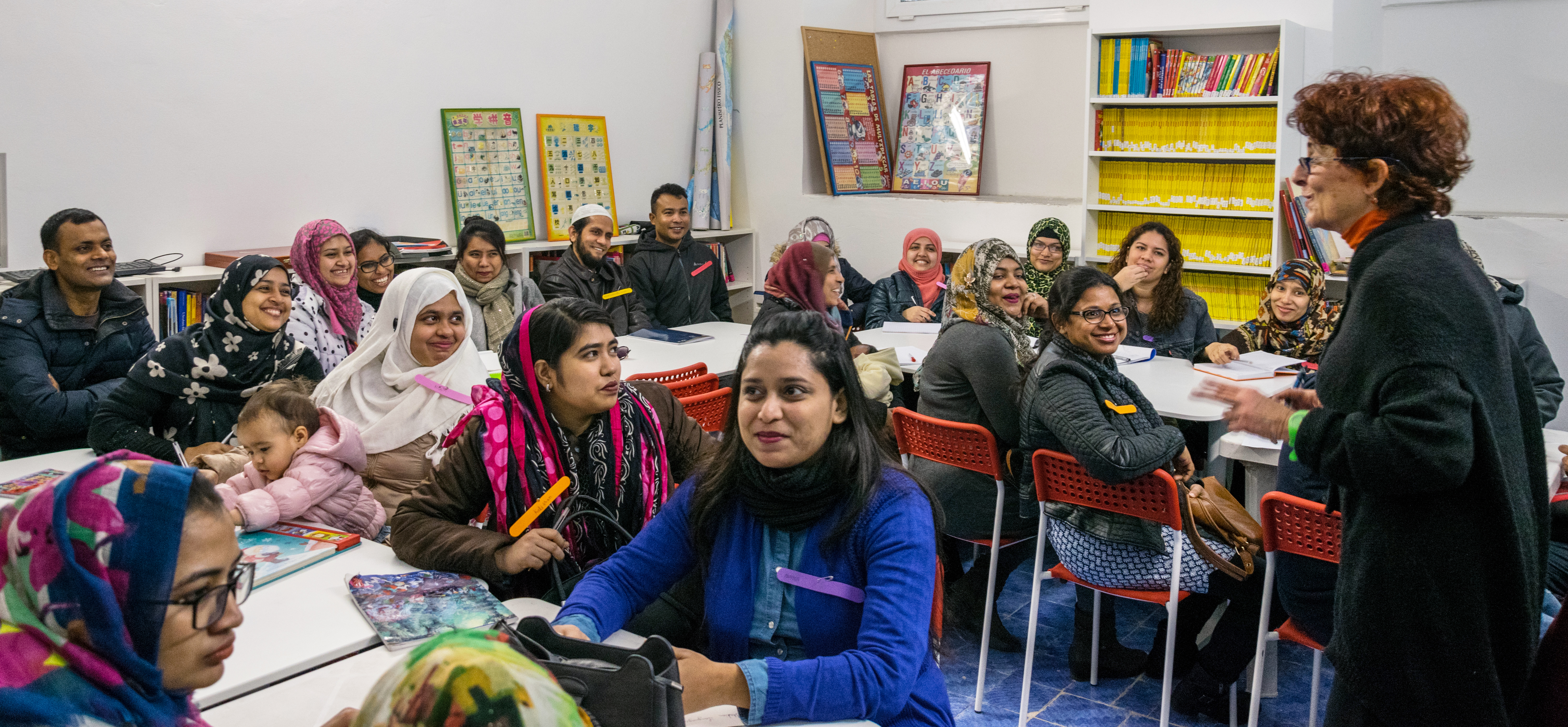 Founded by Doctor Donatella D'Angelo, Cittadini del Mondo began by offering a clinic, but found that, due to their traumatic experiences, many refugees were wary and distrustful, unwilling to accept aid. That all changed with the creation of our Biblioteca Intercultural - the Intercultural Library, providing books and literature in refugees' native languages. One of the most emotionally and intellectually painful parts of long-term displacement is being completely cut off from one's native language and culture, without literature, without children's books to pass on culture to the next generation, often without the ability to even have a conversation in a land where no one shares your native tongue. The reading material provided by our Intercultural Library is a cultural lifeline, offering not only education and entertainment but satisfying the basic human need for stories and ideas. As our founder Donatella put it:
"Offering people aid isn't enough; first they need to trust you enough to believe you will actually help them. Our intercultural library achieves that, by making people feel welcome and showing we have a basic respect for their humanity. Once you give someone a book, a piece of culture, then they know you respect them, and become willing to accept medical and other aid."
Our intercultural library is an awe-inspiring place, clean library chairs and row on row of bright, cheerful bookcases welcoming readers of Urdu, Arabic, Bengali, Chinese, Spanish, Hindi, Ethiopian, French, Korean, and English too.  An incredibly
human
place where anyone can feel connected, respected, and welcome.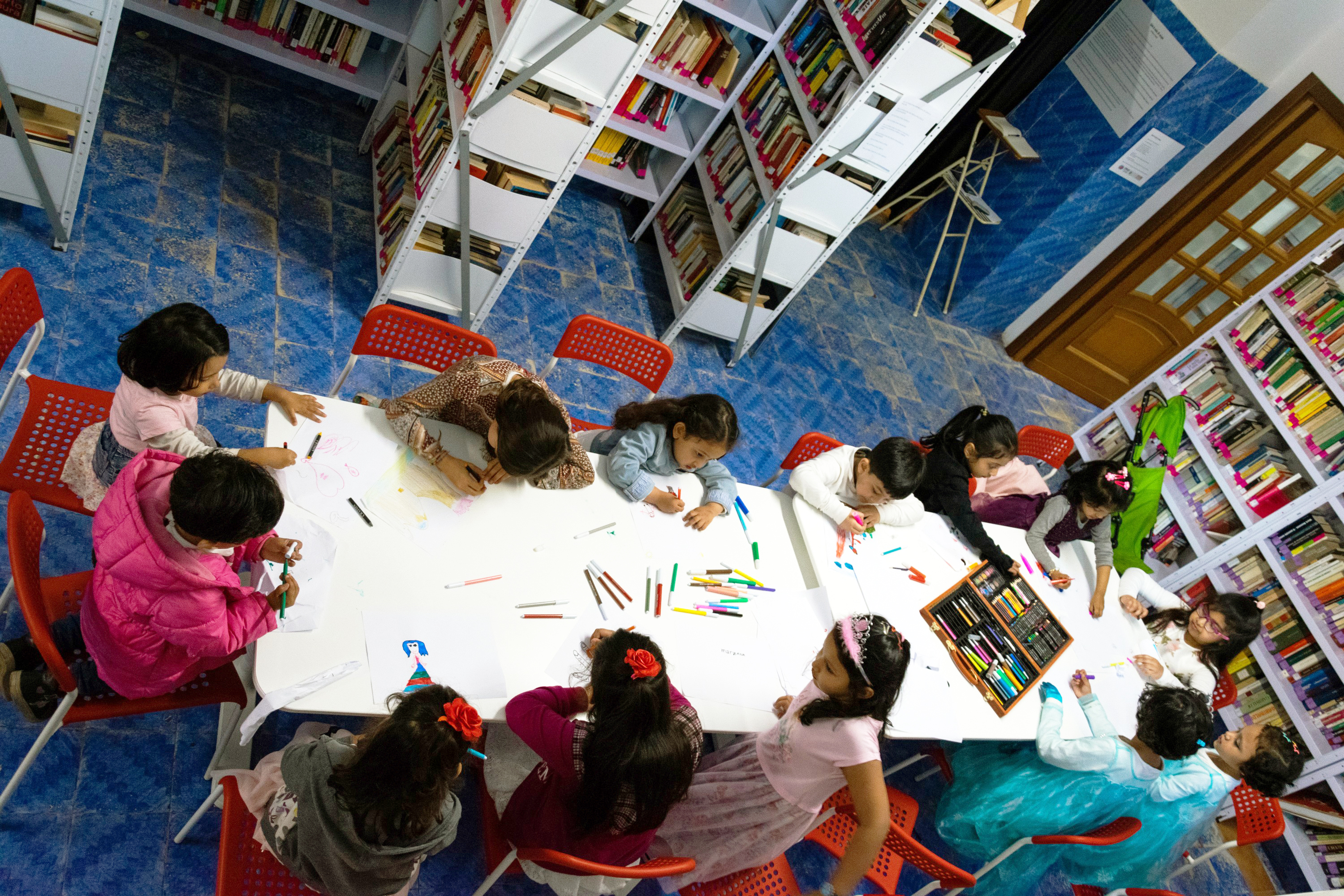 Soon the clinic was packed, and our services were able to expand to include language lessons including special classes just for women, prenatal seminars, and legal aid navigating Italian and international aid systems. Our library also started to host events, from children's birthday parties and intercultural barbecues to music performances and sing-alongs, offering a sense of community, belonging, and joy to individuals families who need it so desperately.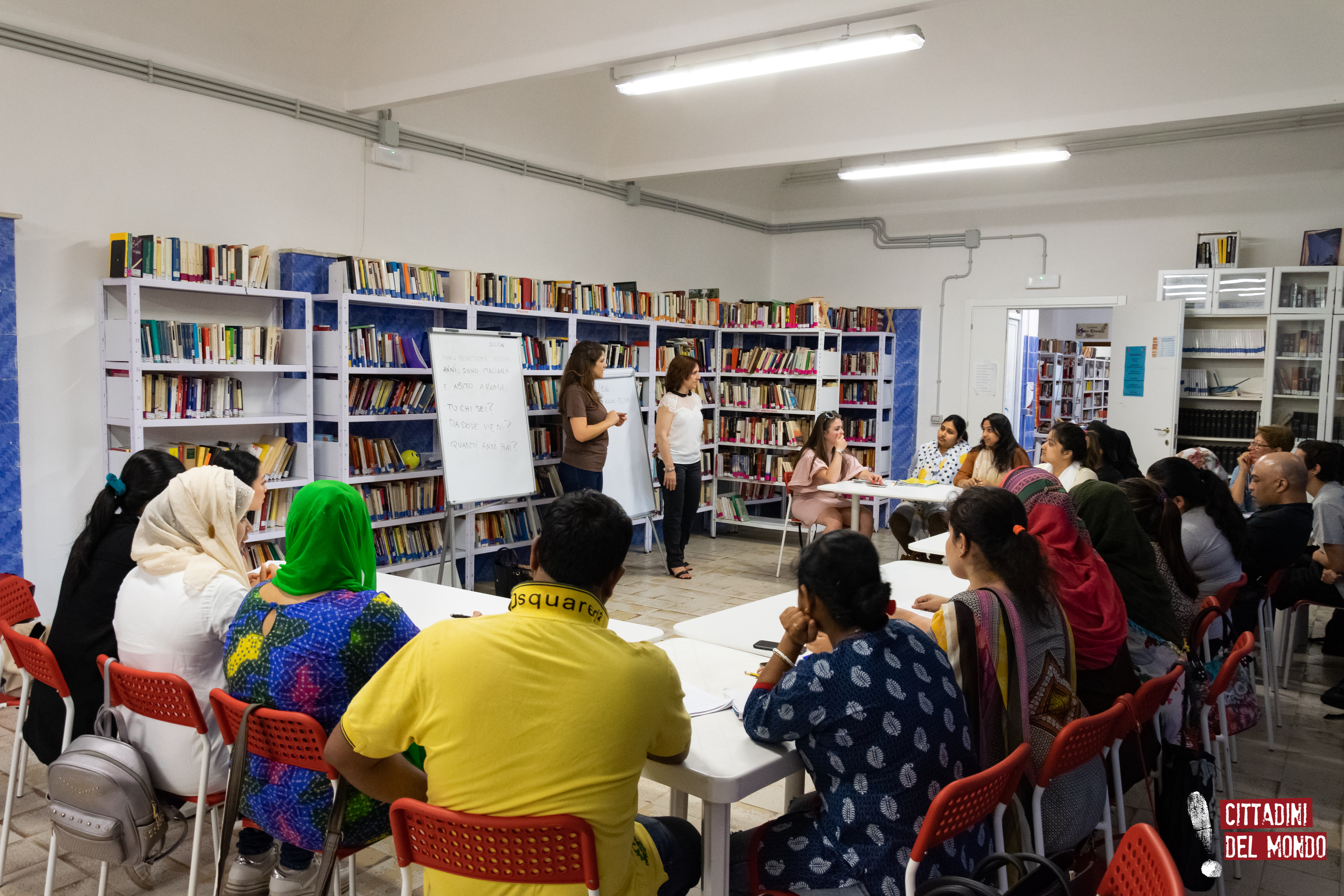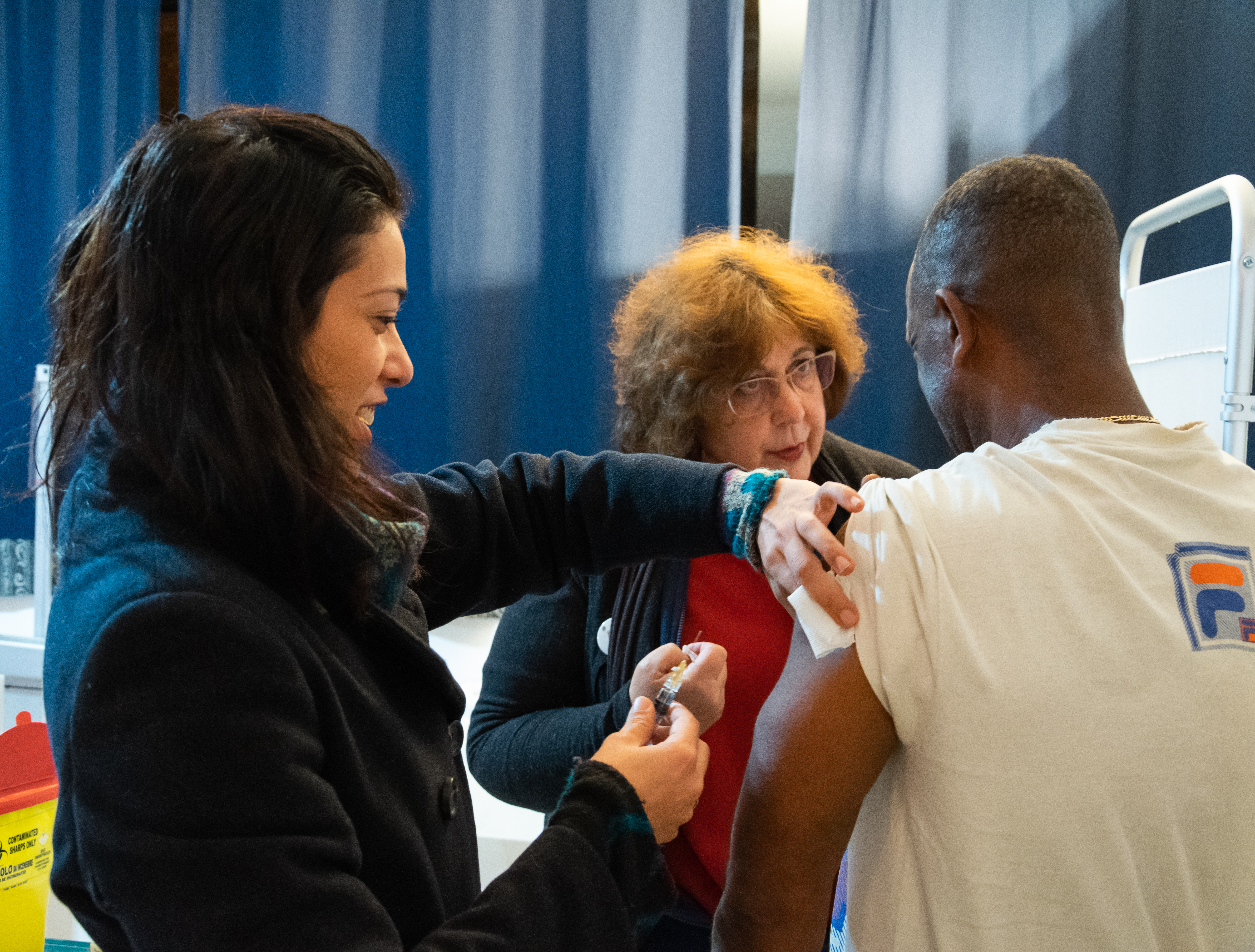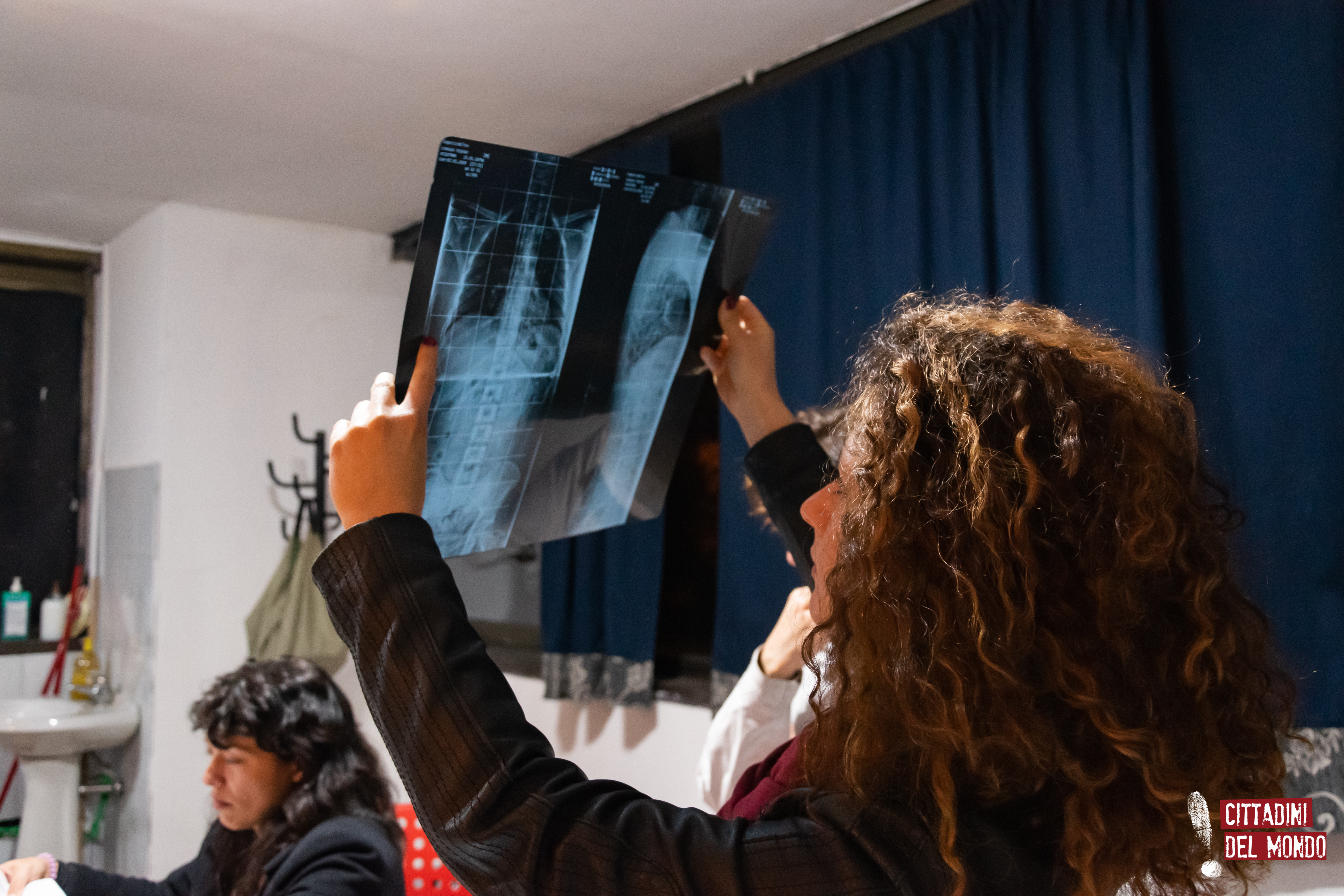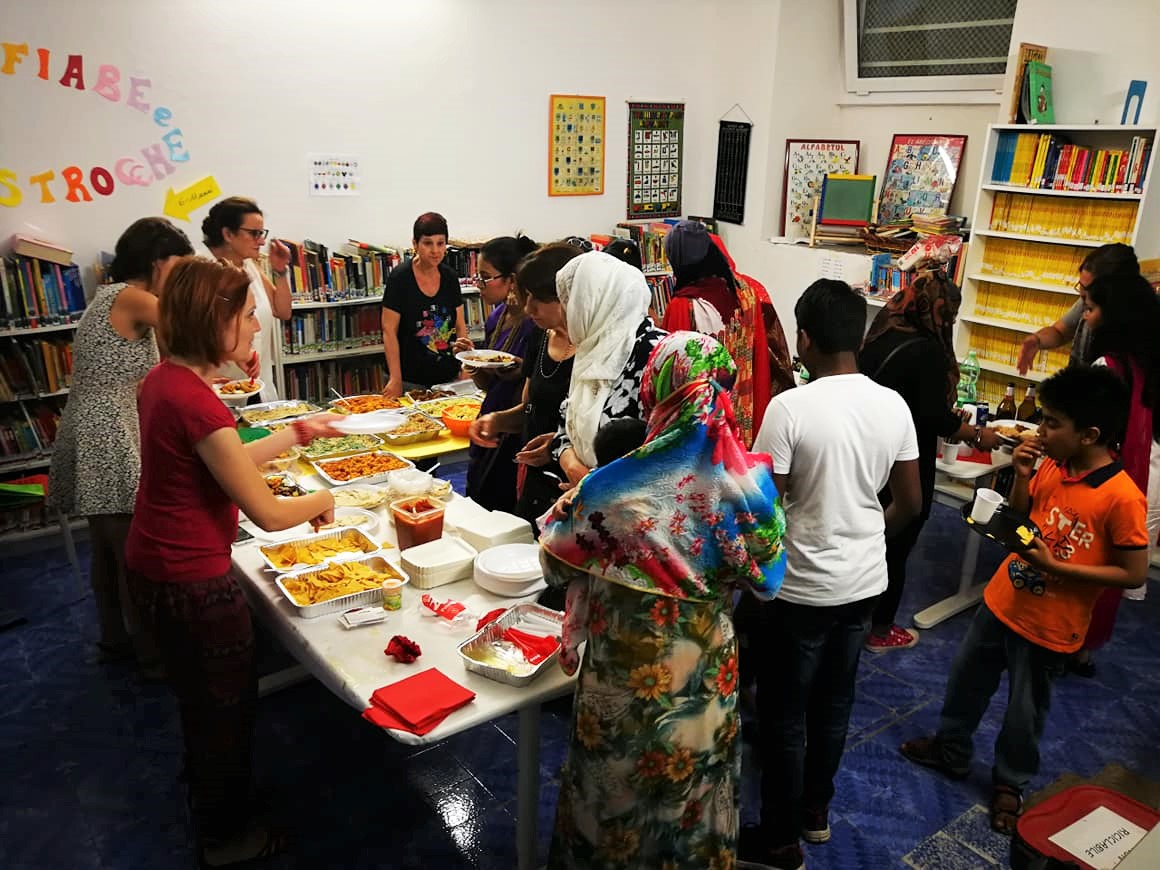 The amazing thing about microcharities like ours which work in the cracks between the big ones, is that even a tiny donation can revolutionize our efforts, and touch the lives of thousands. We received our very first international donation in 2015, just a few thousand dollars raised by a college science fiction club, but even that little sale of books and baked goods was enough to let us expand their operations to start giving arrival kits to every newcomer, including shoes, a towel, personal hygiene materials, new socks and underwear, and a backpack for personal possessions.
That first fundraiser also helped them prepare for the harsher cold months, and fully stock their winter clinic for the first time in their many years of work
In 2017 we were given a new space to expand their library to five times its original size.  With a lot of volunteer hours, small financial donations, and some gifts of books from authors around the world, we held the ribbon-cutting on our new library at the end of 2018 and are now able start hosting larger-scale classes and concerts, all through the hard work of a tiny team.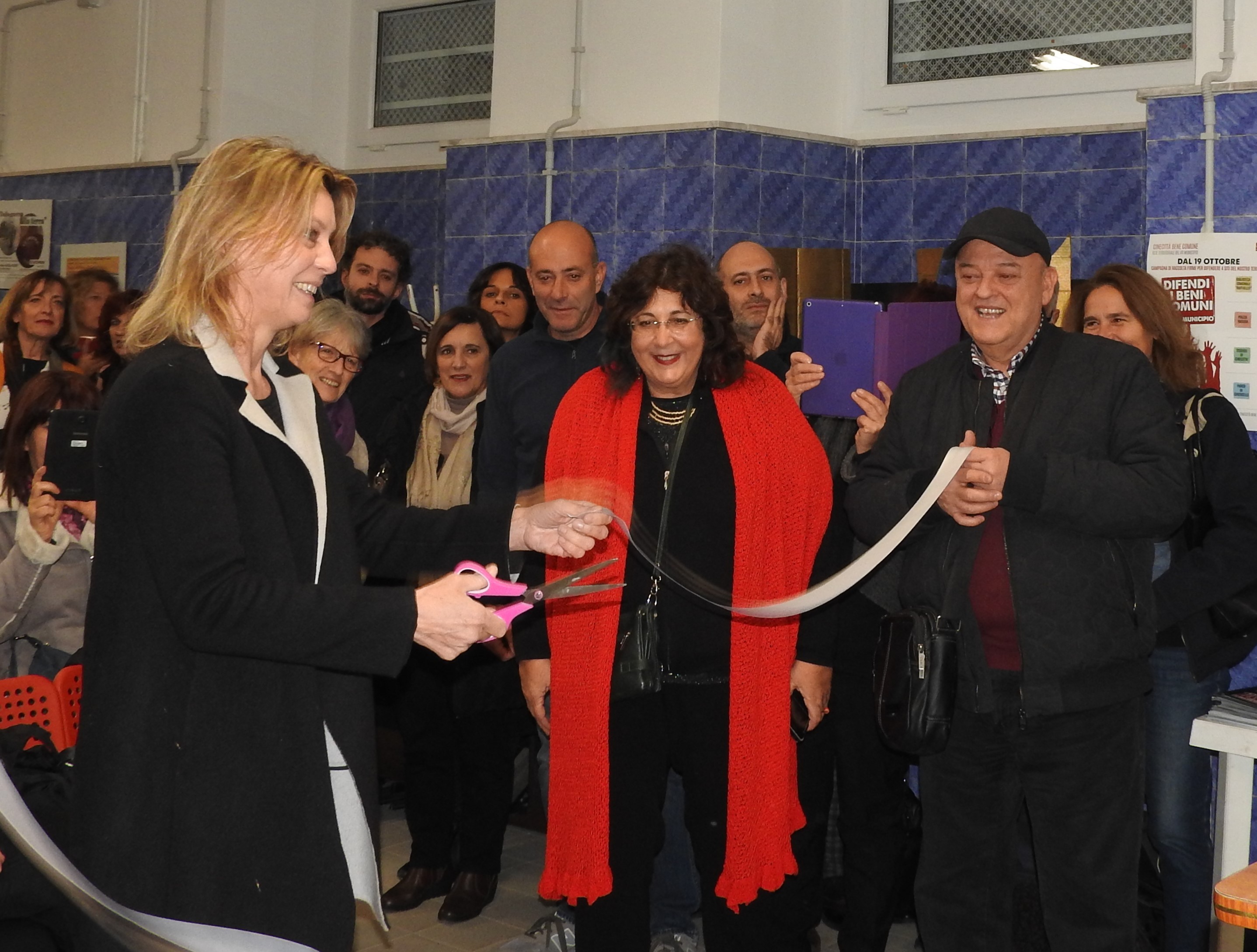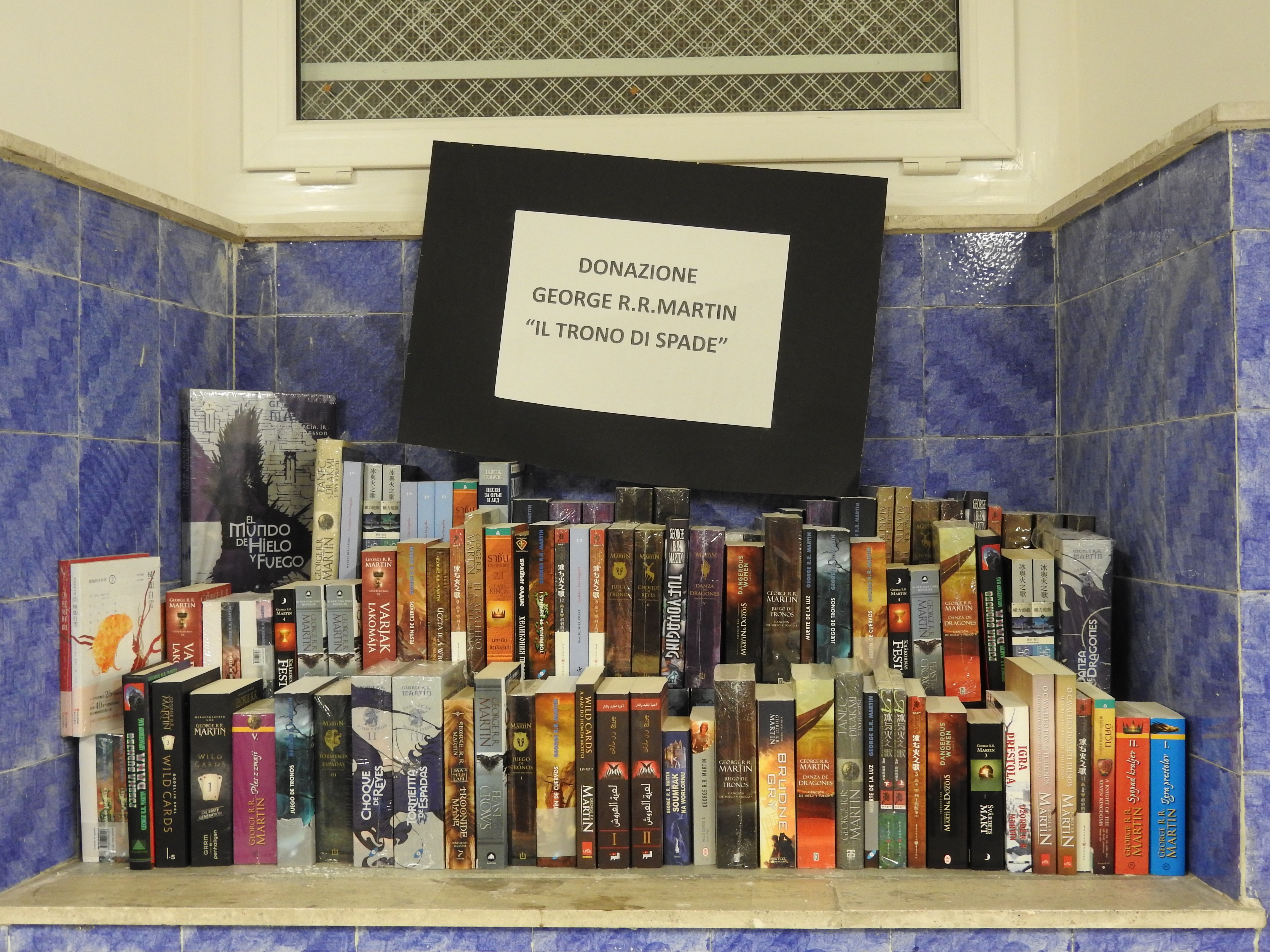 Now with your help we hope to expand our efforts even more: to stock our clinic for winter, to keep giving shoes, soap, and clean necessities to all arrivals, to extend more education and legal services, and to continue to expand our library and the sense of community and humanity it restores. Every small donation will make a huge difference to our tiny team, and our ability to pass it on to thousands of others. Thank you!
$500/month will help support us continue giving a "welcome package" to each new arrival, with a new shirt, soap, socks, underwear, shoes, and other personal necessities no one should be without.
1 of 4
Recent posts by Cittadini del Mondo
How it works
Get started in 2 minutes