Clarissa Shanahan
is creating Cinematic Paintings, teaching the cross-section of Art & Film
Select a membership level
Art Director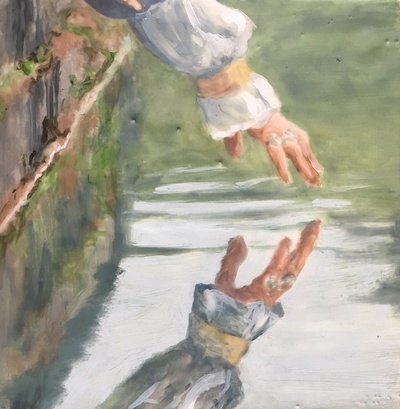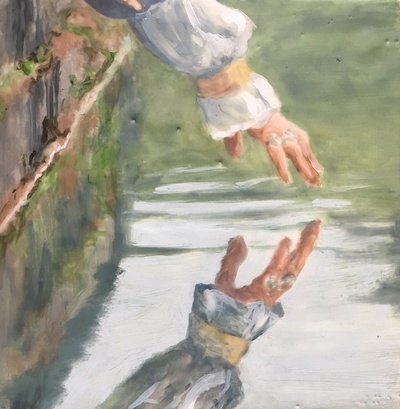 With this most affordable tier, each month, you'll get lots to look at, think about, practice with...
You'll get one post per week on all kinds of deep thoughts and pretty pictures - paintings of mine in process, a studio tip, or the latest color from Williamsburg Oil Colors that I'm currently in love with.
One Side By Side - a cool little comparison of a film still and painting, or a director and artist, or side by side genres. You get the idea.
Plus a Product Review or some BTS images of In the Studio.
Patron-only posts and messages
Production Designer
This is the next-level for those of you who want a deeper dive into all things
Art and Film!
With this small upgrade, you'll get even more visual information, cool, neat movie insider info and lots of inspiring content to foster your own creative work. You'll get:
All the benefits of an Art Director tier, PLUS...
Alternating months will be One Mise-en-Scene Deep Dive video - such as a look at how composition is used in this random favourite scene from Peaky Blinders, or how a Doris Day movie has the Impressionists to thank!
OR One Instructional Painting Video!
Patron-only posts and messages
Director
Wow, here's an even more
deluxe
tier! For those of you who can't get enough of the whole
Art and Film
thing that I'm leaning into here, this Tier is for you!
With this Monthly membership, you'll receive:
All the benefits of the Production Designer tier, PLUS...
One additional Side by Side video. In other words, every month you'll get two! Holy Moly!
Occasional 30 min Live Film Talk / Q&A Sessions!
But wait, there's more! You'll also get the occasional Trivia Challenge - could be about the 19th century Symbolist painters OR the color symbolism used in American Beauty! Film talk is fun! Art talk is fun!
Patron-only posts and messages
About Clarissa Shanahan
Welcome to my new page, everyone! I'm happy to have you here with me, where we can dive into all things
Art and Film!

So let me introduce myself. Hi, I'm Clarissa.
I'm a professional painter and a former film industry creator. I look to film - cinematography, composition, symbolic use of color - as reference for my work. You can also view my work at 
www.ClarissaShanahan.com
.
So my work and creative direction are a mash up of many years as a huge movie fan (HUGE); a love of all things painting, particularly in the context of art history; and many years having actually worked in the film industry as a scenic artist and occasional designer. All these elements have brought me to create this Patreon page, because
I know you're out there, fellow Art and Film lovers!
I have over 40 film credits (IMDB-legit!), have sold my work through galleries for years, and I teach courses and workshops on Painting Techniques, Color Theory and Symbolism, and lectures on Film Studies and Art History - and where they meet. So all of that experience is now focused towards you, my new friends!
For this Patreon, I'll be offering:
Studio and Painting instruction
- videos, tutorials, behind the scenes, work in progress, film and art history trivia and more.
Film Exploration (and I promise, this. is. so. much. fun.)
- Videos, breaking down a film still visually - for the sake of shorthand, we'll call these
Mise-en-Scene Review videos
! Also, discussions, group forums, lecture videos and live film talks. 
Eventually, I'll be rolling out some higher tiers that will offer longer content that goes deeper into these subjects as well as:

1:1 critiques!
Drawings for discounts on original artwork!
First dibs for new work!
Be entered to win exclusive content!
Q&A sessions!
Interviews with artists, film industry ppl and makers from around the world!
BTS images and stories from working on film productions!
Film industry workshops!
Again, I'll be
rolling out more benefits
as I get up and running, and always, give me a shout if there's something you want to see! I hope you'll join me here and create a community of like-minded film fans, painters, makers, collectors and creators! I look forward to meeting you:) 
"
There are hints of high drama in many of Clarissa Shanahan's paintings, beginning with her first mature works from around 2010. With titles like Asylum, Cliff, Phantom, and Haunted Tree, these modest-sized works, not more than 36 inches on the longest dimension, often suggest stage sets waiting for a latter-day Hitchcock or Kubrick to cue the actors and bring the whole scene to thrilling life. Her most recent series, "The Grand Tour," based on a photo album found in a Rome market in 1982, imagines an epic journey on a more epic scale (up to 84 inches long), as a robust middle-aged woman travels through the Middle East in the 1930s. She looks to be having such a jolly time you could imagine a "Masterpiece Theater" series based on her adventures."
- Vasari 21, October 2018
When I reach this goal, I can devote more time to you, my community! I'll launch a series of interviews, starting with one every couple of months. These interviews will be with Artists, Creators, Film Industry Insiders and Makers from around the world!
1 of 1
By becoming a patron, you'll instantly unlock access to 39 exclusive posts
By becoming a patron, you'll instantly unlock access to 39 exclusive posts
Recent posts by Clarissa Shanahan
How it works
Get started in 2 minutes