Cloud Kitten Chronicles (Kitten Coalition)
is creating Youtube, writing, bookstagram, and more
Select a membership level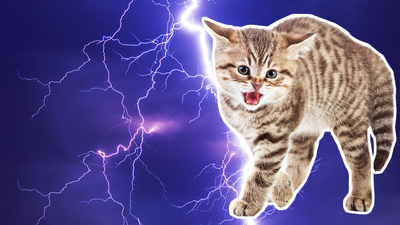 Thunder Kitten
 As a booming Thunder Kitten, you get access to:
 •  Warm Fuzzy Feeling:
The secret, unguaranteed magical powers that come from supporting your local Megan and Josh? No? Okay, okay, we have some more common rewards for you if unguaranteed magical powers aren't your thing. Weirdo.
 •  Early Access Pass:
See videos, applications, info, and more before anyone else! Yes! I am sometimes capable of getting things out early. Sometimes...
 •  Access to the Kitten Coalition Discord Server:
A magical chat room where you can make friends, find CPs and betas, get advice, and learn the secret to success as a writer. We don't have that last one just yet, but we have faith that someone with the secret will join the server any day now.
 •  A Twitter Follow and Inclusion in the Kitten Coalition Twitter List:
If you're a true kitten, you'll want this. Twitter is the preferred social media platform for kittens everywhere.
 •  Patreon Exclusive Polls because voting is fun
Fire Kitten
 As a raging, bright Fire Kitten, you get access to:
 • Social Media in Videos:
 Your social media handles randomly appear in videos. If you're super lucky your handle may even appear while one of the cats is on screen which is basically a feline endorsement. Who wouldn't want to follow that person?
 • Video Suggestion Box:
Comes with a personal dedication if your suggestion is chosen. Give me ideas and I shall reward you in shoutouting
 •  Access to all lower levels because you deserve it
Sun Kitten
 As a warm, blinding Sun Kitten, you get access to:
 • Youtube End Card:
Your name and social media handle will appear at the end of every video so that the whole world might know of your status as a Kitten Coalition Kitten! (we make no promise that the whole world will watch every video, but it could happen).
 •  Book Acknowledgment:
Your name and handle at the end of my next book. Because who doesn't want their name in a book!
 •  Access to all lower levels probably
About Cloud Kitten Chronicles (Kitten Coalition)
Hello and welcome to the Kitten Coalition! This page is run by Josh and Megan Tennant, whose combined passions include books, making book-related kitchen disasters, writing, and of course helping people, whether it be through knowledge or entertainment on Youtube (Youtube.com/CloudKittenChronicles).

Please consider joining the Kitten Coalition, whether it be as a Thunder Kitten, a Fire Kitten, a Cloud Kitten, or maybe even a Dune Cat. Every dollar we get here will go towards helping us make the content you love. Your support means the world to us, and we can't thank you enough!
Help us reach this goal and we'll start doing a monthly livestream!
1 of 1
Recent posts by Cloud Kitten Chronicles (Kitten Coalition)
By becoming a patron, you'll instantly unlock access to 59 exclusive posts
By becoming a patron, you'll instantly unlock access to 59 exclusive posts