Coach Chic
is creating high level hockey advice
Select a membership level
Buy The Old Coach A Cola Or Coffee
If you're an old friend, but no longer in need of hockey help, you can still keep me going.  You probably know I'm sipping on something from early morning 'til late at night.  And, if you help me out, I'll thank you in one of my coming podcasts.
Foster Confidence & A Love Of Hockey
Make no mistake about it:  although this is about "the basics", group members will discover the things that often make or break a newer player.  Players who love the game can't get enough -- at the rink or at home, and they usually pass those less passionate.  What some don't realize is that such passion can be instilled through very simple -- but well thought out -- drills and other methods.  Content here includes level specific articles, videos, directions for building special training devices, and access to the CCC-TV archives.  Especially appropriate for coaches and parents of young players, as well as adult beginner players.
Crack The Next Hockey Levels
Confidence and a love of the game is imperative, but the challenges become greater as a player climbs the hockey ladder.  Not only do individual skills need to be brought to higher levels, but so does a player's ability to think the game.  And, while these certainly can be enhanced at the rink, it's possible to achieve even more through some little known off-ice and at home training methods.  And, while coaches can surely use these ideas for a team, so can a parent help his or her player behind the scenes.  Content here includes level specific articles, videos, directions for building special training devices, and access to the Hockey Secrets Podcast -- with some of this content even used by elite level players and teams.   Especially appropriate for coaches and parents of intermediate level players, as well as adult intermediate level players. 
*Membership here also includes access to the $5 Tier.
About
The seeds for a very special kind of hockey training in New England sprouted in 1976, when Dennis attempted to fill what he thought was a growing need in his home region, this being a skill oriented training program that included game-related skating, puckhandling, passing and shooting.  The popularity of his early sessions grew such that he ultimately expanded and operated some of the most successful hockey schools in the Northeast, with locations in MA, RI and PA. (Numerous former NHL players and coaches were among his students, as were hundreds of top college players over several generations.)
On the lighter side, the "Coach Chic" (pronounced "Chick") moniker came about as soon as Dennis realized that new students and their parents were struggling with his long, Italian last name. 
In 1979, Coach Chic studied at the Institute for Physical Culture & Sport
in Moscow of the old Soviet Union. And, as his Patreon followers will discover, that eye-opening experience still influences the way he views the game today.
The Coach possesses a BS Degree in Physical Education & Coaching, with a Minor in Instructional Media (concentrating on video production), and he was among the earliest American coaches to gain
USA Hockey
's highest certification as a Level 5 - Master Coach.
From the earliest days until his retirement, Dennis has head coached every level of amateur hockey -- Mites through Juniors, he spent 3-years as a high school head coach, another 7-years as a college head coach, and ended that chapter in his life with several minor league professional coaching/GM interviews.
For sure, Coach Chic's approach to the game is unique -- and highly effective.  AHL and NHL organizations have purchased his training manuals, his special drill ideas have been borrowed by elite coaches around the world, and when he publishes a new training idea, most higher-ups in hockey pay attention.
(Upon joining, you'll receive an email address so that you might submit hockey questions or offer ideas about making the Hockey Mastermind Group even better.)
*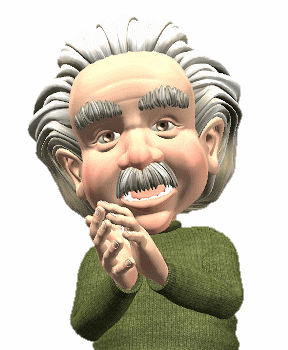 Oh, about the Hockey Mastermind Group's spokesperson, "Albert"... 
At some point, Dennis was dubbed "The Professor" by a number of hockey parents, mainly due to his penchant for inventing some pretty unique drilling methods and training devices.  So, who better to help represent this project -- and put a little fun into it -- than the original professor?
Sadly, in my move from MA to FL, I had to leave a lot of my video and audio equipment and accessories behind.  Oh, I still have enough to produce good videos and podcasts, but your contribution will help me upgrade the current, rather modest studio with a better camera, better microphones, and some special software.

1 of 4
Become a patron to
Unlock 161 exclusive posts
Connect via private message
Recent posts by Coach Chic