colibritrader
is creating trading setups, forex, gold and indices (DAX and Dow)
Select a membership level
VIP-Traders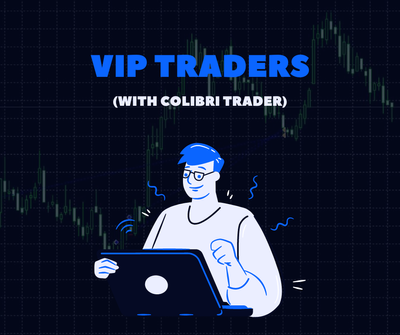 - Access to exclusive VIP Traders lounges
- Access to Private Lives from Monday to Friday at 7:30 am:
Forex and indices (DAX and Dow Jones) analyses and development of your methods and knowledge in trading.
- Access to daily reruns as well as all archives.
- Access to the private DROPBOX with resources to improve your Trading:
* Psychology tutorials
* Explanatory videos
* Trading plan template
* Guide to creating your Trading Journals
* Lots of other relevant resources to improve your trading
NB: Most of the successful traders I know went through years of losing or breaking even. Trading is a serious discipline- make sure that is what you want to do before you even think of subscribing to my channel. Also, don't forget to help a charity of choice once you start being profitable. 

Includes Discord benefits
About
Welcome to everyone!

Helping traders become profitable, sharing trading ideas and sharing my trades. Traders around the world unite and don't forget to give back to a charity or a cause of your choice.
As you know with the creation of colibritrader.com and since recently my
Discord
channel
, I have decided to take under my wing a group of Traders: from beginners to advanced and help them to find a trading method that works and hopefully to help them to become CONSISTENTLY profitable traders.

By becoming a VIP ⭐️ member on Discord, you too will benefit from a professional outlook that will allow you to adapt to changes in prices and events in the Forex and Indices (Dax and Dow) markets.

Every day when I trade, I give everyone, for free, an overview of my thought process in my daily analysis. I do share my thoughts with over
36,000 traders (and growing) on Twitter
. I guess I must be doing something right 😇

However, even though the content offered is professional and solid, the most valuable part is only offered afterwards to VIP members ⭐️ during the daily Private Live: I teach you how to see the markets through my eyes and how to create your method and be able to trade by yourselves.

I have created this channel in order to broaden your vision of trading in practice and share with you my trading day whenever possible. There are a thousand ways to win in this market and still over 90% of traders are losing money. I will do my best so that you can join the 10% or less of profitable traders.

MY BACKGROUND:
I have started my professional trading career in one of the oldest prop trading houses in London and learnt my trading tools from a trading veteran and legend who back in 2012 was trading over 4,000 DAX contracts daily! From him I have learnt the importance of patience and simplicity in trading. I have dropped all trading indicators and have mastered
price action
and supply and demand trading. Currently I do both Day Trading and Swing Trading.

Among my favourite trading tools are: Candlesticks and price action, Support and resistance and supply and demand zones, Order Flow and Depth of Market and a few less known techniques and methods. I like to see myself as a mixture of trend-follower and a contrarian or in other words am not influenced by what the public wants, but what the markets are telling me. I feel equally good to take a trade against the trend and also to follow the trend if that is what the market tells me.


I do like to see markets as a place where a trader with the right trading tools can achieve risk:reward ratios of over 1:10-1:20. The majority of my students know what I am talking about. I have showed examples of my live trades that achieved risk:return ratios as high as 1:30. If interested, you can check out my trading courses on:

-Price Action (long-term trading course)
-Supply and Demand (long-term trading course)
-Day trading course

My story in a few sentences: Start trading on a Demo. Figure it out. Make mistakes. Learn from your mistakes. Repeat the same mistakes. Ask. Learn. Improve. Gain confidence. Make less mistakes. Improve. Risk it. Learn more. Ask more. Expect less. Ask less. Listen more. Be patient. Become a trader!

I have helped thousands of traders throughout the years and now I have decided to make an experiment and try to help traders while I trade. I want to see if that will be more helpful to traders and if they will become profitable faster than just taking my online courses. I hope this will not hurt my profitability, but am willing to give it a try if it has even the slightest chance of helping struggling traders. If you are interested, please check out my
Vip-Private Discord channel
.

As a VIP Discord member you will have access to much more personal content than anywhere else online.

During the trading week, I will walk you through potential trading setups and the important trading levels that I will be watching to place trades.

It may seem difficult to understand at first, but by following my pattern of thought and my methods explained over and over again, you will be better prepared to know what to expect from the markets.

By becoming a VIP member ⭐️you will be added to a private area where you will have all the links and access to all the archives as well as a ton of educational materials.

I also added in a private link from which you can download key concepts, documents and trading materials relevant to improve your trading and create your trading plan.

The service I offer is paying: 54.60USD (including VAT) monthly. This is a limited time offer only and will apply to the first 997 students only.

--------------------------------------------- --------------------------------------
>>> ATTENTION! BILLING APPLICABLE AT THE TIME OF ENTRY FOR THE MONTH THEN THE 1ST OF EACH MONTH! <<< (in crypto is 30 days for the same amount)
FOR THE PATRONS BIND YOUR DISCORD TO RECEIVE IMMEDIATE ACCESS :
-> My Profile Settings (Top right menu)
-> Apps (Tab)
-> Connect (Button)Sometimes you have to disconnect reconnect (people tend to create a new account instead of using their active account)

EMAIL ME IF YOU HAVE ANY OTHER QUESTIONS? :
I am available at: [email protected]
Become a patron to
Connect via private message
Recent posts by colibritrader
How it works
Get started in 2 minutes