Colin Cummings
is creating tabletop RPGs!
Select a membership level
Role-Player
At this level, you gain access to (almost) all past and future (as long as you remain subscribed) content, including new one-shots, rulesets, sample sessions and more.
Game Master
Want a little bit extra? At this tier, gain behind the scenes knowledge of game development and upcoming games through posts, monthly Q&As, and more. In addition: gain early access to all new launched games.
About
Hello!
You may know me as the creator of
Boy Problems
the
Carly Rae Jepsen-themed heist tabletop RPG
. I hope to continue to work on expanding
Boy Problems
, patching the game as I run playtests, creating sample sessions to make pick up + play even easier and to add additional and optional systems to layer on, to expand the game out and add further depth for players who want a different experience.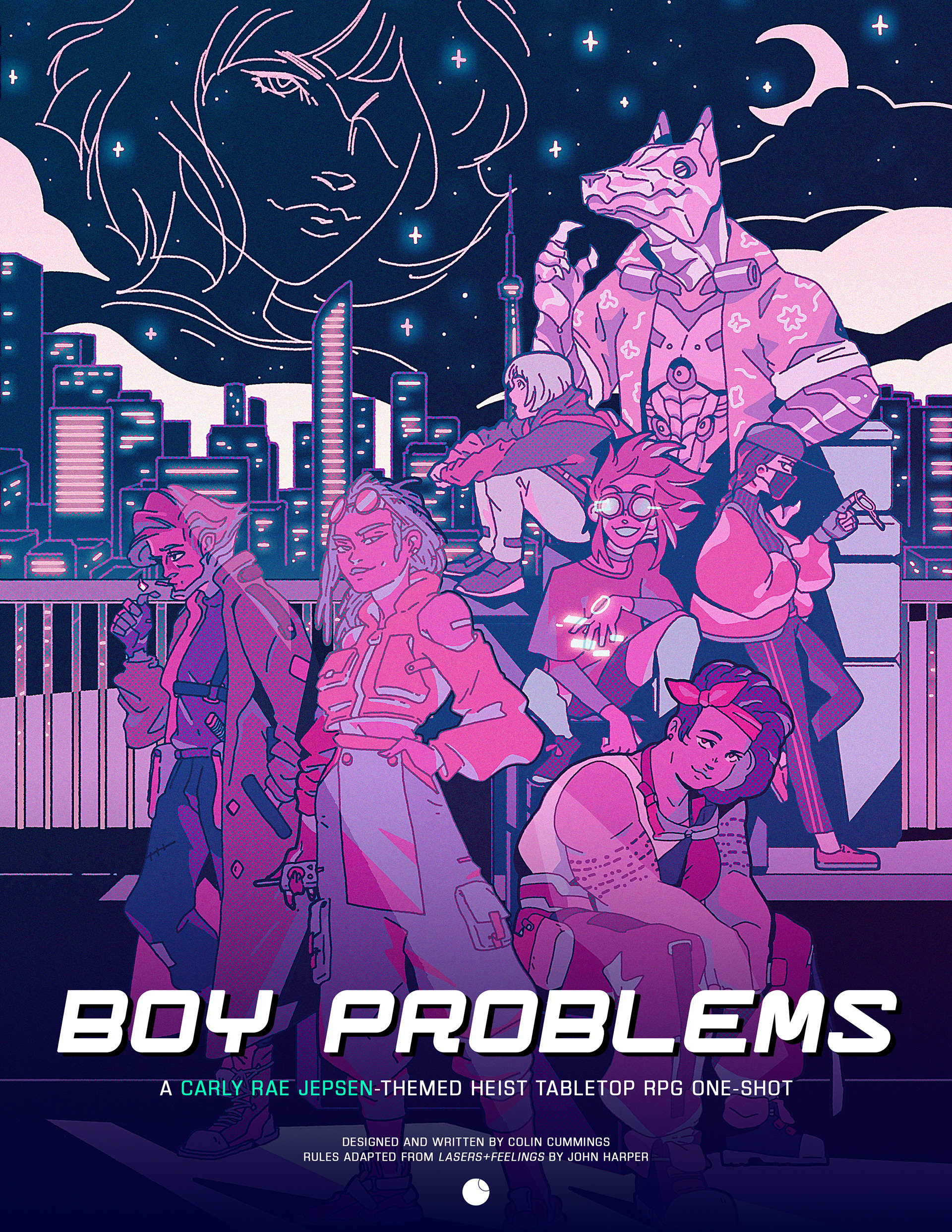 So, I'm turning to Patreon to help fund my work!
With your help, I'm hoping to not only expand on what I've created but also to create new systems as well! (More on that in a minute...)
By backing me here, you will get all future content as I create it. All rulesets, sample sessions, and more all in high quality and printable PDFs in color and black and white. The original ruleset of
Boy Problems
will always be free and open to the public (it is adapted off an existing ruleset after all) but further expansions on it, as well as new rulesets and themes I create for future games, will be sold individually, or, available to subscribers on here!
In addition, with certain funding levels, I will show more of my behind the scenes work, expand on tabletop content, commission new art, create other fun one-shots voted by the community, and more.
I'll be posting all updates on both
Boy Problems, Black Heart, Warm Blood, In Case of an Emergency,
and any future content on here, my
Twitter account
as well as a future hub site for my work.
Speaking of future work, be sure to take a peek at the header on the top of this page and watch out for future posts for more information.
Thanks again to everyone for all of your interest in what I have created, I can't wait to make more!
RELEASED SO FAR
:
Boy Problems
(Quick Rules, Sample Session, Updates, Art Update),
Black Heart
(Rulebook, Session & World Guide)
COMING IN 2020
:
In Case of An Emergency
(Black Heart hack and reskin),
Warm Blood
(Quick Rules),
Swords as Subtext
,
Untitled Exploration Game, Black Heart
(Art Update)
COMING SOON:
Untitled School Game
,
Fantasy Zine
(w/ one-shot)
Patreons I pay forward to:
Lana Jay
,
Rebecca Cordingley
,
Rose Madolyn
,
Emi Lenox
When we reach this goal, I will start doing a monthly design stream! This will serve as a monthly Q&A as well as a preview of what I'm working on, as I work on it in real time!
2 of 6
By becoming a patron, you'll instantly unlock access to 27 exclusive posts
By becoming a patron, you'll instantly unlock access to 27 exclusive posts
Recent posts by Colin Cummings