Colin Thomas
is creating FRESH SHEET
Select a membership level
Pledge ANY AMOUNT you want.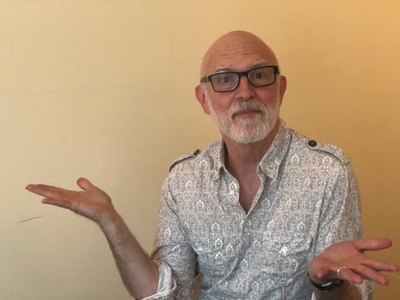 With some Patreon campaigns, different levels of funding buy different levels of content.
FRESH SHEET, my theatre e-newsletter, doesn't discriminate like that: everybody gets the same content, no matter your level of support. Viva la Revolution!
You can receive FRESH SHEET free if you want. Or, depending on your comfort level and how much you value the service, you can pledge $5, $10, $15, or $20 per month—right up to $100 a month or more if you're in a position to be a philanthropist. 
Your financial support is important. Without it, I can't continue to write reviews or curate theatre coverage.
But we can do this!
Please share this campaign widely! Let's get it rolling!
To pledge: 
click BECOME A PATRON
enter the dollar amount
click CONTINUE
click CONFIRM AND PLEDGE.
TO BE CLEAR: A FIVE-DOLLAR PLEDGE IS NOT YOUR ONLY OPTION. YOU CAN ENTER ANY DOLLAR AMOUNT YOU LIKE.  (Average pledge so far: $10)

AND PLEASE NOTE: Patreon works in American currency. Please take that into account when making your pledge. 
About
Hello beautiful
,
What are we doing here? Loving theatre, that's what we're doing. 
I'm a theatre critic. And
I'm launching a Patreon campaign
to support the creation of 
FRESH SHEET
, my weekly theatre e-newsletter. (Here's where to
subscribe
and here's where to check out
back issues
.)
A Patreon campaign allows you to become my patron.
You pay a monthly amount—however much you want—and I send you all of my content.
That content includes curated local, national, and international theatre coverage—the best from around the world: news, articles, videos, and insights into the craft. You also get frank reviews—usually three or four assessments of currently-running shows per week. (During the Fringe, you get
tons!
)
I live to create this kind of meditative, ecstatic, contentious material.
If you chip in a couple of bucks per month, I can keep writing reviews and curating FRESH SHEET.
And you can continue to rely on FRESH SHEET for your weekly hit of all that's fascinating about the world's most compassionate art form.
And here's the thing. Here's why 
FRESH SHEET
—independent, online criticism—is so important.
As print publications whither and die, arts coverage is one of the first things that gets cut—or compromised.
To thrive, theatre needs honest, informed criticism. So we need to find new models for delivering—and supporting—that kind of coverage.
That's what we're doing right here.
That's what FRESH SHEET is all about.
I have over 30 years' experience writing about the theatre, and there is
zero advertiser influence
on
FRESH SHEET. 
As
FRESH SHEET 
grows, I will include more and more critical writing from members of marginalized communities—and I'll be able to pay them!
That's Level One.
If Level One is wildly successful, I'll apply to funding bodies to create
VANCOUVER GREENROOM
, a community-based theatre website with event listings, interviews, podcasts, and so on. And, if that flies, we'll take over the world—starting with
CALGARY GREENROOM, OTTAWA GREENROOM, HALIFAX GREENROOM
…You get the idea.
We're in this together. Let's keep insightful, ethical criticism alive.
We are the future.
Just hit the "Become a Patron" button on the upper right. Thanks!
1. An anonymous benefactor offered to match the total of my monthly pledges with a one-time donation—if we reached at least $1,500 in monthly pledges. 

We did it—or, as my benefactor put it, we got "close enough for jazz" :-) —so she's going to give us 1,500 bucks as a one-time gift!

THANK YOU ALL VERY MUCH for helping to make this happen!

1 of 4
Become a patron to
Connect via private message
Recent posts by Colin Thomas