Conscious Performers Collective
is creating high-frequency, holistic theatre
Select a membership level
HEAL
Thank you! By sustaining us at this level, you essentially make possible for the company to invite one non-traditional theatre audience member (for whom theater normally isn't accessible or affordable) to come and experience one of our productions.
 
YOU GET:
 
 Priority notice regarding any of our shows, workshops or other artistic projects you can engage with.
Continuous non-video insight into our creative process through notes, ideas, images, sketches, philosophical ponderings and other creative tidbits that come from our various artistic projects.
The not-to-be-underestimated gift of Giving, and being an advocate of the high spiritual and artistic frequency that you wish to see in the world.
UPLIFT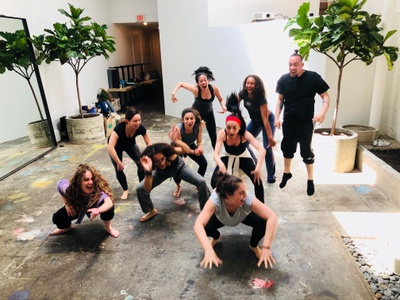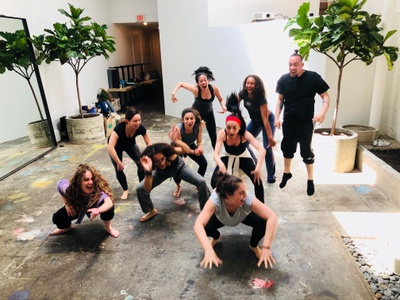 Thank you! By sustaining us at this level, you have significantly contributed for the company's founder to give an impactful three-hour workshop to benefit one of the communities we feel most called to work with (such as children from disadvantaged backgrounds, those in substance abuse recovery, immigrants, and more), allowing them to gain mindful and holistic tools such as meditation, as well as helping them to  build skills of confidence, connection and communication.
YOU GET:

 All of the above.
 Access to exclusive behind-the-scenes video footage of the company working (training, rehearsals, tech, warm-up, pre-performance, etc.). 
 Access to vote on polls about our work and subjects for our next production.
EMPOWER
Thank you! By sustaining us at this level, you essentially pay for a full-salaried tech day for one of our company members.
YOU GET:
 
All of the above.
Access to in-depth company interviews and philosophical commentary about the production, the process, and the individual experience of each company member. 
One free ticket to one of our productions.
About Conscious Performers Collective
Namasté, we are the Conscious Performers Collective. We are a pioneering high-frequency, holistic theatre company and non-profit organization that interweaves creative expression with self-realization.

At the Conscious Performers Collective, we believe in offering an alternative to the entertainment status quo. We carry a message of enlightenment, empowerment and healing to all people by creating thought-provoking and life-affirming theatre which has the capacity to catalyze spiritual growth.

In our productions and workshops, we seek to ask questions and discover answers together with audiences; and to penetrate that deeper, transcendent dimension of existence. Our purpose is to expose people to a more harmonious way of experiencing life, and to inspire them to move out of habits and behaviors that create inner and outer discord.

Additionally, by producing feelings of yugen (a Japanese Buddhist term that roughly translates to: "An awareness of the profound and mysterious beauty of the Universe, which triggers an emotional response too deep for words"), we believe we can contribute to the evolution of consciousness through the creation and experience of art.

We work from the inside out – through personal growth and spiritual development, and by raising our levels of consciousness – because we hold it to be true that it makes the greatest social impact. The wise have said before that the greatest way to change the world is to change ourselves. It is by doing so that we create a ripple-effect of peace, self-realization, and harmony.

Our work is open to all who are exploring the more existential questions of life. However, we make it one of our core objectives to invite and offer opportunity for non-traditional theatre audiences to experience a show. Often these audiences will come from the communities we are already working with. Specifically, we seek to offer intensive workshop programs and production experiences to: people suffering from long-term physical or mental illness, people in recovery from substance abuse or eating disorders, children and teenagers from disadvantaged backgrounds, immigrants, refugees, veterans, LGBTQ+ youth, and generally, people suffering from depression, anxiety and/or trauma.

As a non-profit organization, our efforts are fully focused on doing public good and dispensing the Light. By raising our voices, we intend to raise the Spirit of the people. Our goal is to become a movement – a grassroots revolution ignited by the mission of offering true prayerformance to the masses to heal, uplift, empower, unite and ascend.

By becoming a patron, you'll instantly unlock access to 64 exclusive posts
By becoming a patron, you'll instantly unlock access to 64 exclusive posts
Recent posts by Conscious Performers Collective
How it works
Get started in 2 minutes