Cops and Monsters
is creating an supernatural web series
Select a membership level
S.P.I.D.E.R.S Training
A shout out on our social media pages and access to watch all episodes for free, without needing to watch them on Amazon Prime and Google Play. You'll also have access to exclusive footage and videos from the show.

The Photo Set
All benefits of the previous tiers plus:

After we film each episode, we'll send out a set of 5 photos, 6 x 4, taken by our professional photo, from the set and of our cast members. Signed when possible. 

About Cops and Monsters
Welcome and thank you for taking the time to visit our Cops and Monsters Patreon page!


If we reach our first goal of £2000 then we'll have the money we need to shoot episode 2, "Bad Moon Rising". After which, we can hopefully then shoot episodes 3-6.
With your help, we can make this happen and expand the Cops and Monsters Omniverse!

Cops and Monsters is an award winning on-going web series following the Paranormal Investigation Team Scotland (PITS) as they police vampires, werewolves and zombies in a near-future Scotland as the people of the country find themselves host to these supernatural creatures who are just looking for a home.
When a powerful werewolf, known only as Lycan A202, accidentally kills her protector and escapes, the PITS team is tasked with finding her and bringing her in to custody before it's too late. However the mysterious Cult of Many Faces plans to exploit the lycan's unique ability to transform without the influence of the lunar cycle. Meanwhile, the newly elected Minister of Justice, Mr Clark, has his own vision for the country and has radical plans for the PITS team and their operations.
Series 2 will see Maya Hedges infiltrating the S.P.I.D.E.R.S, a militant police force now in charge of the supernatural community, and try to bring down Jonathan Clark, the Minister of Justice who is plotting to exterminate all supernatural life.
You can watch the first new episode of Cops and Monsters: Uprising right now:

We have a professional, hard working cast and crew who work on each episode we produce, but unfortunately we do not have support from our local funding bodies. The team are made up of self-confessed geeks who grew up on geeky television, and we now want to make geeky, supernatural television for the fans.
We don't get to make or work on shows like this here in Scotland, so we are creating our own opportunities. It allows us to build up the portfolio of our work, while improving our skills and showing the world what we can do with a small budget.
Hopefully we can prove that Scotland can join the likes of Doctor Who, Supernatural, Torchwood, Being Human, In The Flesh and more in the world of supernatural/sci-fi television drama. And with your help, we can do that.
WHERE DOES YOUR MONEY GO?
When you become a Patreon for Cops and Monsters, you'll receive your chosen tier and in return we'll be closer to our goal per episode and we'll be able to afford the following to produce our new episodes:
Hiring actors to star in each episode
Hiring professional TV and film crew members to work on the show
Book locations for each episode
When required, travel and accommodation for guest stars
Film and camera equipment
Regular and special effects makeup
Costumes for each episode
Props to be made and bought
Expenses for travelling to locations
Catering for each shoot date
Editing of each episode
Visual effects for each episode
Sound design
Music compositions for each episode
Subtitles for each episode


Series 1 is now exclusively on
Amazon Prime US, UK and Amazon Instant
and
Google Play
. However you can choose the series 1 access tier and get private links to series 1.
Now we are aiming to raise around £10,000 so that we can shoot the 5 remaining episodes of series 2. If we hit £2000 on this page, we'll be able to fund a brand new episode of series 2!
Starring Sophie Aldred (
Doctor Who),
James Payton (
Harry Potter
), Leona Vaughan (
Wolfblood
), Sarah Louise Madison (
Weeping Angels, Doctor Who
), Caitlin Blackwood (
Little Amy Pond, Doctor Who
), Rachel Teate (
Kara, Wolfblood
), Billy Kirkwood
(Insane Champion Wrestling, School of Silence
), Ellen Patterson, Simon Weir (
The Acid House, River City
), Kirsty Strain (
River City, Burnistoun
), Colin McCredie (
Taggart, River City
) with more cast to be announced throughout production.
Who's Involved In Series 2?

For series 2 we have signed up Wolfblood creator/writer Debbie Moon, Big Finish's Philip Lawrence, Wolfblood series 5 writer Simon Underwood, OOglies' writer Laura Anne Anderson, Cupid of the Clyde's James T Harding and Cops and Monsters' showrunner Fraser Coull to pen our 6 x 25 minute episodes.
Amongst our returning cast are Ellen Patterson, Chris Bain, Innes Anderson and Billy Kirkwood. We're also in talks with James Mackenzie (Raven), Katrina Bryan (Nina and the Neurons) and Sophie Aldred (Doctor Who) to have them return to their roles for series 2. Louise McMenemy has joined the cast as werewolf activist Ava McIntyre, who'll debut in episode 2.
Why Have We Joined Patreon?
We are joining the world of Patreon in order to connect with new fans and hopefully find support that will allow us to produce further episodes - hiring our cast, crew, paying for special effect makeup (for our zombies, werewolves and vampires), helping us make and buy the costumes for the episode, commissioning a composer to score the episode, a visual effects animator and a sound designer.
We have promoted our shows at
Em-Con
,
MCM Comic Con
and
Sci-Fi Wales
, and we are lining up more appearances in 2018 so we can screen a taster of our show, meet potential new fans of the show and spread the word of the project.
By funding our series independently we are able to keep complete control of the show, allowing us to upload them to YouTube and Vimeo so people from ALL OVER THE WORLD can watch them for free. This is a show for nerds, by nerds. We all love Doctor Who, Torchwood, Supernatural, Arrow, The Flash, Being Human, The Walking Dead etc, so it's important to us to be passionate about the genre and create a show with characters you can love and hate, to tell stories that will keep you guessing.
In return for your support we are offering unique perks such as short stories, access to watch episodes and bonus videos before anybody else, signed scripts, associate producer credits on IMDb, signed cast photos, digital copies of the soundtrack, set visits, a chance to be in the episode itself, DVDs of series 1, exclusive behind the scenes access to interviews from the cast and crew and more...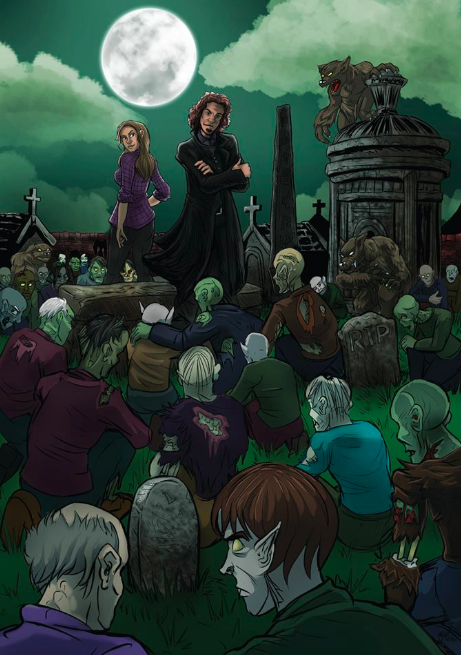 We've set a goal for £1000 which will allow us to produce a 10 page comic book, with a spin off story from the Cops and Monsters Omniverse. If we reach that goal, we'll produce the comic and if we can get £2000 a month, this will allow us to produce 5 brand new 20 minutes episodes.
Follow us on
Twitter
and
Like Us on Facebook
for all of our updates and more.
All of our episodes so far can be watched over on our
official website
.

If you can't join us as a Patron then please do spread the word of our show, tweet the link to your friends, families, co-workers and so forth! The more people who hear about our show the more donations we can receive to complete our show.

The Comic Book
If we reach £1000 then we can create a brand new 10 page comic book; created by Michael Philip - telling untold stories from the Cops and Monsters universe. 

1 of 3
By becoming a patron, you'll instantly unlock access to 55 exclusive posts
By becoming a patron, you'll instantly unlock access to 55 exclusive posts
Recent posts by Cops and Monsters
How it works
Get started in 2 minutes