Select a membership level
Support me and my comic! This acts as a tip jar for those interested in simply donating. I may post occasional painting WIPs in this tier.
Support me and my comic and get:
Early CTC update sneak peeks (weekly)
Additional early EARLY access to CTC pages along with WIPs/ concepts (weekly)
High resolution image of my artwork whenever I upload a new illustration.
About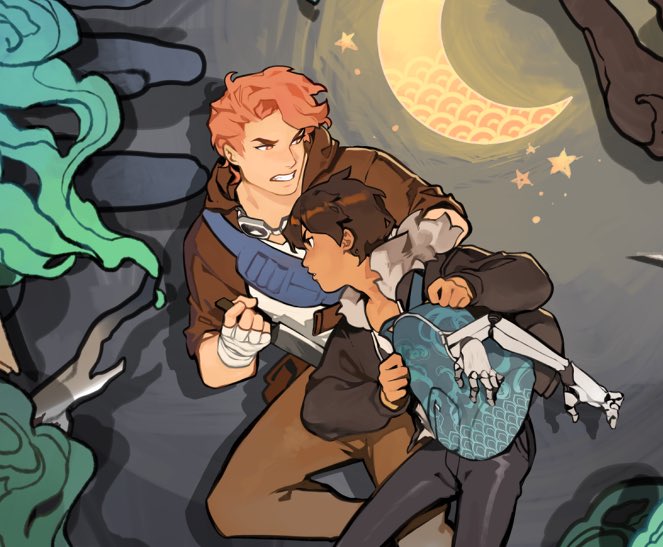 Hello! I'm Xiao Tong Kong, or better known as my online alias "Vel" and I make the webcomic 
Countdown to Countdown!


What is Countdown to Countdown?
  In the year 2044, "Demifloras"- humans that have developed inhuman abilities, are targeted and harvested for their pricey body parts. Iris Black, a young Demiflora that possesses the special ability to bring drawings to life, is sheltered in a correctional facility that acts as a safe haven for Demifloras. Punished and outcasted by his peers for his inability to suppress his powers, he yearns to find himself a space where he can use his powers freely. His chance comes one night when a daring outsider sneaks into the lab.
  "Countdown to Countdown" is a webcomic about identity and self acceptance! The comic will follow the protagonist Iris Black in a traditional graphic novel style with video game elements like "Save files", "inventories", etc implemented into the story. You can read the comic as well as the original 2015-2019 version archived on the 
CTC
website.
The Goal Here:
I've been devoting most- if not all of my free time to making this comic. Though my comic is
free to read, 
donations or pledges through my Patreon here are very much appreciated to help keep Countdown to Countdown free-to-read as well to keep it an ongoing series! By pledging to my Patreon, you will gain early access to CTC pages, WIPs, and my undying gratitude!
Rewards Include:
Early access to CTC pages
High resolution artwork
Behind the scenes of the CTC universe
WIPs and sketches
Thank you for reading and supporting Countdown to Countdown in any way! Iris is eternally grateful to you for helping him continue his hectic journey.
An artbook will be published.
1 of 1
By becoming a patron, you'll instantly unlock access to 654 exclusive posts
By becoming a patron, you'll instantly unlock access to 654 exclusive posts