Couple Goals with S&M
is creating a podcast for the passionately curious and wildly inappropriate.
Select a membership level
1-Up
We'll list your name on the Special Thanks section of our website as soon as we remember to (which may be never).  You'll also have access to episodes 1-20 which are now only available on Patreon. BUT MOST IMPORTANTLY, you'll have our undying love and gratitude.
S&M in the Raw
You'll receive all of the above tier rewards PLUS a monthly bonus mini episode.  Also, when we get merch, we'll send you a 10% off code.
S&M Monthly Movie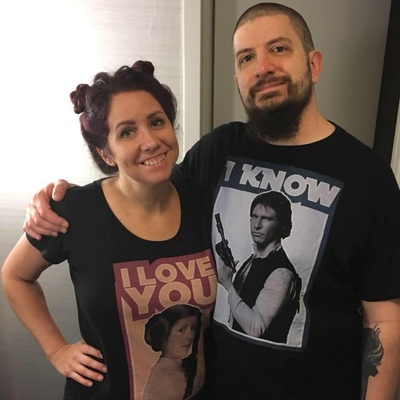 You'll receive all of the above tier rewards PLUS a monthly movie club. What's that, you ask? Think Oprah's book club, but better. 
S&M Monthly Movie
Once a month we'll announce a movie and an online discussion date. It's up to you to go to the theater to see it or to rent/find it. 
On Discussion Day, we'll go live online with you so have you smartphone, tablet or computer handy! While the group is still growing, we'll all be on camera and chatting, sharing our thoughts (LOUDLY) about the cinematic adventure we all took.
Discussions WILL be recorded and uploaded to Patreon but WILL NOT be available to non-tier members. 
About
Thank you for even visiting this page!  Dude, that's so awesome!  When we first discussed doing a podcast, the idea anyone would want to support us wasn't yet a thought. But here we are!  What the what!?

Couple Goals with S&M is an independent relationship podcast (I mean, kinda) hosted by Shawn & Maggie, a real-life couple.  Each week, we bring topics to the table to discuss, debate, and sometimes completely mistell because who has the time to do legitimate research?  After 17 years of banter, we decided to record ourselves and put it out into the world so that we could get outside opinions on the topics at hand.  We're basically a podcast for the passionately curious but also wildly inappropriate.

If you enjoy the show, kick a buck our way to show your support.  We're independent postcasters, we have absolutely zero connections (possibly because we live in Ohio?) and do it all ourselves. All donations go to offset our costs, develop new merch - and overall just make this podcast sustainable. 

We're introducing a bunch of Patreon exclusive content, but don't worry if you don't have any spare cash - ourcurrent episodes will always be free.  We love you!  Thank you!
If 350 people pledge $0.04/day each month, this will cover the cost to create and host all content each month.  Once we hit this, we'll be able to start introducing fun stuff!  4 cents a day per person per month!  
1 of 1
By becoming a patron, you'll instantly unlock access to 73 exclusive posts
By becoming a patron, you'll instantly unlock access to 73 exclusive posts
Recent posts by Couple Goals with S&M