Creepy Cove Community Church
is creating podcasts, immersive audio, music and more!
Select a membership level
Sinister Soul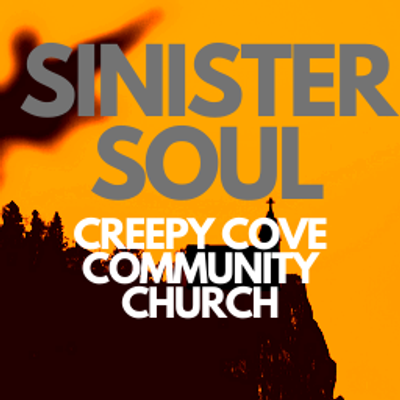 Access to The Flicks That Church Forgot Back Catalogue (178 Podcast Episodes of In-Depth Horror Reviews with Spiritual and Philosophical Reflection!)
Access to bite-sized, private Check-In Videos, from Peter Laws, where Peter keeps you updated about what's going on in the world of Creepy Cove and beyond.
That nice fuzzy feeling of being a patron of the arts...the art of horror-themed spirituality, that is!
Morbid Member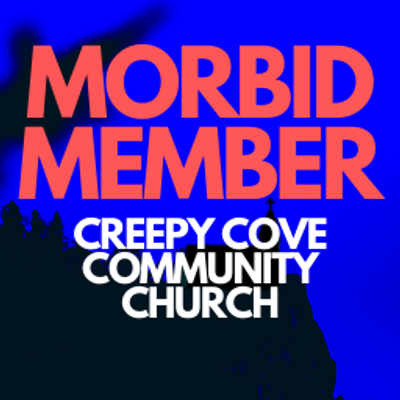 All Previous Tier Benefits PLUS...

Bonus Weekly Podcast! "The Peter Laws Podcast" featuring chat, personal news, horror reviews, strange news stories, listener questions and more...plus an inside look at upcoming services
'We Bid You Welcome' Personalised Creepy Cove Postcard
'I'm in the Congregation' Mini Card
'Build-the-Story' Paperback from Hell Page.  Each Patron on this tier and above will receive a single page from one vintage horror paperback. On it's own, it might not make much sense, but once enough Creepy Covers have one, they can piece the story together!  
Members-Only AMAs I answer your questions directly in three AMA audio episodes a year - 'Ask Me Anything' 
(Note: Physical bonuses will be sent after first payment clears - which is usually on the first of the month)
Behind-the-scenes content
Freaky Faithful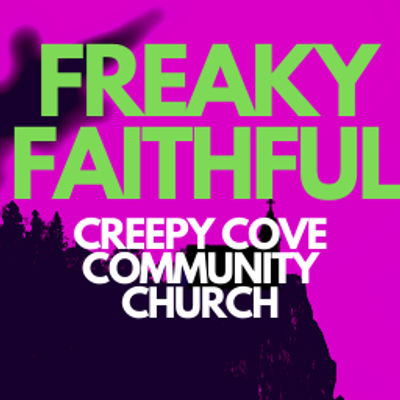 All Previous Tier Benefits PLUS...

Exclusive 'God of the Minor Chord!' Guitar Plectrum!
Music Album 'The Horror Hymns of Creepy Cove'. Received as a FREE Digital Download, once the album becomes available at end of each season. 
But wait...there's more! The 'Freaky Faithful' tier also offers the following exclusive audio treats, posted intermittently throughout the year. 
Creepy Cove 'On The Scene' Town Reports: Join Peter or Rupert for on-location audio tours of some of Creepy Cove's spookiest and most notable areas. 
Creepy Cove Meditations: Do you like the meditation space we provide in our services? Then why not expand your consciousness with these extended, immersive audio reflections, designed for relaxation, prayer or pure entertainment -  set in horror film scenarios and Creepy Cove locations.
Creepy Cove Sleep Stories: Relax into nightmares, with scary and 'restful' audio tales.
Creepy Cove Fitness Experience: Heading out for a run, cycle etc? These scary audio commentaries will immerse you into a calorie shedding sprint for your life!
Creepy ASMR: Horror talk and spooky sounds, whispered directly into your earholes.
And don't forget that you also get access to all content in previous tiers!
(Note: Physical bonuses will be sent after first payment clears - which is usually on the first of the month).
Behind-the-scenes content
About
Hi,

I'm Peter Laws. I'm the creator of Creepy Cove Community Church and I'd like to tell you why I'm launching a Patreon program.

Firstly, I'll be honest. Many people know me as a published author, so they may think I'm a Stephen King high-roller. I'm not. Along with many published writers, I've discovered that I can't make an actual living from book writing alone. That's why I still do various work on the side and am always looking for new opportunities.

After many months of pondering, an idea came to mind and (amazingly) it manages to fuse my love of writing and music, horror and humour and another thing that's important to me...non-judgmental Christianity. That idea is Creepy Cove Community Church: a fictional church set in a mysterious haunted fishing town...where every horror movie actually happened. Yeah, it's a pretty 'out there' concept, but it's already becoming a horror-themed safe space for people to either explore Christian spirituality, be encouraged or to simply be entertained.

People mainly connect with Creepy Cove Community Church through the free podcast. This offers immersive 'church services' every two weeks. Yet as you'll see from this Patreon Page, there's more to this project than just the free church services. To keep the services free, and to potentially help with income, I'm offering a bunch of exclusive content for Patrons, the details of which you'll find by exploring this page. There's a bunch of cool, members-only stuff!

By the way. Even though Creepy Cove is a 'fictional' church, people sometimes ask if I'm a fictional ordained church minister too. Actually, I'm a real one. I still lead services at various churches. However, I haven't been in post at a church for many years. This wasn't because I was fired, I didn't leave through some scandal. I didn't storm out or renounce my faith, either. What happened was very simple. When my first scary novel was published I felt a strong sense that connecting with people through my creativity was what I really ought to be doing with my life.

So that's why I set up this Patreon. It's my way of using my gifts and sharing my interests. Yet it's also a way to give people a positive experience of what I think church ought to be - fun, friendly, thought-provoking, open-minded, loving, non-judgmental and...happy to accommodate vampires, werewolves and other creatures of the night.

If Creepy Cove Community Church sounds like something you want to be a part of, then I'm excited to invite you to explore my Patreon page. Perhaps you might like to join me on this journey. If you have any questions, let me know, but for now, thanks so much for taking the time to read this.

Whether you become a Patron or not,

I'll see you at the next service of [should this be 'at' I don't know?] Creepy Cove Community Church!

Yours,

Peter.
In the church office at Creepy Cove, by a crackling fire, during a thunderstorm, with John Carpenter music playing.
Become a patron to
Unlock 38 exclusive posts
Connect via private message
Recent posts by Creepy Cove Community Church