Crisses
is creating internal communities
Select a membership level
Crissisms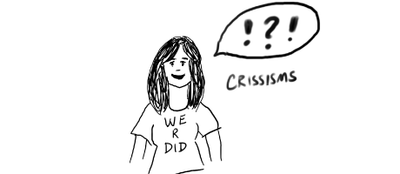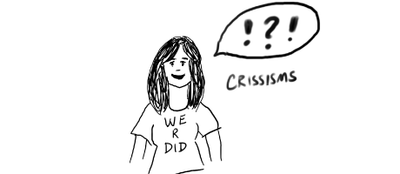 Tired of missing out of all the brilliant stuff that comes out of our delightfully dappled brain? 
Access our private patron-only feed with quips, pokes, oxymorons, spoonerisms, word nonsense…i.e. Crissisms!
Updates on my progress, and maybe an occasional hint, tip, etc. about what's going on behind the scenes.
You'll know when all the great new stuff comes out!
Crissteria
We have a certain special sense of humor.  Beyond the occasional Crissism, we do occasionally come up with witticisms that go even farther above and beyond. 
Stories and banter podcast-style noting our massive and minor observations of the paradox that is life
Letters we write for (environmental & human rights) activist agendas. You don't have to download them. But repurpose them if you need to
And we'll be ever SO grateful knowing you turned down a latte to show us some extra love
Plus all previous rewards
CrissLit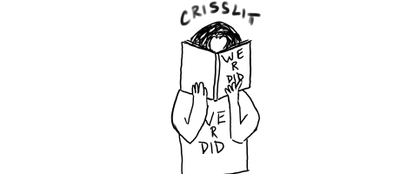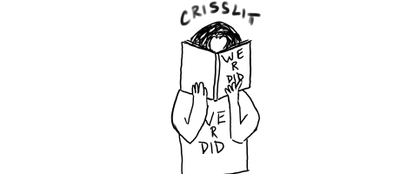 You know we're a writer. There's really few limits to the genres we've written in, or at least attempted to write in. We're also a cook, artist, graphic designer, crafter, even 3D sculptor both digital and clay, etc.
Screengrabs or photos of tidbits while in progress
Early access to posted content as possible
Recipes! Nom nom nom
Plus all previous rewards
About Crisses
You help us create Internal Communities!
Even for clicking through to check out our Patreon page. If you don't become a patron/sponsor, please make sure you FOLLOW us (+FOLLOW button or … menu -> Follow on the app) and spread the word so people with invisible and very personal mental health issues have a chance to see that there's an insider's resource for them. If you've been following us for (OMG!) over 20 YEARS!! online — we're thrilled and awed and we really appreciate your support in the world!
The Story
We had been there for each other as long as we could remember, playing games and singing together as children, defending each other from the crap we went through.  We thought everyone had different voices in their head all the time. In 1986, we discovered that we "had other people in our head" — we started to introduce ourselves to each other by name, share stories with each other, and try to figure out how to run a shared life together.
At just about the same time, our life crashed and burned. We ended up in a mental hospital for 9 months and coming out the other side, we decided we needed to get our act together. We devoured everything we could about recovery, self-help, self-improvement, psychology, spirituality, holistic arts, and more. We sought out help, we figured things out.  We knew we were already an old soul, and thought maybe we should start to teach people about their massive blind-spots.  But we figured that in our early 20s we were also not going to be given the credibility and respect that we would need, and we should probably wait for the grey hair and wrinkles so people would take us seriously.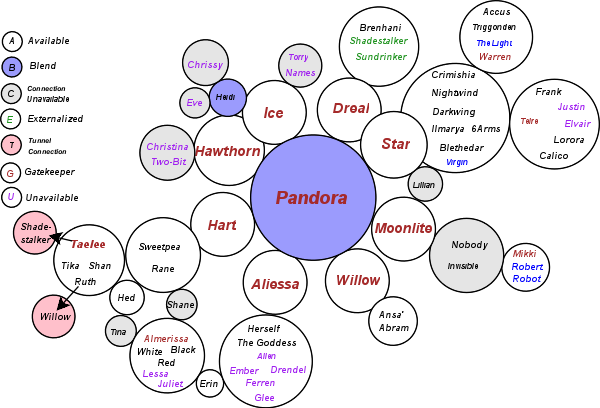 In 1996, on our first AOL website, we started to put our stories and poems online. People found us, we got fanmail from people who read our stories and information — people found them inspiring, helpful, people didn't feel so alone, had questions, and needed answers and we'd email them back with anything we could send them to help out. Around 1999, we became the co-founder of an email list by and for people who are multiple — people with DID. By 2000, the website had morphed into Kinhost.org, an enormous community resource that now has over 400 pages of resource materials and articles, by and for multiples/plurals/persons with Dissociative Identity Disorder (DID or MPD), and related disorders (OSDD or DDNOS & C-PTSD). By around 2004, article contributions dropped to a standstill, we got a full-time job, and we just continued answering fanmail — we also tried starting a podcast but our equipment wasn't good enough and we were stuck.  Then in 2006, we lost our job and started running our own business.
We wrote the first book in
The Crissing Link Series —
 our this-life autobiography titled
Poetic License —
 in 2009. Since then we have done part of the work (and released in-progress drafts on LeanPub) for other books that will be in the series: , 
Multiple Choice (manifesto, free)
, 
Split Decision 
(memoir), 
Case Histories
 (past-life stories), 
Core Discoveries
(philosophy), and
Missing Persons
(polemic - an argument with popular doctrine). In 2018 we decided that the book
United Front
(selves-help) would have to become a series of at least 3 books: 
Recruits: Building Internal Community, Rebels: Reforming the Good Guys, & Adventurers: Enjoying External Life
.
 These are all available on Leanpub while being written.
We also rebooted our 2005 podcast, adding new episodes and creating some vital precursors to
United Front: Rebels
on the podcast. We are working on group coaching for plurals to build internal community, and just announced we're also working on a 13-week correspondence course for professionals to learn how to use the United Front process with their clients — the waiting list is open.
Why We Need Your Support
We got most content and books done during serious dips in the economy ("Well, no jobs are coming in during the holidays, might as well write....") and with supplemental financial support from others (for which we are, and will always be, eternally grateful). Our job is 7-days-a-week, and there's no end in sight. If we take a week off, you can see it on the balance sheet. No vacations, no creativity-replenishing moments, no chance to get into a creative zone, and no chance to be ourselves. We decided that had to stop.
Support or no support, we've changing our business to more and more life coaching, which means taking nearly all other money-making projects off the table. We can't be spread in so many directions. We coach multiples, people with mental health issues, writers and people looking to switch careers. We don't need that to be supported (we just need more customers).  However, to support the other full-time job of content creation — our free podcast, kinhost.org, and working on our books-in-progress — is where we need your support.
12 years in business, and no end in sight — unless we make it end.  It's ended.  Tying up our final projects, reclaiming time for our tribe, letting us take our mask off and be ourselves again.  We need your support to be able to survive while being the pioneer our community desperately needs. We're going to take a pot shot that there are people out there who are so interested in the cause, and the content we
have to be fully ourselves
to produce, that they're willing to support a tiny portion of our full-time transition away from wearing the Criss-mask to run a design business 24/7.
What will we do with the money?
Our patrons will be freeing our time up to work on several exceptionally important projects:
Finishing the United Front series & the The Crissing Link books - let's face it, what we get from "presales" while working on the book is pocket change.  On a good month we get 2-4 sales of all our books.  We made $20 on Amazon in 2018, and about $100 total on LeanPub.  We're not expecting to be on the New York Times Bestseller List.  We want information in people's hands to help more people.
http://kinhost.org - Encouraging Internal Community - community resources - is always a work-in-progress: with more support we can work on completing unfinished and stub articles…
The United Front Boot Camp and the podcast all also hosted at http://kinhost.org we need more support so we can fully cross-index everything with tags and cross-reference resources between different mediums. 
With your support we have brought back the Many Minds on the Issue podcast as a serious endeavor rather than something we tried recording in our car during commutes — but we need more support to make sure we can publish regularly!  All hosted at http://kinhost.org! 
http://crisses.org - stories, poetry, etc. - creative endeavors.  Got some great ideas for mental-health-positive and mental-difference-positive fiction.  Need support to put it into writing though!!
Online courses - like a prerecorded or live United Front Bootcamp — or better yet the full United Front program that we're working on.  With your ongoing support, this type of work can become our full-time job....
Attend conferences, trainings, and certification courses to expand knowledge base and add more disciplines and information into the work that informs the movement.  Examples: selfcompassion.org MSC trainings, shamanic counseling, shamanic soul retrieval training, etc.  Bring a peer perspective to these forums as well as bring information back to the community and into our writing and practices.
Activism!! New!! — we are reaching out to the ISST-D and working on plural activism to get better treatment and care of all plurals, whether they have dissociative disorders or not.
Revive a community forum for multiples
Create the plans for community centers of Harmony — and create one or gift the idea to the world. We don't have to build them, we have to get the plans out of our head to make room for other stuff. And add in a makerspace and more. "As Inside, So Outside & Vice-Versa"
Writing alone is a full-time endeavor. It doesn't usually put food in the fridge or keep the lights on. We've already been able to free up a little time to fix up what's already there and make some updates and start creating. At higher milestones, we'll be able to become a full-time content creation machine and start unloading knowledge and ideas en masse. No, we won't run out of ideas, I assure you!  This world has only seen the tip of our iceberg of helpful knowledge.
If we make it beyond the transition to full-time, then we get to start to delegate routine and mundane tasks to others. While we've got a very diverse skillset in just about everything needed to create the content — graphic design, formatting, video and audio editing, captioning, getting it into the forums for display, etc. — other people can do that stuff instead and we can work on more content creation that only we can do: writing, speaking, recording, filming, teaching, answering questions, etc.
Specific expenses related to online content production: website hosting (I run a dedicated server, and we just upgraded to a new server), podcast and video hosting, internet connection (it would be nice to actually have a house or apartment for that internet connection to be in), equipment purchases or upgrades (like lighting for videos so I don't have to film outside or a real camera, a good webcam, etc. — hopefully for after taking care of our camera trigger), virtual assistant and per-gig services, software, webinar service, captioning services, etc.  Some expenses are recurring, others are one-shot expenses.
We have much content that needs to be made more accessible and updated, such as taking an article and making it into a video like this one:
About Us
Ninja Swiss-Army-Knife or Revolutionary Brainstormer — you decide. We are The Crisses alias Rev. Criss Ittermann née "I Don't Care What You Call Me, Just Don't Call Me Christina" bringing you our offbeat — but always at least wryly amusing — content productions. Whether it's a ComiXes episode by Frank of Crisses, a video course, a new book, a rant, an article, or more.
We've been told by people who study the great thought leaders that we, The Crisses, really stand amongst them. Just a lot quieter in general. And with less followers. We think. Collectively, we are writers, instructors, life coaches, ministers, otherkin, sex educators, mental health activists, home cooks, herbalists, healers, and environmentalists. We are counter-culture, earth-wisdom, boot-stomping activists, neo-shamans, spiritual messengers, artists, poets, and oh — did we mention? — writers. And whatever else we forgot to mention. Yes, we said
writer
twice.  You can double that again.
Your support is vital in helping The Crisses get back into housing, out of the fee-for-service hamster wheel, and into full-time content creation. You can't write and market at the same time.  Armed with a list of books and courses that we want to produce, your support can help us release amazing amounts of creativity into the wild.
Don't let these 110(+) minds go to waste! Become our patron on Patreon today!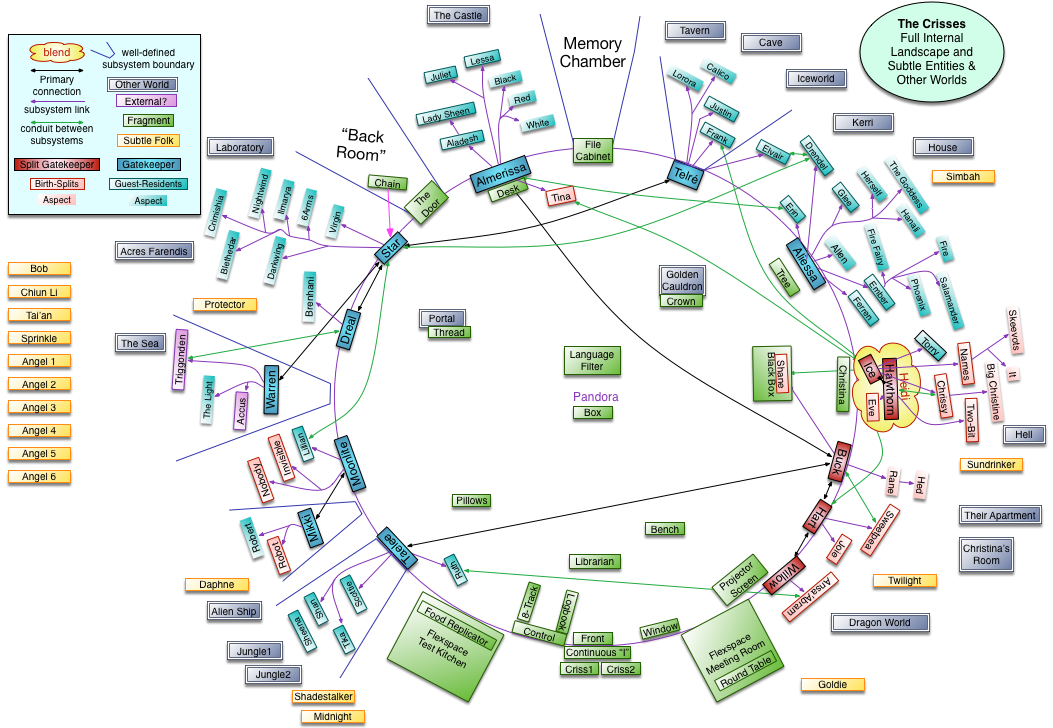 $186.35 of $500
per month
If we reach $500/month or more, we will be currently flush with monthly expenses! We're changing this goal to reflect our current housing situation; it's not glamorous; hopefully it remains stable, warm, with a fridge and some ways to cook. So grateful to not be homeless! Now we want to free up our time to focus on our plural projects.

2 of 8
Become a patron to
Unlock 78 exclusive posts
Connect via private message
How it works
Get started in 2 minutes