Critical Lit Games
is creating AR Gamebooks, Cards and Models!
Select a membership level
Paper Kitty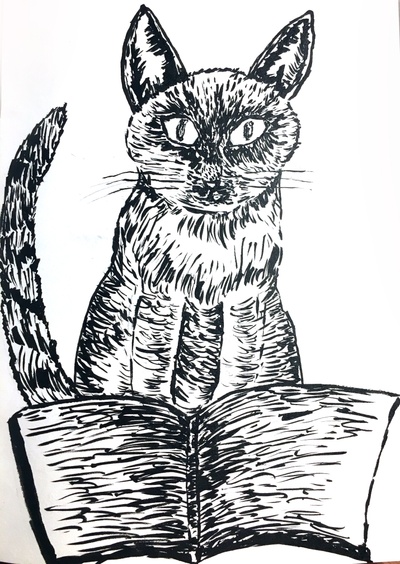 You're a star! Thank you for your support! You'll get access to our patron only feed (dev logs, early designs and polls!)
Cardboard Kitty
Yay! Thank you very much! You'll get access to our patron only feed (dev logs, early designs and polls!) as well as your name on our patron section on our website!
Canvas Kitty!
You are absolutely amazing and I thank you so much! As well as the above rewards, you'll get an inked art card and handwritten note every month! :)
Cards will be sent out on the 19th of each month (The first from 19th Jan 2018)
About
Hi, everyone! I'm Suzie, AKA Critical Lit Games!
Critical Lit Games was devised by myself as a means of exploring text based games in different realities (VR, AR and MR - virtual, augmented and mixed reality respectively). My primary focus is on AR; enjoying the middle ground of the tangible and the digital. I'm making AR Gamebooks, Cards and Models (the latter of which are toys that have AR narrative elements) - and I hope you enjoy what experiments I'm whipping up in the lab (or, more accurately, Unity). I've always enjoyed drawing (especially charcoal and ink), and after doing Inktober this year, I've decided to hand draw a lot of my assets and cards. Inking really relaxes me and I adore the monochromatic aesthetic!
If you'd like to see behind the scenes of Critical Lit Games, as well as receive Art Prints or AR story cards (that update every month), then this is the place for you! :)
The Time Model:
Having been a fan of playing and making games (or pretty much art), I know how long it can take to create an immersive/fun/engaging/solid/coherent/experimental/emotional experience (check off the ones you find the most important in a game). It's a marathon, not a sprint; even when you create something in the flow. There's always a build up, an amalgamation of ideas and processes that goes on behind the scenes.
The Personal Model:
Because of the indie nature in which I'm making these AR experiences, I'm creating a lot of written and illustrated art - some of which might not make the finished game. Some of them might just be stored away for a rainy day. Some of them might be made for a nice monthly gift! :)
This also allows me to be more personal when creating a larger project: I can show you where my mind space is each month and create a space where we can share all sorts of ideas and experiences rather than just shoving the final book/card/model online. This is the main reason why I chose Patreon over Kickstarter. We can spend time on getting to know each other between projects and discuss things longterm!
The Support Model:
Support is always helpful. Money *Gulp*, of course, is always helpful. Making AR experiences for mobile usually requires some licensing in order to be deployed and sold (for example, my gamebooks are being made with Vuforia and Unity). The support can be as much or as little as you'd like - and I hope we can all enjoy the Critical Lit Journey for as long as possible!
The Pretentious Model:
AR is about making the implicit explicit, and maybe the same is with Patreon?
I'm a writer, first and foremost! I've written and produced plays, poetry and short stories (mainly in the SF and Fantasy genres). I even studied Creative Writing for my BA, MA and even my PhD (which is in Science Fiction and Theatre, that popular subject). However, Critical Lit Games allows me to combine both of my loves of writing and gaming.
Without rambling too much - I wanted to be a writer at age 6 and a games designer at age 8. I was raised on the SEGA megadrive, playing Sonic 1/2/3 (and Knuckles), the Streets of Rage trilogy, Street Fighter etc. I also loved Simon the Sorcerer and the Discworld game adaptation of
Guards! Guards! 
Those probably helped to shape my love of text based games. For more recent influences, I've particularly enjoyed the Hotel Dusk series, Phoenix Wright (although I've actually preferred the Edgeworth series) and Welcome to VA11-HA11A. I also grew up with gamebooks (I have to thank my older brother for a lot, judging these earlier paragraphs), enjoying the Fighting Fantasy series, the Sonic Gamebooks and the Cyber Warriors from the Eternal Champions series (although I couldn't find the sequel). I've got a blog post that goes into this more here.
I have a lot of emotional ties to video games and books, and to be making a combination of the two is wholly satisfying to me! Thank you for reading this novel of an introduction - and let's get this CritLitCollective on the road!
This goal is the amount for a Classic Vuforia Licence! If this is reached once, it means that I could deploy either Coming Home or the Bookm.AR.k with a one off payment!

To celebrate this, I will release a Limited Edition version of Coming Home - with luxury packaging and extra Art Content!
1 of 1
By becoming a patron, you'll instantly unlock access to 5 exclusive posts
By becoming a patron, you'll instantly unlock access to 5 exclusive posts
Recent posts by Critical Lit Games