I've been creating content
on the internet since 1993.  Now I'm making web comics!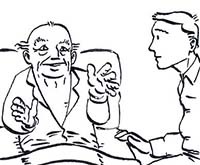 Sunday 2AM
is the continuing story of the friendship between Jack, an old man in an assisted living community, and the middle-aged George, who visits him.  They go on walks, they talk, they never figure out the meaning of life.  As per the title it appears once a week on Sunday, but because the author is an idiot the actual deadline is
Monday
morning at 2AM.
Sunday 2AM
is entirely analog up to the scan.  I don't make any digital alterations or corrections.  It's hand lettered and I even use an antique ruling pen to ink the panel borders.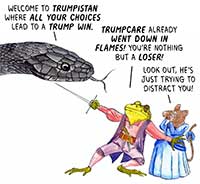 What The Fuck, America?
is the angry, profane, political comic started after the Presidential election of 2016.  It cannot answer the question it asks but it screams about it at least twice a week, Tuesdays and Fridays, with extra strips when the President* does something egregious, which is all too frequently.
What The Fuck America?
is a clip-art-style strip in the tradition of 
Get Your War On
, 
Qwantz Dinosaur Comics
, and 
Red Meat
, but in this case I create the clip art myself, entirely analog, usually in watercolor and ink.  Layout and lettering are done digitally.  This format enables me to react quickly to current events (and easily make corrections if necessary).
With your help
I can continue to make great comics, both analog and digital, both angry and thoughtful, both insanely wild and soothingly friendly.
I put a lot into each comic, both writing and art.  I work hard to make them good.  I don't make them for myself—I make them for you, my audience.
With your readership
we can have a great ride.