Cursed Forge Miniatures
3D printable tabletop miniatures & busts
Select a membership level
Dragonborn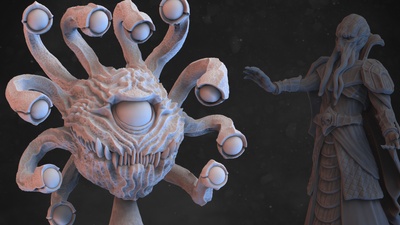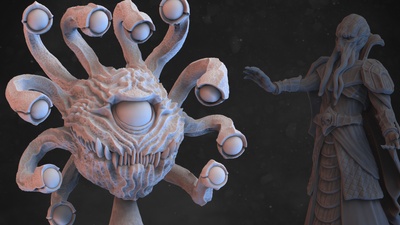 *This patreon stays paused. After joining you'll get access to the content listed below but you won't be charged next month and no rewards will be distributed from there. Thanks for your massive support! After joining you will receive the following STL miniatures, busts and rewards during the current month:
CURRENT RELEASE (32mm & 54mm scale, pre-supported)

Undead wight

Morphed gnome 

Crawling claw

Gargoyle

Morphed gnome bust

Special bases for all miniatures

WELCOME BOX (32mm scale, pre-supported)

Adult Copper Dragon (3 poses)

Air Elemental

Earth Elemental

Rock beast

Yestabrod

Small rocky worm

9 special bases

100 PATRONS goal reward: Aboleth in large & huge (32mm scale)

VOTE for future release themes & creatures in the monthly polls.

If you are a merchant, please check Cursed Forge Miniatures (merchant license) patreon.
By joining you accept the Terms & conditions
Includes Discord benefits
About Cursed Forge Miniatures
Hello everyone I am Jordi.
I am a freelance digital artist & product design engineer. Digital sculpting became my passion some years ago while I was in the university. I get mostly inspired by the D&D world for my sculpts. I also hear your proposals and ideas so we can decide together what's about to come. I also love playing rpg games with friends & painting miniatures.

Every month I release 3d printable STL files for my patrons to print on their 3d printers (fdm and resin). I always try to sculpt really detailed miniatures for creating a much better painting and playing experience.

Enter our Discord server - click here
Join our facebook group for share your prints & paintings - click here
Copper dragon painting for the November contest by Julie Jackson

A new feature, Myminifactory library integration
Don't worry about missing any past, current or future release files. If you pledged for a given month, the files will be available to you also in your Myminifactory library
forever
. Invitation emails will be sent to your patreon emails at month end to all January active patrons.
The models can be found in your MMF library >
Objects shared with me.
About this project...
Why I decided about creating a patreon?
Some months ago I discovered this platform which is helping me to work as a digital artist from home but also for being really close to the ones who decide to support me. I am able for helping everyone almost everyday on the discord channel, via email or patreon chat.
What are you gonna receive after becoming patron?

Each month you will receive (at month start or during the month) a set of STL miniatures & busts. The number of released miniatures will depend on the given month but I grant to you a minimum of 4 miniatures with extra poses for at least one of them and a minimum of 2 busts.
Acces to the patreon community on discord for 24/7 live assistance by all the active patrons & myself. We will make sure to help you on everything we can.
Access to the monthly polls to decide your most wanted theme/creatures for next month.
Access to the monthly painting contest (take a look to the rules & prizes - click here).
Additionally each month you will receive art concepts & work in progress pictures.
I also give Patrons a 50% off discount code for my Myminifactory shop, so you don't miss any old released model.
The merchant tier will receive all the mentioned benefits plus the rights for selling 3d printed miniatures made with my digital stl models (detailed info below).
When will I be billed?
After joining you will be charged for the specific ammount to the tier you choose, and after that you will be billed at the beginning of each month. If you pay anually, you will pay all the year from start and you will save 10% of the total ammount.


How will I receive the STL models?
At the beginning of each month after patreon payments have gone through I will post a link to the files in google drive. The link will be active for that month and the stl models will be there at month start or during the month. If you miss about downloading last month files, you'll find them in your Myminifactory library (objects shared with me). Just log in with your patreon email.
Check my social media pages.
Join also our facebook group for sharing your Cursed Forge Miniature prints & painting. You can visit also Myminifactory online store for getting old released models here:
Facebook group:
https://www.facebook.com/groups/3695920197110623
Facebook page:
https://www.facebook.com/CursedForgeMiniatures
Instagram page:
https://www.instagram.com/cursedforge/
Myminifactory store:
https://www.myminifactory.com/es/users/cursedforge
The Welcome pack (pre-supported)


Please, read the RULES, TERMS & CONDITIONS before joining this patreon (click here).

Finally, I wanna give to you a massive thank you! I really appreciate you decide about supporting my work as freelance digital artist. You can check my latest projects also here:
Linktree: 
https://linktr.ee/cursedforge
Jordi, Cursed Forge Miniatures.
Boss sculpt

A deathly creature will be chosen in a poll and released as soon as possible next month from the goal completion. It will be included in the Welcome pack for all patrons.

The welcome pack will come pre-supported too for resin printers.
2 of 5
Become a patron to
Unlock 22 exclusive posts
Connect via private message
Recent posts by Cursed Forge Miniatures
How it works
Get started in 2 minutes