Dame Darcy
is creating Meat Cake Manor / Comix / Videos / Paintings
Select a membership level
The "Shell Scoop"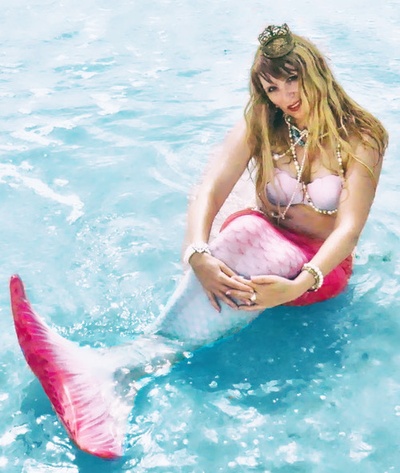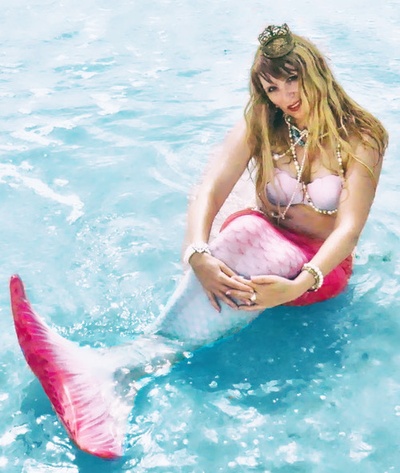 Secret Underwater Grove Blog Access

Greetings! Thank you from the bottom of my heart for your support! It truly means so much to me to create all these dreams together. You will be the first to know about upcoming exclusive secret projects, books, tarot decks, videos, dolls, events, and progress as we build our haunted house theme hotel Meat Cake Manor. 
I'll post links here for all patrons to see the new Celebrity Palm and Tarot Videos. And all patrons $1 and up are eligible for raffles everyone from any support tier can win!  
Plus the backstage processes, all the ins and outs of being a practicing Merwitch and Comix Goddess. See concept art and sketches, be the first to know about sales and promotions,  and receive the eternal love and gratitude of a Mermaid. 
Paper Kisses from the Sea!
Blog + Monthly Postcard 
 You will receive a handwritten post card straight from Victorian romance land to your mailbox. I will send you poems, love letters, recipes, spells and other secret goodies every month. 
You will receive a monthly postcard from MerWitch-Meat Cake Land!
These postcards will be sent on the 6th of every month and may include poetry, spells, receeipes, or love letters from yours truly.

Love,
Dame Darcy

Magical Mermaid Greetings!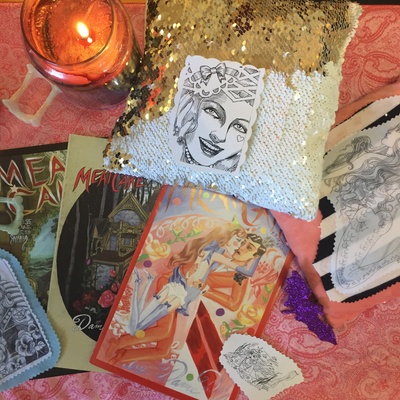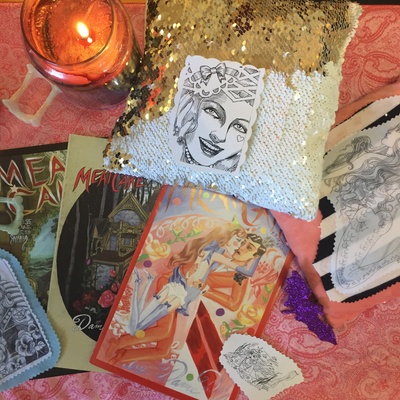 Blog, Hand Designed Love Letter, plus Prizes! 
Doll kisses to you :) The smallest act of kindness is worth as much as the grandest intention.
As a mutual token of esteem, you will now receive a hand designed card with a spell. 
 Plus straight from the Secret Surprise Center... stickers, calendar, paper dolls, cut and color masks, magic rings, glitter pillows, are examples of just a few of the fun prizes patrons have received, and so much more! 
To see what Patrons receive, check out my past posts to everyone profiling the prizes and new ideas each month, straight from Victorian romance land to your mailbox.
 I will send you poems, love letters, recipes, spells and other secret goodies every month. Please specify if they should be addressed to you or a friend 
:) Love Dame Darcy 
About Dame Darcy
Ahoy and Very Merry Unbirthday! Welcome to my Mermaid's Grotto of magic and mystery!

There's no time like the present! So I have lots of treasure chests full of exciting goodies for you to open every month <3 Just choose your price point and I'll stuff your mailbox with magical MerWitch treats each month! I'll make sure you never run out of comix, fine art illustrations, dolls, magic spells, post cards, hand crafted items, stickers and tons of other prizes straight from the secret surprise center into your heart!  No matter what I'll deliver a clam-shell full of my special Dame Darcy mermaid kisses straight to your doorstep!

Check out DameDarcy.com to take fun quizzes, learn about my magical witchy mermaid Wonderland adventures, and read my comix about Meat Cake manor and all the crazy hijinks the inhabitants get up to. Then come on back to claim your prize ;) Love, Dame Darcy 
$924.56 of $1,500
per month
Now that Meat Cake Bible is released, Please join me in producing Meat Cake Manor, this will be a Meat Cake themed Bed and Breakfast that fans and friends can come and have an interactive experience.
It's purpose serves

1) To provide a fun kooky spooky attraction where those who are in the know will be really excited to have an emersive Meat Cake comix experience and a comfortable place to stay while visiting Historic Savannah the Most Haunted City in America.
2) To cross promote Meat Cake Comic book to new clientele as guests


Like being able to sleep over night in Disney's Haunted Mansion, or in the Adam's Family Manor or if Dolllywood was a house.

2 of 2
By becoming a patron, you'll instantly unlock access to 163 exclusive posts
By becoming a patron, you'll instantly unlock access to 163 exclusive posts
Recent posts by Dame Darcy
How it works
Get started in 2 minutes