Danielle Egnew
is creating Podcasts, Live Chats, Books, Meditations, Wellness Music & More!
Select a membership level
Get exclusive patron-only merch
In-The-Know
 inPsight WEEKLY PODCAST – GET ACCESS!! I delve *deep* into the metaphysical with Psychic peeks into our transitional times! It's a weekly tidal wave of information: In-depth evaluation and projections on world events, dimensional spiritual physics, UFO's, Elementals, how to apply your greatest gifts, spiritual mysteries, occasional surprise guests, and more – all AD FREE, only here on Patreon! 
Going Deeper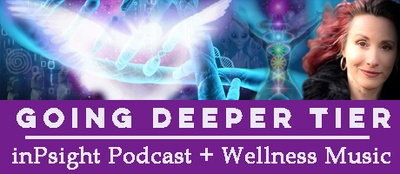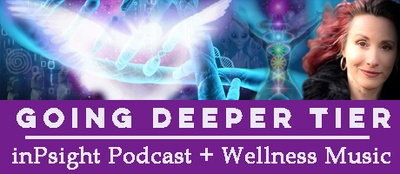 The inPsight Podcast, PLUS --
WELLNESS MUSIC! Brand new DNA wellness music I've composed, mixed and designed to inspire healing of the body, mind, and spirit, utilizing balanced harmonics and braided pulse overlays to trigger the brain's ability to release chemical and vibrational cues to our DNA for the purpose of unlocking deep spiritual gifts! EXCLUSIVELY released on this subscription channel, with access to more of my additional music releases. MUSIC brings wellness to all ills -- so come and get it 😊! 
YAY! Have a "thank you" gift after 3 months at this level!
Transcending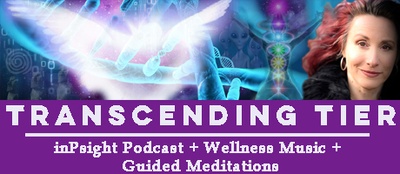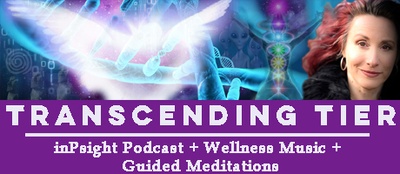 The inPsight Podcast, Wellness Music, PLUS --
GUIDED MEDITATIONS! Access the guided audio meditations I'm channeling from the angelic realm as well as higher-vibration OffWorld cultures, starting and ending your day with incredible peace, grounding, clarity and joy, underscored with vibrationally-wellness-inspiring soundtracks! You won't want to miss this opportunity for co-creating positive consciousness while releasing that negative old-world programming 😊! 
WHOO! Have a "thank you" mug after 3 months at this level!
Ascending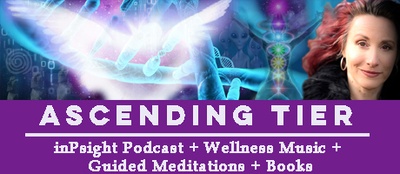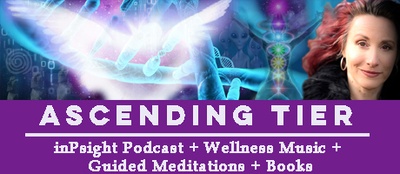 The inPsight Podcast, Wellness Music, Guided Meditations, PLUS --  

MY BOOKS! Download my existing books as .pdf files, and have FIRST ACCESS to download new material that I'm channeling and presenting long before it's released to the public, with some EXCLUSIVE short-form content only released to subscribers. There's some AMAZING MATERIAL coming through!  
WHOO! Have a "thank you" mug after 3 months at this level!
Spiritual Mastery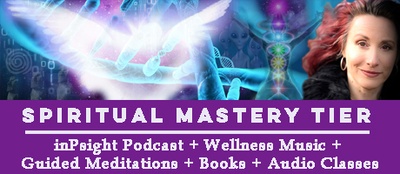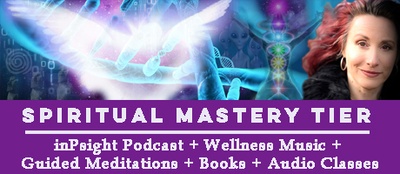 The inPsight Podcast, Wellness Music, Guided Meditations, Books, PLUS --
My AUDIO CLASSROOM SERIES!! Access to professional recordings of my sold-out LIVE channeled forums, ranging in length from 2-3.5 hours, teaching on spiritual physics, universal knowledge, how to use your own spiritual gifts, OffWorlders (UFO's) and so much more that it'll blow your mind! ***WARNING: Your current reality will experience expansion!***
OH! Have a "thank you" T-shirt after 3 months at this level!
Spiritual Colleague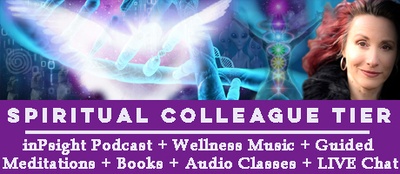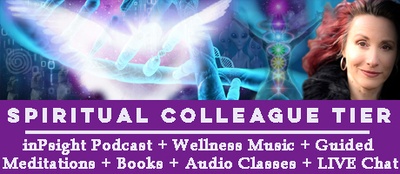 The inPsight Podcast, Wellness Music, Guided Meditations, Books, Audio Classroom Series, PLUS --
LIVE VIDEO CHAT with me at least once, monthly – let's get face to face! Ask questions and dive further into world events and mysteries – let's share the knowledge and hang out!!
YES! Have a "thank you" hoodie after 3 months at this level!
About Danielle Egnew
Hey there!! I'm so thrilled you've made your way here!! Because this is far more than just a "subscription site" -- check it out:
For those of you who don't know me, I'm Danielle Egnew, a Montana girl who happens to be a Psychic, Medium, Author, TV / Radio Personality (host of "The Road Angel") and a HUGE fan of love, compassion, and transcendence!! You can read up a lot more about me on my official website at
http://www.DanielleEgnew-Advisor.com
.
I created this subscription service so that I could offer my timely Psychic global future world insights and channeled teachings to a much wider audience, making this universal knowledge that I'm receiving at breakneck pace far more accessible for people! I mean, c'mon – we are ALL in this transitional time frame of the feminine together, and the more we know, the smoother sailing this whole ascension process will be, for each individual and the world.
Through this service I have an AWESOME opportunity to offer vast amounts of spiritual intel through many differing formats -- podcast, DNA activating music, books, inside-scoop blog posts, audio workshop classes, and even a LIVE web chat with you once a month where you can ask world questions! For a spiritual channel such as myself, who receives updates globally, inter-dimensionally, and Universally, on a second-by-second basis – this is SUPER exciting!
The more education out there – the better!
It's important to note that I'm not simply kicking off a new "service" here. This endeavor has been a year and half in the making, consciously designed by me to create an accessible distribution outlet for pivotal and timely spiritual information. This is a community of LEARNERS and EXPLORERS. I'd love you to join, at a monthly tier that works for you, and experience the expansion of your own intuition and awareness – because YOU hold all the keys to our species and our planet's ascension!
When the site reaches 15,000 subscribers, I'll then be able to take the site TO YOU!! I'll be traveling and putting on FREE SEMINARS and CONFERENCES for YOU,
#TeamLight
, all OVER the WORLD!! That's right, COMPLETELY FREE for YOU to ATTEND -- with forums about world events, channeled Angelic messages, earth energy messages, gallery readings, energetic mass healing and meditation gatherings, musical gatherings and concerts, metaphysical classes, OffWorld Channeling, even bringing other world-changing incredible Healers, Artists, Visionaries, and Seers with me -- you name it!! ALL FREE to attend, for ANYONE!!!!
Sure, I still do personal readings for those who wish to get more personally in-depth, and I still have plenty of FREE resources for people to enjoy on my blog,
http://www.CallToLight.org
, my YouTube channel, and on social media. Yet for those learners who are wanting to go the extra step, those explorers who want to hear more in-depth spiritual news on world events, and those who truly desire to implement a spiritually-conscious awareness-living a day-to-day practice – this community is for you!
Your monthly subscription allows ALL of this information to be AD FREE, and helps pay for hosting, recording, graphics, production, and all those other nuts-and-bolts-boring-what-the-heck things that are necessary for the creation and distribution of information like this on a mass level. Plus, your subscription enables me more time to get this information documented, for ALL of us!
New content will be added weekly, and monthly. Sometimes even bi-weekly, just depending on what comes through the ethersphere.
And, the best part is, by coming together in a community like this, we literally affect the spiritual physics around us, making a HUGE difference in tipping the consciousness of the world toward the acceptance of LOVE and PEACE – if we all take a moment to learn how to first do that for ourselves.
Change starts with me, and you. Our world is evolving quickly. It's up to us, how we'd like to see that evolution unfold. Join me in making this new world shine!
Much love and gratitude to you for the gifts, your heart, and the beauty that you bring into this existence.
Let's DO THIS!!
Danielle :)
#LeadWithLove #TeamLight #LightNation #GoBeLove
WHOO!! When we reach 2200 subscribers, I'll be able to hire an additional engineer and we can then extend The inPsight Podcast to TWO full hours weekly -- all for the same $5 a month!! How cool will that be?? Let's make it happen -- twice as much fantastic information and fantastic guests, out to the Universe!!
1 of 3
By becoming a patron, you'll instantly unlock access to 170 exclusive posts
By becoming a patron, you'll instantly unlock access to 170 exclusive posts
Recent posts by Danielle Egnew
How it works
Get started in 2 minutes