Dani Joy
is creating Songwriting & Ukulele tutorials
Select a membership level
Kindred Spirit Award
For joining my Patreon family you get my heartfelt appreciation. Every dollar adds up, and I'm thrilled that together you and I are going to make music magic. Thank you!!
You will also get insight on my travels thru my Patreon blog posts and hear scratch recordings of new songs before anyone else!
You will also have access to the community forum where you can join discussions with like-minded musicians all around the world!
Merci Beaucoup!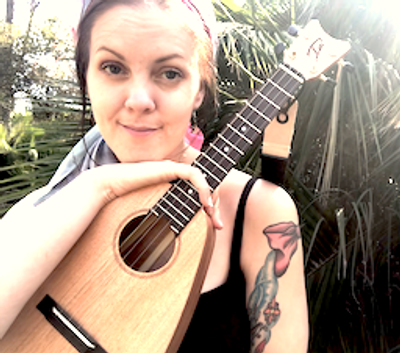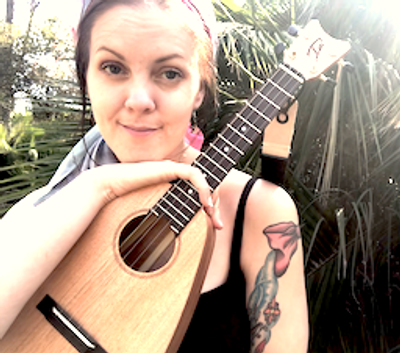 A great deal of appreciation is awarded to this tier and the gracious Patrons who enjoy knowing that they are making a huge difference in the life of an artist. Merci beaucoup! 
Plus ALL previous rewards
Original Supporters
Limited (8 remaining)
This tier is reserved for the 20 original believers in this project. Thank you for all of your kind words and support! 
Plus ALL previous rewards
About Dani Joy
Welcome to my Patreon Page!
I'm Dani Joy. I'm a singer-songwriter Romero Creations ukulele artist who loves to teach, compose music and travel the world, sharing the insights I pick up along the way with YOU! 
What is Patreon?
As in the days of the Renaissance, Patreon allows creative art appreciators (YOU) to support artists they believe in (ME :), often for great returns, in my case, a personal look into the songwriting process of an ukulele artist along with having a safe place to study jazz music where Patrons can take chances and build confidence with guided assistance.
What do Patrons get?
My Patrons get the inside scoop (depending on their chosen tier)
All Patrons get to see videos of my travels as a Romero Creations artist which takes me all over the world from South Africa to Paris to the Goldcountry of good ol' California USA!
Over 40 tutorials with guidance on how to master the American Songbook with the ukulele
Chord substitutions
Knowledge on how to simplify chords (for arthritis sufferers and strengthening hands)
Bluesy riffs, including Ella Fitzgerald vocal riffs transcribed to ukulele, Joe Pass transcriptions, Perry Stauffer's creations and more!
Jazz strums, including discussions on the difference between swing, straight, latin, gypsy, shuffle, & finger style.
As a Patron you'll get all the perks;
recordings to analyze of other local jazz jams captured in the beautiful gold country of Nevada City, a gold rush town famous for their jazz music
additional chord charts for nifty turnaround substitutions, which can be applied to any song
behind the scenes footage and blog posts of Dani Joy's life as a musician/artist
One-on-one help shopping advise for your new Uke
Perry Stauffer's insights into jazz music/ improvisation
So, if you love ukulele, and you're looking for an online community to talk shop with, join us! We'd love to have you.
Thank you for taking the time to visit my site, I know there are a lot of amazing artists you could support, I appreciate you considering me.
Warmly,
Dani Joy
Why do I need YOUR money?
With your help, I will be able to create, record & edit videos, write and record new albums, transcribe jazz arrangements for the ukulele, and organize online jam sessions. 
Through your patronage, I will be able to record, plan, outline, answer questions, take requests, tour and share my knowledge and experiences with YOU and the WORLD!
It's all about that JAZZ!!
Jazz is the smiling expression of your heart. Ella Fitzgerald and Tony Bennet first carried me away, and, after exploring this complex world of music, I know that jazz is not "just" for elite musicians. It's for you! It's for me! It's for our friends and family! It'll give you a thrill to play and boy is it fun to cut a rug on!
Jazz is such a huge topic with so many different fields to explore. If it's got a swingin' groove, I'm there! As I have traveled to festivals and music events throughout our country, I have learned that my musical tastes are far-reaching. I like to put a little mustard on it with the 1920's Cabaret/ Speakeasy tunes, croon it out with Frankie & Ella, and get groovy with the Boss Nova tunes of the free-lovin' 60's. Together we'll explore some latin grooves, French, Spanish & English lyrics, and gain confidence in the skills of  improvisation and overall knowledge of Jazz Music. 
Upon reaching 500 Patrons I will hit the road! Touring around this beautiful country, visiting you all in person along the way and sharing my songwriting experiences with you full time.
1 of 3
Become a patron to
Unlock 317 exclusive posts
Connect via private message
How it works
Get started in 2 minutes