Danny Padilla
is creating Music & Entertainment
Select a membership level
Baby Danny Tier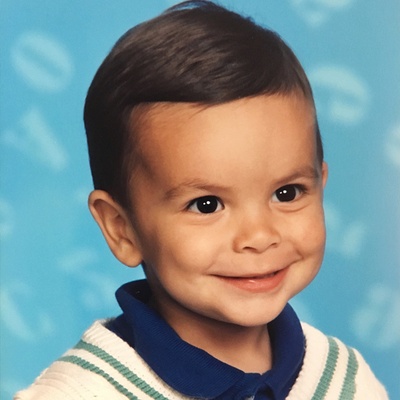 Wow! Seriously, thank you for donating! You'll receive:
Access to my exclusive (and juicy) Patreon feed, where I will be constantly providing updates, song demos, and behind-the-scenes of everything I'm going on. Nobody else will see this stuff anywhere on the Internet.
A virtual hug with your name on it :)
Toddler Danny Tier
You are an amazing human!! You'll receive:
All of the above perks PLUS:
A 10% coupon code for all merch/art from my store
Your name mentioned in the "Thank You" section at the end of my videos
A virtual hug with your name on it :)
Child Danny Tier
I love you more than back massages and waffles! You'll receive:
All of the above perks PLUS:
A 20% coupon code for all merch/art from my store
An exclusive listen to my finished original music days before its release to the public
Priority ability to suggest ideas/questions for my YouTube videos and the Threezus podcast
A virtual hug with your name on it :)
About
Oh hello. Wow, thank you for even just gazing upon this Patreon page for someone you might not even know personally, but still have an interest in supporting.
I have an insanely massive goal in life that involves positively impacting as many people as possible and genuinely leaving this planet in a much better state than when I got here. A lot of this mentality stemmed from my goddess of a mother (my dad's cool too), and the insanely privileged life I've been given. This goal can be hard to reach on my own, which is where y'all come in.
How do I plan on changing the freaking world? Well, in so many ways. Specifically though:
1. I want to make music that heals people, makes people dance, and allows people to know they're not alone in any struggle. As someone who frequently gets the chills while listening to songs that "hit the spot" in that moment, I know what kind of impact that can have on the listener's wellbeing. Now, it might be a tad cocky to say this, but I feel like I have been given the gifts necessary to write songs and portray emotions in a way that could do some real damage (good damage).
2. I want to make videos and content that entertain. Life (especially as I'm writing this, because of COVID-19) can be so unforgiving at times, and even when lows feel so freaking low, distractions and "pick me ups" can really help. It's always good to have humor and lightheartedness during times of extreme sadness, and I want to provide that for people. Because of the content I've created to this point, I've received SO MANY comments and messages from viewers about how the videos made their day, helped them through a tough time, or even saved their lives. That last one is INCREDIBLE. Though I'm sure I wasn't the only reason they survived, THEY GAVE ME CREDIT. That's powerful. I want to do all of that, but on a much bigger scale for more and more humans.
3. I want to function as a really good influence for people, especially the youth. By no means am I even close to the Son of God himself, but I've learned a lot from a life of trial and error. I want to be a poster child for owning imperfections and treating everyone around you with extreme kindness, regardless of how your own life is going at the time. As one of the most privileged people (self-proclaimed, but definitely true) to ever walk this planet, I would love to find every way possible to use what I have to bring others up. I want to spread equality for those in the LGBT+ community as well as people of color, de-stigmatize mental illness, provide resources to the poor and homeless, volunteer at shelters and soup kitchens, and overall just try to be the best version of myself possible.
I'm sure I could go into SO much more detail about of all of this, but the message remains the same. I have big goals. With these big goals comes the need for support. I can't do this on my own, especially not financially. I will be the first to admit that my career path and "day-to-day" hasn't granted me a steady stream of income that I can rely on, but I want to change that. I want to build something I'm proud of that I can use to allow me to focus on what I want to accomplish for others. That's where y'all come in.
As a monthly Patreon page, each Patron will be billed at the first of the month based on how much they choose to contribute. Each tier has specific benefits (that I plan on adding to when I get more ideas), and I encourage you to find one that intrigues you the most. For even just $1 a month, I've given you access to probably the best thing I can offer; my exclusive feed. Here, I will be posting anything and everything that might function as a "behind the scenes", early song release, personal update, song demos, and a bunch of other stuff. This will all be content that is EXCLUSIVE to y'all here on Patreon.
I have major plans for the future, and I'm excited to have you along side me. Let's be friends.
So yeah, I know this is a really long intro, but if you know me, saying a lot is my forte.
Much love, y'all.
My YouTube Channel:
http://youtube.com/dannypadilla
My Vlogs:
https://www.youtube.com/playlist?list=PLMBKVSYmy5S...
My Covers:
https://www.youtube.com/playlist?list=PLMBKVSYmy5S...
My Impersonation Videos:
https://www.youtube.com/playlist?list=PLMBKVSYmy5S...
My Twitter:
https://twitter.com/DannyPadilla
My Facebook:
https://www.facebook.com/dannyjpadilla/
My Instagram:
https://www.instagram.com/dannyjpadilla/

My TikTok:
@dannypadilla
-Danny Padilla <3
By becoming a patron, you'll instantly unlock access to 98 exclusive posts
By becoming a patron, you'll instantly unlock access to 98 exclusive posts
Recent posts by Danny Padilla
How it works
Get started in 2 minutes