Daredevil Chicken
is creating Performances, Comedy, Art & Collaborations
Select a membership level
Rubber Chicken
Your support means a lot to us! You are as precious to us as the first rubber chicken we bought for our street show back in 2001.  Spending any kind of money of art is a BIG deal, we thank you!
Includes:
 Patreon-only messages, posts and content.
Exclusive monthly performance videos from our home headquarters!
Iron Chicken
Spending this kind of money on the arts deserve a HUGE prize, like the Iron Chicken prize we won back in 2011 in Christchurch, New Zealand at the World Buskers' Festival. In this tier you will receive everything in the previous tiers plus an original specially commissioned enamel pin by "Battle Born Pins" plus any new pins that we create.  We will also send you a regular correspondence of hand drawn and handwritten postcards. Analogue style!
Includes:
Daredevil Chicken enamel pins 
Hand drawn & handwritten postcards sent to you, analogue style!
Patreon-only messages, posts and content.
Crossing The Road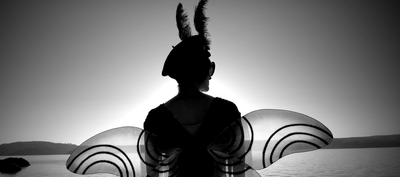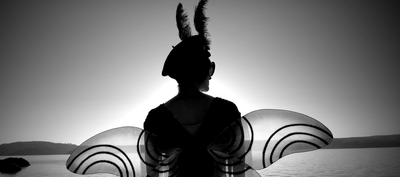 In this tier you have really made a leap of faith and crossed the road to meet us! For this you will get everything in the previous tiers plus a monthly personalized video message.
You can have this video personalized for yourself, or for someone else!
Think of it like a "singing" telegram you can cash in once a month; great for holidays, birthdays and keeping in touch with loved ones during this time! (Much cheaper than Cameo!)
Includes:
Personalized video messages
Exclusive monthly performance videos from our home headquarters
Daredevil Chicken enamel pins
Hand drawn & handwritten postcards sent to you, analogue style
Patreon-only messages, posts and content
About Daredevil Chicken
Hello friends of Daredevil Chicken!
Thank you for checking out our Patreon page and letting us explain to you why we are hoping to get your support here. A little bit about us: we are a married showbiz couple and we've been making comedy, vaudeville, cabaret, producing shows and collaborating with amazing artists for almost twenty years.
You can see more about us at our website here:
www.daredevilchicken.com
Because of the global pandemic, we have lost a years-worth of work and have no idea when we'll be able to get back to what we do and how we do it, i.e: LIVE SHOWS. We are stoking our creative fires and putting energy towards connecting with people online by creating art, performance and comedy that is accessible to our patrons while we are all physically distanced. Even though it's scary times for many of us, we think it is a great time to be innovative and evolve as artists.
We are hoping for your patronage so we can continue to work as artists and give back to our community. We have nowhere to go and nothing to do right now so we are motivated to make great stuff at home and share it exclusively with our patrons here! If things go well, we are hoping to look back at this time as an era where we made some amazing performances and art and forged a community of people. We hope we are able to hire other artists and performers to make all of these online ideas a reality!
Interested? This is how it works:
Sign up on Patreon…
pick a tier of support…
...and enjoy what we have to offer you!
Since this is a rolling membership, you will enjoy more and more offerings as they become available. You can always upgrade, downgrade or cancel your membership depending on how you are enjoying what we give you. (We are hoping to exceed your expectations!)
No long-term commitment is required.
We promise to give you original and entertaining content to keep you laughing and be a bright spot in your day or night. We have gifts and treats to send you that will be thoughtfully created by us and our collaborators. We believe this Patreon page is a fabulous place to make dreams come true and connect with people during a time where it's so important to know that
we are not alone.
Right off the bat, here are some of the things that will be available to you as a patron, depending on the tier you choose:
Exclusive messages, love letters from us, posts and videos
Once a month performance videos, only available on Patreon
Handwritten and hand drawn postcards (think Griffin and Sabine from the 90's)
Live Zoom variety shows, hosted by us!
Live Q and A sessions
Special merch only available to Patrons
Surprise creations from the minds that made 'Married with Bananas!' (Winners on The Gong Show)
Live in-person shows brought to your doorstep (when it's safe to do so)
About our company,
Daredevil Chicken
:
We've been performing together in front of real, live audiences since 2001 when we ran out of money in Barcelona and decided to put on a street show so we could get home. Daredevil Chicken was born on Las Ramblas and continued to grow and change over these past nineteen years. (!!) We started out as traveling street performers and began creating world-class cabaret acts for incredible companies and circuses. We've worked with Spiegelworld, La Soirée, Cirque du Soleil, Blue Man Group, OhLaLa, Lookingglass Theatre, New Belgium Brewing Company and more.

We've been self-supporting with our art, performance and comedy since our beginnings. We want to continue to make people laugh, clap and cry (just a little) with what we have to offer as artists and humans. We ALL have a lot to offer; let's come together and keep the timeless relationship of audience and performer alive and well! This is a dialogue and we want to know what you think and what you want! We are open to suggestions and ideas of things you might want to see from us. We've only ever grown as artists because of our audience and fans! We thank you from the depth and height of our gratitudes. Thank you for coming on this journey with us.
—Love, Anne and Jonathan
When we reach our goal of connecting with 40 Patrons, we'll throw a party and you're all invited. It will be a special, live, online performance for all Patrons and their friends, families and us! Entertainment, games, surprises and a dose of delight!
2 of 2
By becoming a patron, you'll instantly unlock access to 23 exclusive posts
By becoming a patron, you'll instantly unlock access to 23 exclusive posts
Recent posts by Daredevil Chicken
How it works
Get started in 2 minutes