Darren Lloyd Jazz
is creating Jazz etudes & improvisation lessons for intermediate students
Select a membership level
Jazz etudes Patron
As a patron to tier 1, you will receive a
weekly
 (Friday) jazz etude (over a famous jazz standard), available in Concert pitch, Bb (tenor sax friendly too), Eb & bass clef. I will also include a backing track for you to play along to.
As well as the jazz etude I will also include a very short (video) lesson on developing your jazz vocabulary & (or) improvisation abilities, by taking a small aspect of the etude and showing you how to work that into your own playing. This is a fantastic opportunity to develop your playing with a fully qualified teacher & professional musician. Darren Lloyd.
Topics covered in these short snappy lessons may include
Playing with a swing feel
Articulation
ii v i's
Listening
Approach notes
Chords
Rhythm
Motifs
Patterns
Scales
Many, many more....
The jazz etudes are created to help develop students' jazz vocabulary but are also fun to play, melodic and come with a recording of Darren playing the etude and a backing track too! They are purposefully written in a way where there are not too many tricky, high sustained, or semi quaver/double time passages.
If you are really wanting to take you playing to a whole new level, you should definitely consider upgrading to tier 2!
Testimonials
"The 65 études are exactly what I need to break the impasse and have the confidence to overcome years of "slavery to the dots". Darren has achieved so much by Intelligently applying himself to the task of understanding the language and developing his own talent. The 65 études are a wealth of genuine standards from the "greats" across the genres. Darren's articulate presentation encourages you to persist and really achieve. See you at the other end.....
Ken Brown - Trumpet player with the Halle Orchestra
Hi Darren, I really love your book/books. I was a brass band nerd (still am I suppose) til I entered the RNCM aged 23. I did 10 years with the BBC Philharmonic then moved to Norway and the Bergen Philharmonic. I have been here for 20 years now combining the orchestra and playing lead trumpet with the Bergen big band. I also conduct bands and write my own music. The thing I like about your etudes is it allows me to be slightly freer in my improvisation. I usually find due to my "classical" background that I improvise ok-ish during rehearsals but when I get to the gig my ideas freeze up. This maybe due to not having enough jazz language to use. Without doubt your etudes are helping me cement a better awareness of the language." 
Martin Winter - Principal Trumpet with the Bergen Philharmonic Orchestra

"I love your jazz etudes ...not just for myself but for all of my students. They range from grade 3 up to grade 8. I have been teaching trumpet and jazz for over 40 years now and have tried a lot of methods but yours are proving to be the best by far.I look forward to all your future projects. We never stop learning so keep up the great work Darren. Best wishes" 
Graham Russell LLCM (T.D.) ARCM, ALCM - Studio Trumpet - Lead Trumpet West End - Lead Trumpet Dame Shirley Bassey

'Your etudes are great, my students love them!'
Jarritt A Sheel - Assistant Professor, Music Education - Berklee College of Music 
Includes Discord benefits
Jazz improvisation lessons Patron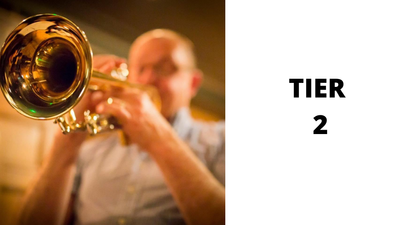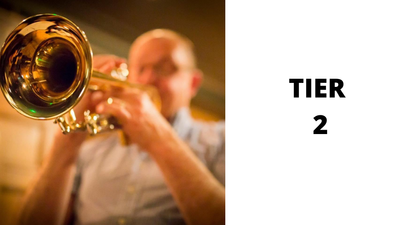 In tier 2, you have access to all the benefits of being in tier 1. 
You also have access to a
weekly
 (posted on a Monday) jazz improvisation lesson using a famous jazz standard to work on.
Each week you will receive access to a
Weekly video jazz improvisation lesson
mp3 demo etudes and backing tracks
Detailed lesson plan with hints & tips on how to make outstanding progress
A weekly 40 minute zoom Q & A call about the weekly lesson or anything else pertaining to jazz improvisation.  
Tunes that have been used so far include 'Autumn leaves', 'Ladybird', upcoming tunes include 'Blue bossa', 'Blues in Bb'. The lessons focus on developing the ability to play beautiful melodic solos whilst concentrating on playing what you hear!
Darren is a fully qualified teacher and has been a professional musician since leaving school at 16. He is also a holder of a master of arts in jazz performance!
Looking forward to seeing you on the inside!
Testimonials
'As a classically trained trumpeter who has studied up to degree level, I recently started the jazz improv training academy with Darren after stumbling across his website on YouTube. I've had some jazz lessons in the past and listened to a lot of jazz and practiced improvisation at great length but never felt that I sounded at all jazzy. That is all changing now!
If you are looking to improve your jazz and improvisation skills his knowledge is second to none.'
Stephen Clyde - United Kingdom
'The Jazz improv training academy lessons has really reignited my passion for playing the trumpet. The lessons are easy to understand and I am learning and making progress quickly.'
Mitch Kent - USA
'Simply the Best! I did not want to put my horn down for days after the lessons with Darren - thank you sooooo much. His lessons are the spark that light the fire - and I cannot think of a higher compliment. Jazz - here I come! His style is warm, deliberate and so easy to take in... Do yourself a favour and make the connection!'
Russell Anderson - USA
'Having lessons with Darren has really opened up my mind as to how to build my own improvised solos. His musicianship combined with a very friendly, open and confidence building manner have helped me to get away from the root based, quarter note approach bass players are typically brought up on and has enabled me to start thinking like a true soloist. Using the exercises he has given me, there has been an immediate, very clear change in the way I think and has already led to a much more melodic quality in my improvisation.'
David Cobb - United Kingdom
'I've learnt more in a few weeks with Darren's lessons than several years with different method books, different online courses etc... You learn the basics of becoming a good improvisor in a way that is easy to understand and apply. I am truly grateful to have discovered Darren and so are my fellow band mates!
Bruce Lepolstat - Netherlands
Includes Discord benefits
A jazz etude - just for you!
Limited (8 of 8 remaining)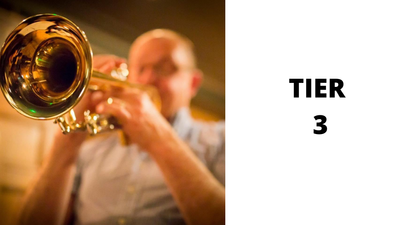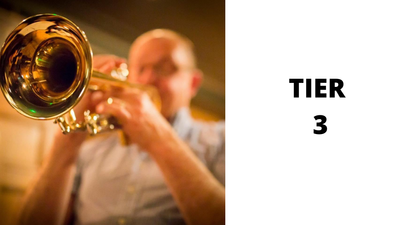 I will write a jazz etude just for you.

You choose the standard!
You choose the key!
You choose the style (dixieland, cool, mainstream).
You choose which clef and pitch!
You receive the pdf and recording of myself playing the etude.
You'll also receive a backing track to play along to!

The etude that has been written for just you will never be sold or published!

Whilst the etude has been created for you, I own the copyright and as a result it cannot be resold in anyway.

You also receive the benefits of tier 1 & 2.


Includes Discord benefits
About Darren Lloyd Jazz
Hi, Darren here! 
I am creating jazz etudes & lessons for intermediate musicians interested in developing their jazz vocabulary and improvisation skills. Check out the different tiers for the content I provide.
 
Tier 1 is a weekly jazz etude with a mini video lesson on than aspect of the etude! You also get a recording of the demo etude and backing track!

Tier 2 is a weekly jazz lesson. I pick a tune for around 5 weeks and work on things like, chords, scales, approach notes, enclosures, motifs, 2 5 1's.... You also get access to the my discord feed. You also get a lesson plan, pdf etudes, demo recordings of the etudes and a link to the video lesson. You also get access to tier 1!

Tier 3 is where I write you your own jazz etude, you choose the tune & key! You also get access to tier's 1 & 2!

Tier 4 you receive a monthly one to one lesson with me! This is limited to only 8! You also gain access to tier 1 & 2!



Become a patron to
Unlock 70 exclusive posts
Connect via private message
Recent posts by Darren Lloyd Jazz
How it works
Get started in 2 minutes