DatWombat
is creating wonder and whimsy through writing
Select a membership level
Rat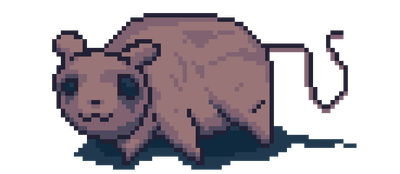 One-hundred
American pennies weighs
roughly
the same amount as a common rat. In exchange for one-hundred pennies,
you too
can be a rat!
Gifts of the Rats:
Access to Exclusive Content
Guinea Pig
Did you know
that five-hundred American pennies weighs
about
as much a guinea pig? In exchange for five-hundred pennies,
I deem you
a guinea pig!
Gifts of the Guinea Pigs:
Access to Exclusive Content
Rabbit
One-thousand
 American pennies weighs the same as a domestic rabbit. Those little buggers are
so
cute!
You too
 can be a cute 'n chubby bunny for only
ten dollars
!
Gifts of the Rabbits:
Access to Exclusive Content
About
Hi! I'm DatWombat, and let's cut to the chase; you know why you're here. I do something that you like, and you want me to do more. What a greedy soul you are! But have no fear, because for the low-low price of one United States Dollar, you can be absolved of your internet sins!

Pledge now! Self satisfaction is but one reoccurring, monthly installment away!

Oh! You want to know what I do? Well, I write. I draw too, but mostly write. What I draw and write varies from platform to platform, but chances are, you're here because you derive pleasure from what I do on one or more of your favorite places. Consider my Patreon page to be a one-size-fits-all solution to for you to support me.

No matter where you hail from, I'll always be game to take your money.

Ah, you want to know why you should give me your money. Well, because (I presume) you enjoy my content, and want me to create more (and better) content for you to enjoy. They say time is money, and my life is invested into your enjoyment.

Help me better your enjoyment. Pledge now!
By becoming a patron, you'll instantly unlock access to 2 exclusive posts
By becoming a patron, you'll instantly unlock access to 2 exclusive posts
Recent posts by DatWombat