Dave Mercier
is creating comics
Select a membership level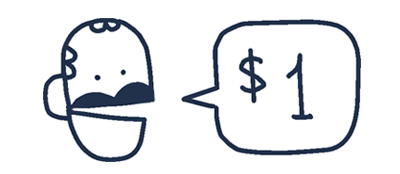 Private Eye
✓ Sketch comics ( 3/week )
✓ Vote in the weekly roundup
✓  Support Dave <3
Hero
✓ Full color comics ( 2/week )
✓ Sketch comics ( 3/week ) 
✓ Vote in the weekly roundup
✓  Support Dave <3
Drinking Buddy
✓ Join in the DrunkDraw  
✓ Full color comics ( 2/week )
✓ Sketch comics ( 3/week ) 
✓ Vote in the weekly roundup
✓  Support Dave <3
About Dave Mercier
Hey gang, 
Dave Mercier
here! You may know me as the creator of 
MercWorks
and 
Hop Dude
, as well as illustrator and occasional writer of 
Live with Yourself
.
I'll get right down to it: most of my work is independent, which means the only way I make money from it is thanks to the generosity of readers like you. If you enjoy my comics and you think I deserve to make a living from them, pitching in a dollar (or more!) on Patreon is the best way to make that a reality.
"What's in it for me," you ask?
3+ new comics every week - at least three sketch comics and two finalized comics. 
Be part of the process. Vote on your favorite sketch comics every Sunday. On Monday, I'll make the two sketches with the most votes into full color comics!
Join the community. Get access to the MercWorks Discord channel to talk about comics, music, your unwavering love and support for me... whatever!
Hang with ya boy Davebaby. If you're over 21, you may enjoy the monthly DrunkDraw - a gamified hangout with me and your fellow DrunkDraw patrons.
Appear in a comic! High rollers will become part of the Merciverse with a guest-spot in a comic. No promises it'll be a good one!
Schedule
Final Comics        ($3+ patrons)     - Mon, Wed, Fri
Sketch comics      (All patrons)        - Tues, Thurs, Sat
Voting day              (All patrons)         - Sun
DrunkDraw             ($15+ patrons)   - 2nd Sunday of every month (subject to change, check Discord to stay up to date)
If any of that sounds like something you're interested in, 
sign up here
. I truly believe that together we can raise enough money to fill my bathtub with nickels.
I will fill a bathtub with nickels and get inside, then post pictures for you to see.
2 of 2
Recent posts by Dave Mercier
By becoming a patron, you'll instantly unlock access to 207 exclusive posts
By becoming a patron, you'll instantly unlock access to 207 exclusive posts