David Collier
is creating content exposing antisemitism and the lies of anti-Zionists
About David Collier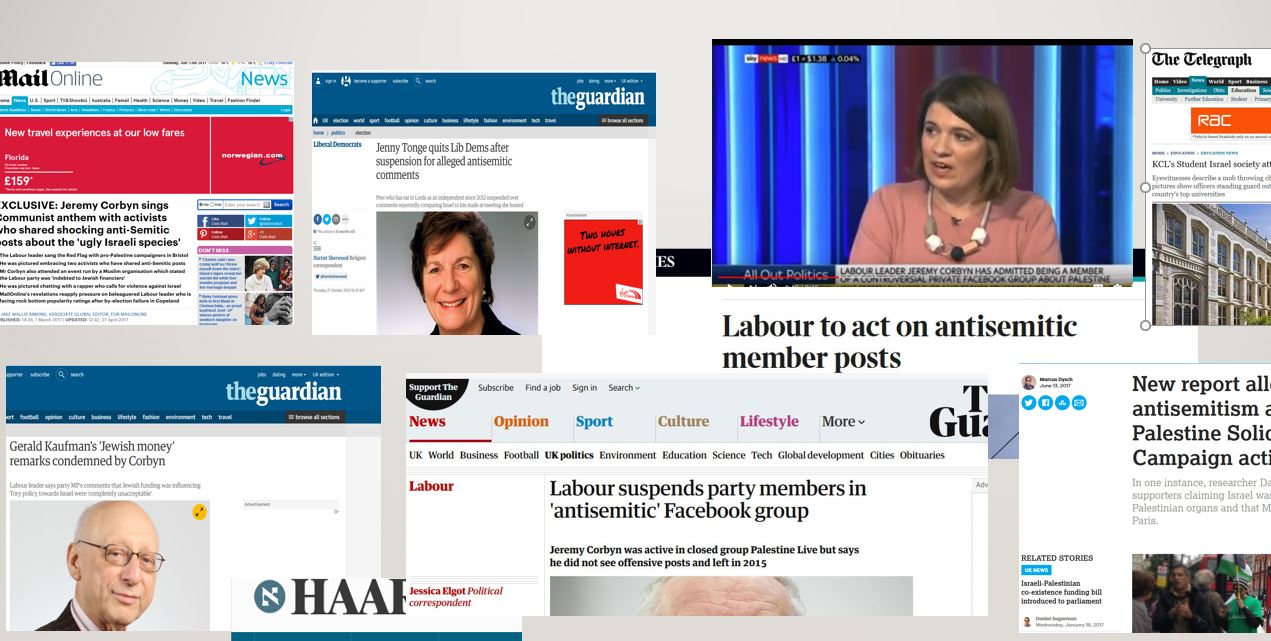 I expose antisemitism and fight against the demonisation of Israel. It is a intense and difficult global struggle.
The above are just some of the many news stories generated by my research. I have created exclusives on hundreds of hard-core haters. I have been fighting for Jews and Israel for over 20 years. I have a large audience, and a popular website, with my Twitter feed alone receiving several million impressions each month. My research is frequently cited by mainstream media across the globe.
My research has won awards. I was named in 2017 as one of the top 100 people positively influencing Jewish life and recently in 2020 as one of the top 20 online pro-Zionist influencers. This research really does make a difference and supporting it will allow me to do more.
Of course I have also become a central target for anti-Israel activists. I've been assualted, my website has been attacked, I have had articles written about me, smearing my character and I am a constant target for online trolls. I have also been personally targeted, with threats made against me and my family. Just a couple of the less-profanity ridden examples:


Until now I have received donations via PayPal, and the community has been consistently supportive of my work. As appreciative of this as I am, it does have a down-side - donations come in when I post blogs, but not when I am conducting more intensive research. Patreon presents and opportunity to 'normalise' and 'regulate' such support, allowing me to plan, and to purchase better equipment, go to more events, conduct more in-depth research and use social media advertising more than I do.
Supporting this research will help fight antisemitism and the delegtimisation campaign against Israel.
Best wishes
David Collier
Occasional part-time help with research:
Much of my work involves checking activity online, following up on information sent to me and other web or archive based research. Additional help would allow me to engage in deep intensive research without being concerned about overload.

Better equipment
Half of my scoops come from offline interaction. This requires video & audio equipment and software. I am constantly upgrading, seeking new and better ways to help me capture what needs to be publicised. In the past, real stories have been missed because the equipment failed or the quality wasn't good enough.

Social media advertising
My following is well-educated, and I have many subscribers in law, media and politics. But internet bubbles still exist and sometimes it is necessary to push a story onto specific audiences. This is not cheap and is a constant barrier to 'getting the story out'.

More events
I seek to attend more events than I do, especially those that are not London-centric. This involves travel, occasional accommodation and entry fees.

Better sources
Most of the top media sources are now publishing behind a paywall. I have subscriptions to several of the top ones. But for the research I do, I also need access to academic journals, libraries and archives. Additional funds will enable me to widen my reach to source material.
1 of 1
How it works
Get started in 2 minutes