Dragan Djuric
Deep Learning for Programmers Book
Select a membership level
3rd (and up) ed. Book Subscription 2022
3rd edition and subsequent editions as long as you're subscribed! Get the drafts right now and the complete book after at least 8 months of consecutive active subscription, when 3.0 is ready, if your subscription is still active at that moment (if you cancel subscription, you only get the drafts up to that point). Does NOT include access to the 1st and 2nd editions! To read v2.0 right now, please select tier 2.0, download the book, and then switch to this tier for 3.0. Your name will be included in acknowledgments at the end of the book (opt-out).
Book PDF 2.0.0 (just SINGLE payment)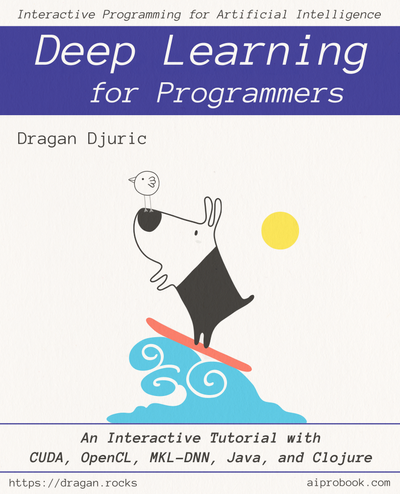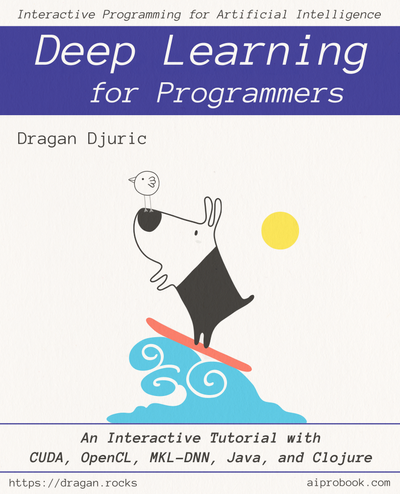 Download the book PDF of v1.0 and v2.0 (WIP) immediately. When v2.0 is ready, you'll receive the PDF via e-mail. The first charge is enough.
Book 2.0.0 PDF+CODE (just SINGLE payment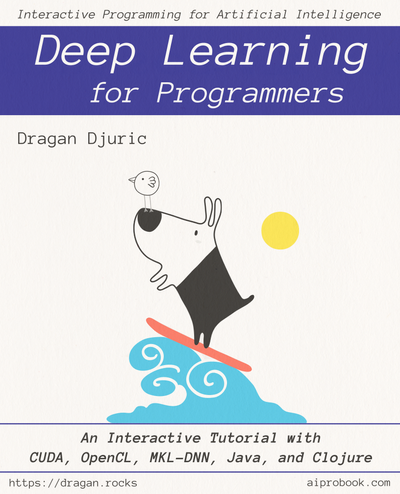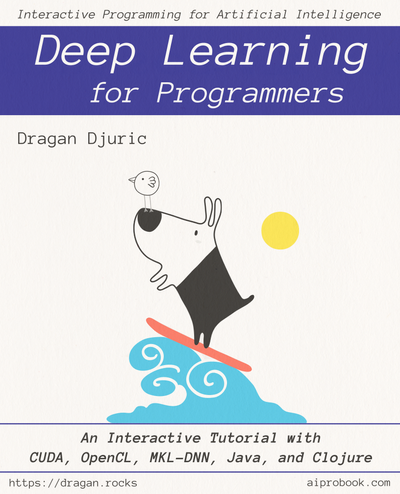 Download the book PDF and Leiningen code of v1.0 and v2.0 (WIP) immediately. When v2.0 is ready, you'll receive the PDF via e-mail.The first charge is enough.
About Dragan Djuric
Hi, I'm Dragan from
https://dragan.rocks
.
I have been using Clojure for the last 10 years and I teach Software Engineering and Intelligent Systems at University of Belgrade for even longer. I also develop a bunch of nice Clojure open source libraries that you may have heard about:
Neanderthal
,  
Deep Diamond
. 
ClojureCUDA
,
ClojureCL
,
Bayadera
,
Fluokitten
, etc.
I'm also excited to announce a couple of books that teach attractive topics at the intersection of programming and Artificial Intelligence, written with programmers in mind.
The first of them is this book, Deep Learning for Programmers, An Interactive Tutorial with CUDA, OpenCL, DNNL, Java and Cloure. You can read more about it at the dedicated website,
https://aiprobook.com/deep-learning-for-programmers
This is where you can voice your support for my work, and subscribe to the book. You'll immediately get access to PDF version of the latest draft, and the source code.
Patreon is the only way to access this book. In this way, we cut the middleman, and I get almost all of the money you spend on it. The book will not be sold in a classical manner (Amazon, etc.) since it is not economically feasible for the author (me). By subscribing, you ensure that 100% of the money you spend goes to funding my open source work on the Uncomplicate Clojure libraries.
You have option of buying the complete book at the full price (instant download), or/and subscribing to the next edition (get new and updated material as soon as I write it)
You can choose a tier that shows your level of support (you can enter custom amount if you wish) and get acknowledged as a supporter in the book. Higher tiers help more, and also bring some additional perks.
The recommended subscription prices
for new subscribers
are generally going to rise each month, as the books nears the "completion" of the first edition, and it is a good idea not to wait, but to subscribe early and secure the early discount.
The book will be developed in perpetuity. As soon as the first edition (version 1.0.0) is out, I'll start a new cycle for version 2.
Thank you for your support, and I hope you enjoy the book!
If you are not in any way 100% satisfied with the book progress, you can simply cancel the subscription, and keep the drafts that you received up to that point.
By becoming a patron, you'll instantly unlock access to 7 exclusive posts
By becoming a patron, you'll instantly unlock access to 7 exclusive posts
Recent posts by Dragan Djuric