Deeply Dapper
is creating A Monthly RPG, Tabletop Gaming, Fiction and Artwork Magazine
Select a membership level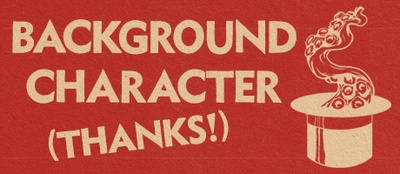 Background Character
These patrons receive our deepest gratitude and will be listed in issues of TABLETOPS & TENTACLES. You also get input on votes and polls we run, access to all updates.
You will also receive a top secret phrase that, when said at any of our Comic Con Appearances across the nation, will get you a Patron-Only secret surprise! 
NPC
NPCs get the digital copy of TABLETOPS & TENTACLES! They also get full access to ALL updates, polls and sneak peeks! 
You will also receive a top secret phrase that, when said at any of our Comic Con Appearances across the nation, will get you a Patron-Only secret surprise! 
Adventurer
Adventurers get access to the Physical Copy! In addition to the digital copy of TABLETOPS & TENTACLES they will also get a coupon code to use on Drive-Thru RPG to purchase a physical copy of the book at-cost. All backers at any level get full access to ALL updates, polls and sneak peeks! 
You will also receive a top secret phrase that, when said at any of our Comic Con Appearances across the nation, will get you a Patron-Only secret surprise! 
Important Note: Patrons will still need to pay for shipping costs and the at-cost price of the magazine. You will be able to choose preferred shipping at the time of your order on DrivethruRPG. (Depending on length, each issue will usually cost between $3-$5 to print and will retail at $12-$20 without the digital copy included in the price)
About Deeply Dapper
Greetings, fiends! 
My name is Kristopher McClanahan and I am an artist, author, podcaster, game designer, soapboiler and con man living in the Northwest. With my wife and friends, we have spent the last decade as
DEEPLY DAPPER
- bringing you the best art, stories, games, alchemy and experiences we can.
After a long search about the best way to use Patreon, we decided to combine everything we do into one epic experience - a super geeky, lovingly created magazine! 
TABLETOPS AND TENTACLES
will be a monthly magazine that is designed to harken back to the classic magazines I loved growing up - Dragon, Dungeon, Wizard, The Magazine of Fantasy and Science Fiction with a modern twist. Each issue will be packed with content including a mix of the following: 
Roleplaying Game Adventure hooks, prompts and outlines
Full serialized adventures for RPGs
Custom NPCs, treasure, magic items and monsters
Short fiction and book excerpts
Interviews with Tabletop and RPG game designers
Artist profiles
Fun and helpful dice tables
Custom maps and locations
Bad jokes
Comics!
Convention Reports
Reviews of games, systems, movies, and weird food
Exclusive artwork
Tales from the Cthulhu-Haul
Articles, hints and tips for RPGs and Tabletop Games
Sneak peeks at upcoming projects
The Scent-Of-The-Month!
Probably more bad jokes!
In addition to getting the magazine cheaper on Patreon than it will be available at our table at shows or online, Patrons will also get exclusive digital content, including printable maps, character and item cards and behind the scenes content. 
Why support TABLETOPS & TENTACLES on Patreon?
Every Patron will help support the development of every issue
Save money off of the retail cost of the magazines
Get exclusive content, digital downloads and sneak previews
Help pay for the artwork, writing, development and design
Help support independent artists! 
Help us create more content for our youtube channel
Less critical fails rolled! (probably)
Improve your quality of toilet/bus/couch reading
What kinds of adventures can we expect from TABLETOPS AND TENTACLES?
Excellent question, Patreon About Page! My wife and I have been creating worlds, adventures and stories together for over a decade, in games, novels, short stories, RPGs and just as ways to entertain ourselves on long car rides. In the process we've assembled a huge collection of notes, tales, myths and plots to pull from for the magazine. In each issue we plan to include a mix of genres, adventure types and lengths as well as a blend of complexity. 
Most fantasy adventures will be primarily system agnostic, but whenever possible we will include tables for adjusting to 5E/pathfinder/etc, depending on the adventure. (Or include them as Patreon exclusives) 
A blend of fantasy, sci-fi, horror and modern, with some twists thrown in. 
We have established worlds in a wide range of genres and when we write adventures in them, we will also include primers about the genre and world for extra texture. 
Some of our current worlds/genres:

Somnerra - a high fantasy, seafaring world with magic, dragons, blunderbuss pistols, pirates, jungle temples and sea serpents.
Aeternor - A fantasy world where magic is outlawed in regions and mythology blends with historical battles, a renowned magical school and fantastic tales.
Streetlights and Shadows - Orpheus - a 1940's noir town of detectives, death and neon.
Crossworlds - A city full of superheroes and mysterious dimensional rifts.
Moonstone Bay - A mist-wrapped retro-modern gothic mystery set on the coast of Washington state.
Dapper Hollows - Bat Boy and his buddy 'Thulie in a world of monsters, weird vegetables and horror where it's always Halloween.
The Westlands - A post-apocalyptic 1960's western United States.
And more, including plenty of simplified fantasy and horror settings, lovecraftian terrors and Faerie folk!

Themed issues! A few times a year, we will release issues that are created around a central theme - Horror, aliens, holidays, maybe a fruit? Who knows!?! 
Guest Editors! In addition to reaching out to comic book creators we've met in our years of doing conventions, interviewing game creators and artists, we will also be doing guest editor issues where a special guest editor shapes the magazine that month.
How does it work? 

All you have to do is pledge at your minimum desired level to start getting the magazine once it's released! (Of course, you are always welcome to pledge for more to help support our endeavors) We are releasing the first issue in January and backers at the digital or above levels will always have access to the digital back issues through updates! Backers at the Physical level will get a code to print a copy at cost from DriveThru RPG each month. (Physical and digital copies will also be available on DriveThru RPG after they are available here, but at a higher retail.) We will be releasing a FREE "Zero" issue in a month for prospective patrons to read and get an idea of what we are going to be doing. 
Submissions
Interested in contributing to TABLETOPS & TENTACLES? We are looking for all sorts of interesting contributions: 
Have a great idea for an interview or artist profile? 
Do you have a fantasy or sci-fi novel you'd like to promote with an excerpt in the magazine? 
Do you have an indie RPG you'd like us to play on our youtube channel and talk about in the magazine? 
Are you a tabletop game designer that would like to chat about your upcoming game, or have us preview your game on youtube?
Are you an indie comic creator that would like to talk comics? 
This magazine is a labor of love from two people and we are on the road for 20-35 conventions a year, so we are always open to suggestions, ideas, content and help! 
Want to advertise with us? There's a tier for that, actually. 
Want to force us to play a video game on twitch, watch a movie or review a board game? There's a tier for that too!
Recent posts by Deeply Dapper
By becoming a patron, you'll instantly unlock access to 16 exclusive posts
By becoming a patron, you'll instantly unlock access to 16 exclusive posts