DeLila Black
is creating DeLila Black's Passe Partout
Select a membership level
The Lottery
This tier is for anyone who is curious and wants to contribute.   I'll put somethings up especially for you.  This could be anything.  Like pulling a prize out of a hat or winning the lottery!
Tier one
 You'll receive:
Access to a downloadable DeLila Black single of your choice  
Access to  NEW music  before public release
Accompanying original digital art work for the tracks plus digital art work (photos) 
Access to patron members only monthly blog.
Tier 2
 You'll receive:
everything from tier one plus
Genre-jumping original mashup or mix tape  available for members only download link
 First access to new videos via  members only link
10% off all DeLila Black merch
I'll need 10 patrons to start this off.
About DeLila Black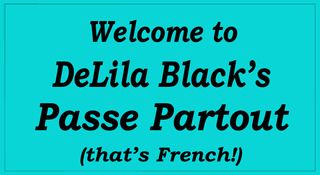 Howdy Patrons!
I'm DeLila Black.  I make music, videos and bits of  art, but I'd like to take the whole thing up a notch. That  means creating work more regularly and getting professionals involved. 
At the moment I'm doing EVERYTHING myself.  It's fun but I could really use some help.
I've been developing my own Americana sound.  Exploring what I call, Electro-Mountain Music Punk-Country and Trip-Steel Guitar; including some genre jumping mashups, making mix tapes and of course good ol' traditional.
I appreciate your support.
There's absolutely no pressure to pay anything
. If you just want to hang out here, be my guest. I'll be uploading free stuff too -but if you want to contribute, I would love that.  Each tier has  different content so you pick whichever is suitable for you. 
You will only be charged when I make a PAID post

-


which will be less than once a month


maybe bi-monthly depending on the workflow with my day job. 
Try out the $1 tier. That's always fun.
 You can edit the amount or cancel your subscription at any time.
 

It's because of your generosity that I'm able keep doing what I do. Thank you a million times! 
So, whether you want to help out, whether you want to be involved, or if you just fancy watching this space, I'm very glad you're here!

Are there any questions?
... Yes, you there, in the back!
How do I contribute or gain access?
You can click on any of the boxes that describe different levels of patronage. Click whichever feels right for you.
Try the $1 tier if you just want to check things out
.
What if I change my mind?
You can stop ANY time you damn well please. I'm  happy that you dropped by to look.
What do I get for my money
It depends on what you want to gain access to. Each tier offers different stuff.
How much stuff will you release a month?
I'll be putting up ONE video every other month. It takes time to get a really nice one. I'm doing it all myself  at home at the moment.. I will be uploading incidental videos, informal performance videos, mixes, mash ups, unlikely covers, "Karaoke Time!,  stories or short vlogs of what I get up to …maybe the odd rant… It all depends on how much time I have to do it because my day job can be demanding.  Most likely it'll be once every 2 or 3 months.
But what if you release more content than you said.
You still only pay for what you signed up for.  Anything added to that is extra for free.   
What if I only want to support 1 or 2 videos and no more?
No problem. Just change to a  tier that suits you or cancel.  You can still come and hang out. You can pick and choose whatever you want to do at anytime.
I've got  more questions but they aren't covered here.
You can mail me at this address
[email protected]
write PATREON  as the subject.
By becoming a patron, you'll instantly unlock access to 57 exclusive posts
By becoming a patron, you'll instantly unlock access to 57 exclusive posts
Recent posts by DeLila Black
How it works
Get started in 2 minutes