Destiny A. Davison
is creating stories, illustrations, comics and more
Select a membership level
Pledge $1 or more
Hey there, that's very cool of you--placing a monetary value on your support? Doesn't happen every day. Here's a virtual high-five. Also, take a digital art print to hang on your wall or above the dying aloe plan in your bathroom. Thanks for being Here. 
Pledge $5 or more
$5? 5 whole dollars? W-O-W. On top of my eternal gratitude, you get a commemorative pin that (I hope) you'll wear on all your letterman jackets and long coats forevermore.
You'll also get access to my digital warehouse, the Gutter. a weekly, newsletter-slash-log wherein all my best and worst in-progress ideas go to hang out. Are you the kind of person that likes to know important/cool information ahead of time? Do you like gossip? Do you regularly order the early-bird special? Yes? Then the Gutter is the place for you.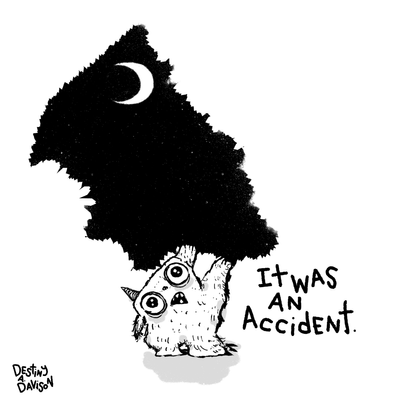 Pledge $15 or more
That is very kind of you, and means a lot. So here's a free copy of the Lot and a commemorative print and button. Thanks for being Here.
And of course, you'll also get access to the weekly Gutter as well as first-peek at any and all BTS posts, important announcements, merch and more!
About Destiny A. Davison
Destiny A. Davison is a writer and illustrator. She writes about the real, the unreal and the in-between. She illustrates the mess. She does other things, too. 

She doesn't usually talk about herself in 3rd person but heard that it's more professional, so she's doing it now. 

Find her at www.destinydavison.com