DESTRUCTOBLOG
is creating Videos and Podcasts
Select a membership level
The First One
The first tier. It helps pay for the basic costs of making the show and gives me more motivation to make time to create podcasts and videos. 

I almost typed 'podcats' and I can't fulfill that promise because I don't know what that is.

You get your name in the credits of stuff I make as long as you pledge as well as a thank you message and access to the basic Patreon Community posts, such as updates and downloads to the mp3 versions of the podcasts.



The Middle One
The Middle One tier level can directly impact the quality and quantity of all the content by helping me make extra time to work, buy equipment, research materials, and cover costs in general.

Middle Tier will get your name in the credits of stuff I make as long as you pledge as well as a thank you message and access to the Patreon Community posts.

You will also receive early-access posts to new content (from Oct 2020), as well as exclusive archive downloads, cut content and bonus content.




MYSTERY SOLVER
Limited (9 remaining)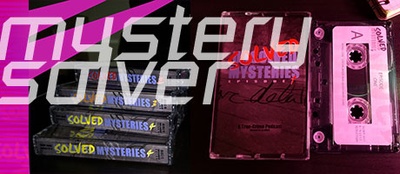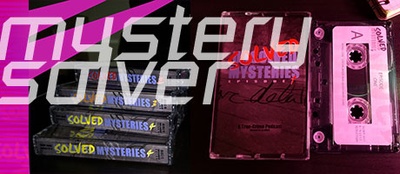 MYSTERY SOLVER will give you the exclusive content from Patreon, early access to some content, a thank you, and your name in the credits of all the content produced in that month or the month after, under the title "MYSTERY SOLVER".

It unlocks all the stuff...And...

AND! You will receive an exclusive physical audio cassette release of an episode of the podcast once a month until you're caught up. From then on, you'll receive the newest episodes as they come out. This podcast is NOT monthly, but does have back episodes that are ready to be taped, assembled, and shipped.


About DESTRUCTOBLOG
I live in Japan and I make weird videos about living there, things I fix or make, cosplay DIY, and a podcast featuring sad-murder-people called
Solved/Unsovled Mysteries
about the 80s/90s TV show Unsolved Mysteries and how weird it is. That's become the main thing.
Do you like True Crime podcasts? Do you enjoy humor that makes you feel sad inside? You may enjoy the podcasts.

Do you want to visit Asia? Do you want to eat fried noodles, takoyaki, or suck the eyeballs directly from a fish's face in front of your horrified mother? I make videos in Japan.

Do you enjoy other things? Those are my favorite, please subscribe.

My tiers are relatively simple:
The First One
is like a tip jar for the channel. I appreciate it very much and you will be thanked. You will receive my Patreon blog posts, but not the extra video posts.
The Middle One
will grant you some exclusive video content, some early content, a thank you, and your name in the credits for whatever I make that month or maybe the month after if it's a little late.
MYSTERY SOLVER
is for people who are big fans of the podcast and want to pay for a physical cassette release of it. You get one episode per month until you're out of episodes, then you get the newest ones as they come out. Only ten per month are possible (hand-made items.)
If you contribute to this Patreon you're insuring that I can keep making things. It's expensive and time-consuming to do things, and if you like the stuff I do, it would be nice to help fund the channel.
I, at this point anyway, don't run on ads on anything I make. If you see ads, that content has been claimed by another company and they are receiving ad revenue.
The main draw to this channel lately has been the podcast, and if my goal is fulfilled, I can make more time to make the podcast once a month or so. Each one takes like 100 hours to complete. Your donation would help pay for my time off of my other jobs, buy equipment to make it look and sound better, and more likely to help purchase research materials like books and pay for document archive services.
This channel is also a place for me to make DIY tutorials, video essays and brief reviews of things. I have a variety of stuff on the channel. I like to have fun with it and be creative. This feels like a bad OK Cupid profile now.
Go ahead and take a look on YouTube to see whether or not it makes you want to claw your eyes out of their sockets.

The videos can be viewed at : https://www.youtube.com/channel/UCqYKFQ6y_CVmVc6wS...

The podcast is now on iTunes! Castbox! Podcast Addict!!

Castbox Show Link: https://castbox.fm/channel/SOLVED%2FUnsolved-Myst...

My website (which is a tad old): http://www.destructoblog.com/

Thanks for checking the page out.
-K
I'll hold myself to a stricter schedule for podcast releases, once every month or two.

1 of 2
Become a patron to
Connect via private message
Recent posts by DESTRUCTOBLOG
How it works
Get started in 2 minutes