Devin Berglund Joubert
is creating stories & motivation for writers ✨
Select a membership level
The Writer's Club
Access to monthly writing prompts, challenges, tips, and more posted on the Patreon Group)

Author Resource Library
You'll get access to the Writer's Club monthly tips, prompts, and challenges and also the Author Resource Library. This is perfect for any writer who wants to get inspiration and create new stories.

Story Life Notebook - digital collection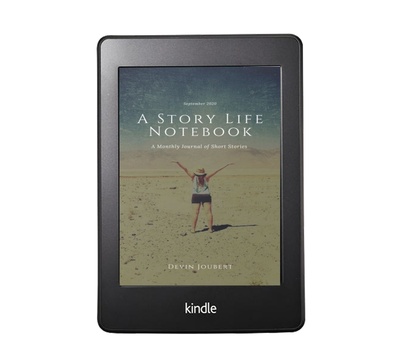 You'll get access to The Story Life Notebook which is a digital journal of the short stories written the month you funded. It will be available in .mobi and .epub formats. You'll also get access to the prior tier levels.

About
// ABOUT ME \\

Hello!! My name is Devin Joubert (Pronounced "yo-bear") and I've been writing stories since I could hold a pen. I started pursuing publication back in 2011. I am a full-time writer who loves to write contemporary, chick lit, historical fiction, and Fantasy.
I'm working on a contemporary fictional novel about a couple who met abroad and shows their long-distance relationship journey to finding & keeping their love.
I have a few projects published as well: one non-fiction book on the creative life (Creating Your Best Life) and a collection of short stories about fictional couples in long-distance relationships (Across The Distance).
Besides storytelling, I also have experience with blogging and social media since I've worked with them for close to 14ish years. After many years of working the 9-5 J.O.B. I am now finally working toward my dream of being a best-selling author. I love working for myself and want to help others chase their dreams too!!!
// WHY PATREON? \\
They designed Patreon for people to support their favorite creators, allowing writers like me to have more time and ability to write, so we can give more to you in return!
Creating for a living can be unpredictable. Obviously. So this kind of support is HUGE. I love I'm able to not just accept support, but provide information to you in return.
// WHAT DO YOU OFFER? \\


FIRST OFF, EDUCATION: I've created a helpful
Resource Library
for patrons which is filled with tips and information on writing, plotting, editing, blogging, social media, publishing, marketing, and much more from me and other talented authors.
The Writing Mastermind Video Club
is a wonderful way to supercharge your writing. You'll get access to YouTube videos before anyone else as well as access to special courses and special masterminds on different themes like "Preptober" which is coming in October 2020.
I've worked with some of the best marketing and social media strategizing companies so I have a lot of information to share that'll help you achieve your dreams of finding more followers and readers as well.
INSPIRATION & MOTIVATION: We also have
The Readers Club (a monthly e-zine),
which will be sent out monthly (toward the end of the month) with the month's short stories. You'll also get a digital early-reader copy of all books you've given funding for, before anyone else.
MY CREATIONS:
I'll always share my creations with my Patrons before sharing it with anyone else.
This will include title and cover reveals, blurb reveals, book trailer reveals, and more! If I'm creating something, I want to bring it here first!
Every single month I'll be re-evaluating what's working and what could be better, so be sure to take a look at the tiers on the right and let me know what you're looking for if there's something you'd love to see added. I'm excited to connect with you!
Devin Joubert
// FREQUENTLY ASKED QUESTIONS \\

Q: Can I change my tier, if I change my mind?
A: Absolutely! Do whatever works for you! I'm grateful for your support at whatever level you can do, so if you change, just switch before the new month starts. You can change your tier up, down, or stop for a month as needed. (Changing mid-month or at the beginning of the month DOES get confusing though as Patreon doesn't let me know if you had rewards once you move, so if you choose a tier with rewards please do NOT change until near the end of the month when rewards have been delivered! :)

Q: Can I tell my friends about this page?

A: Yes, totally please do!!! If you feel like there is a lot of value here and/or you want to support me as an author then it helps me out a ton if you share with your friends, I would love that! (Thank you so much in advance!)
We will have a live ZOOM hangout where we talk about writing when we reach $50!! :)
1 of 4
By becoming a patron, you'll instantly unlock access to 1 exclusive post
By becoming a patron, you'll instantly unlock access to 1 exclusive post
Recent posts by Devin Berglund Joubert