Diana Oh
is creating Music, Videos, Art, Performance, and The Undefinable
Select a membership level
HOT REGARDS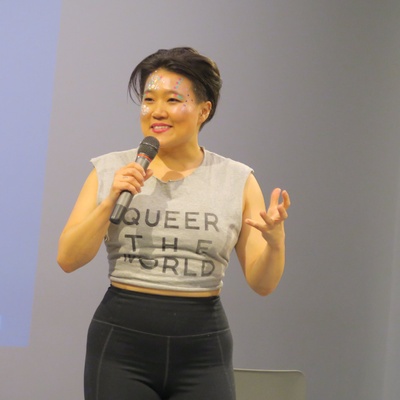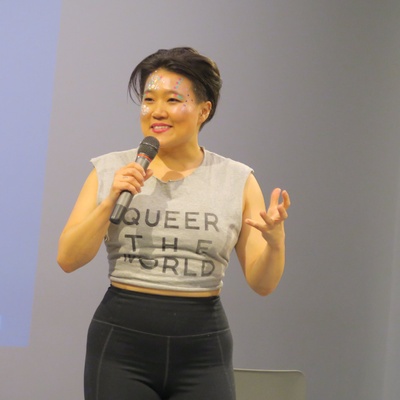 Thank you for supporting me.
Alright friends, this is how this is gonna work. 
You give what you can. If you have followed me and my work -- this is a platform for me to be in charge of my voice and continue making work that is true to me. Artistic Independence is the Quantum Leap - it's where the real real lives. My goal is to tour with my music, and continue making undefinable art. This is the platform where you are able to give energy to an artist. And I thank you for supporting me here -- it allows me to be a better artist. This is simply recycling. Please lovingly recycle your money here. And I promise to generate work that is true to me that I will exclusively share with you, which is ultimately all I can ever ask for -- art that is true to the artist's voice. Honest and transparent support from my authentic community is how I can breathe more fully into my voice. This means music you can listen to. Parties you can attend. Installations to interact with. Videos you can connect with. Concerts for you to lose your mind at. Energy inspires energy. May the art I create inspire you to live the life of your dreams. I certainly intend to live the life of my own. Thank you for helping me become the highest manifestation of my soul's desire. Thank you for the support.
About Diana Oh
Hi, I'm Diana Oh.
And if you know me then you know that I'm obsessed with creating art on my own terms. I'm on Patreon because it helps me make the undefinable work that I don't have to wait for anyone's permission to make. It's exciting. I'm excited. I love sharing it with you. You can catch some of my art for free at www.dianaoh.co and I invite you to show your support on my Patreon. In exchange, you'll receive what I believe to be Monthly Meals for the Soul: It's Art from My Heart: From my Vast AF Vault. 

ABOUT ME:

DIANA OH (THEY/SHE) IS A
MULTI-GENRE PERFORMER, PUNK GODDEX, SINGER, SONGWRITER, MUSICIAN, ACTOR, AND CREATOR OF PERFORMANCE, INSTALLATION, CONCERT, RITUAL, AND PARTY
. AN OPEN CHANNEL TO THE ART THAT FEELS GOOD TO THEIR BODY. A FEEDER OF THE SOUL. A NON-CONFORMING FREE SPIRIT. PASSIONATE ABOUT DECOLONIZING & QUEERING PROCESSES, OH IS DRIVEN MOST BY PLEASURE, MUTUAL CARE, AND KEEPING THINGS HEART-CENTERED.
OH IS THE CREATOR AND PERFORMER OF
{MY LINGERIE PLAY}
WITH NATIONAL UNDERGROUND INSTALLATIONS AND CONCERT STAGED IN AN EFFORT TO PROVIDE A SAFER, MORE COURAGEOUS WORLD FOR WOMEN, QUEER, TRANS, AND NON-BINARY HUMANS TO LIVE IN,
CLAIRVOYANCE
(HER YEARLONG INSTALLATION, CONCERT SERIES, AND TREE PLANTING IN HARVARD YARD, THE BOSTON PUBLIC LIBRARY, INSTITUTE OF CONTEMPORARY ART, HARVARD ARBORETUM AND A.R.T.),
THE INFINITE LOVE PARTY
: AN INTENTIONAL BAREFOOT POTLUCK DINNER, DANCE PARTY, AND SLEEPOVER FOR QTPOC AND THEIR ALLIES (BUSHWICK STARR), ASIAN PEOPLE ARE NOT MAGICIANS (
MIC.COM
) AND
MY H8 LETTER 2 THE GR8 AMERICAN THEATRE
(THE PUBLIC THEATER). TV/FILM:
QUEERING
, HOW TO BE SINGLE (WITH DAKOTA JOHNSON),
NEW YORK IS DEAD
(TRIBECA FILM FEST WITH ANA GASTEYER),
HEY YUN
(FEAT. ON JANET MOCK), AND 
UNICORNLAND
(FEAT. MEDIUM). AS A
REFINERY29 TOP LGBTQ INFLUENCER
,
THE FIRST QUEER KOREAN-AMERICAN INTERVIEWED ON KOREAN BROADCAST RADIO
, A TOW FELLOW (RATTLESTICK PLAYWRIGHTS THEATRE), VAN LIER FELLOW IN ACTING (ASIAN AMERICAN ARTS ALLIANCE), VENTUROUS CAPITAL FELLOW, SUNDANCE INSTITUTE FELLOW, WRITER WITH THE PUBLIC THEATER'S MOBILE UNIT AND EWG, OH TOURS WITH THEIR ART IN UNEXPECTED SPACES AND ENJOYS NOT FITTING INTO BOXES. THE NEW YORK TIMES CALLS OH "IRREVERENT," YOU CAN CALL HER "FRIEND."
By becoming a patron, you'll instantly unlock access to 26 exclusive posts
By becoming a patron, you'll instantly unlock access to 26 exclusive posts
How it works
Get started in 2 minutes