AstroArtistry by Dianna Fontes.Artist
is creating Process Based Art+Astrology | Creating Space for Magic
Select a membership level
MAGICmooning Astrology Zines
MAGICmooning Astrology Zines for Each Sun Season. 
The Zines are released a few days before the Sun changes signs. The Zines are hand drawn zines designed to teach you about each Zodiac Sign as you experience the Sun in that area of your chart. It features Astro 101 info on that Sign as well as the planet that rules it. There are keywords, archetypes and descriptions of that Zodiac Sign, Ruling Planet and the house it's generally associated with. it has a blank natal chart page where you can draw in your chart and learn how to watch the Sun, Moon and other planets travel around the chart and aspecting your natal planets. 

These cute little zines are easy to download, print and fold for a pocket sized guide to tracking the Moon in your chart. Partner these with my social media posts about where the Moon currently is and how those vibes might be influencing or impacting you. 

These zines are available for purchase on my website for $4/each

PBA Babe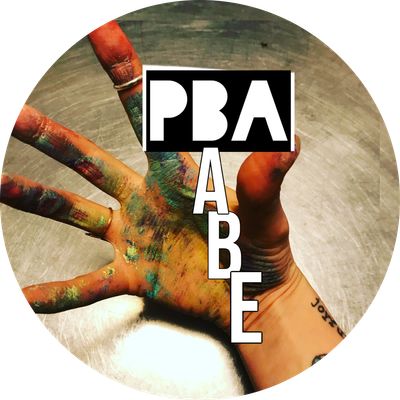 Want some techniques & tips on making art "just for fun"? This tier will receive emails with videos & tips on how to use Process Based Art for healing, mediation, magic or just because. Guess what? YOU are creative and I can prove it to you.
You'll also have access to a private group where you can see my pieces come to life with a series of live videos, process photos and time lapse videos.
Each Patron on this tier is entered to win an online coLABorate-PLAYdate - A private online session talking about Process Based Art techniques and using ordinary art supplies to make art. 
Each Patron is entered to win a real piece of art each month.
MAGICmooning MoonScopes
This tier will have access to the MAGICmooning Moon Scopes and the MAGICmooning Sun Season Astrology Zines. The MoonScopes will come a week in advance of my social media and blog posts so you can use them to plan ahead and prepare for the weathers. They include information about the Moon's transits thru the Zodiac that week AND info about the phases, elements and more. They offer special Moon Magic tips for the important Moon Phases too. These will be published on Wednesdays, for the following week. You can download the worksheets and keep them with your Astrology Zine for easy tracking.  

About
Hello Babes!

I am so grateful you've found me here on this new platform. I am really excited to see how Patreon WeRKs!

If you already know either my Creative or Astrological WeRK, thank you for supporting my progress on social media. I hope this platform gives us a deeper connection AND I hope it allows you better access to the tools & insights I am striving to share.



I am finally doing this fancy Patreon
thang
in the hopes that I can begin to live my life on purpose, ie; THRIVE as a FULL TIME, SELF EMPLOYED ARTIST and ASTROLOGER. I have invested a great deal into my education and my business in order to share my gifts with the world. I've been offering a lot of valuable content for free for the last few years and now I'd like to shift the collective mindset about how artists are valued. I want to transition to a more equitable, sustainable relationship with folx who love my WeRK...because I LOVE MY WeRK.
I love making things, sharing my processes & thoughts, and connecting with YOU. I also love buying materials, paying my business expenses and eating (Cancer Rising here, I LOVE EATING!!). I think part of my mission is to change the paradigm that artists don't deserve to do more than just survive. I am NOT a starving artist; I AM A THRIVING ARTIST. How can I make this happen? Patreon has become a great way for artists and their audiences to meet in the middle when it comes to this. A few bucks from a bunch of peeps makes for a sustainable system. Economics really is magic babes!
Why Patreon?
It offers a unique platform for creatives to engage with audiences that do want to contribute a few dollars to get the content they love. Not sure how to use Patreon…that's cool, they will show you. For a general understanding of this platform click
HERE
to see how it works. (I am still learning a lot about it too so if you have questions I am happy to try to answer them but you can also reach out to the crew at Patreon, they get paid too so they are super helpful!)
The Patreon basics:
you give Patreon your payment info and they regularly charge you the amounts you choose at the end every month. They then send me most of that money to support my WeRK and my COST of doing business AND you get early and exclusive access to my best content first. (Yes, they take a fee - and they should!)
What are you paying for?
You select a "tier" or "tiers" from my list on the right. You pay that amount each month and you get whatever is listed within that offering. As I grow and this becomes a stronger source of revenue for me I add more and more options and tiers to the list.
You can also decide to simply donate one time right
here
.
My intention
here is to make my creative & astrological offerings into the biggest part of my actual, every day job! I'd love to make process based art videos and astrology memes, forecasts & updates all day. If that's what you like to see then that's what I'll do. I'd also love to start offering the Astrology & Art classes and workshops y'all always ask me for! This platform is perfect for all of that and more! I'd also love to hear more about what you WANT to see me do. You can let me know what you'd like to see more of
here
.
I do hope you'll become a Patron of my work. I hope you'll explore this platform and see if you can become the Patron to several creative folx. It literally means the world to us to know that you care enough about what we are offering to pay a few bucks toward our projects & services.
I am so grateful for your support; words won't really ever capture it.

AN INTRO VIDEO IS COMING SOON….
Wanna know more about me, my process and my creative WeRK?
Click Here.
$205.25 of $250
per month
When I reach this goal I will add new tiers that include:
Printable Weekly Worksheets that compliment the MAGICmooning Moon Scopes. Use them as planner sheets, writing prompts, tracking goal sheets and more! Each weekly sheet is hand drawn and emailed as a printable two page PDF document. 
1 of 3
Become a patron to
Unlock 102 exclusive posts
Connect via private message
Recent posts by AstroArtistry by Dianna Fontes.Artist
How it works
Get started in 2 minutes