Dianne Durante
is creating books & videos on art and history
Select a membership level
First Sundays
Memory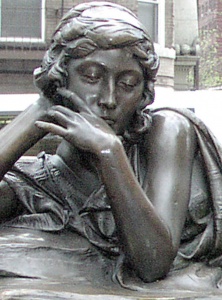 A weekly reminder that the world is full of gorgeous art. As a subscriber to Patreon at the $5 level, you'll receive four art-related recommendations every Sunday morning, and access to those and the week's blog post as videos. You'll also have access to an online compilation of recommendations, sorted by type of art. Samples: http://diannedurantewriter.com/archives/7793

About
Do you need a moment's rest, with a vision of the world as it can and ought to be? Join me in discovering art that's inspiring, thought-provoking, skillfully executed, and/or beautiful. My mission is to seek out that sort of art and share it (in jargon-free language) with those who need such emotional fuel, but don't have time to search it out.
Comments from members of the list:
Just have to tell you that I continue to enjoy very much much of the art, leads, etc., that you send my way. I don't get to peruse it as often as I'd like, but when I do – boy, it does me a world of good. -- Tara Smith, professor at U. Texas - Austin
Just a quick note to say that, while I don't always respond to your mailings, I always enjoy hearing your thoughts on art. -- Michael Wilkinson, sculptor
I devour and love each of your postings. -- Rand Scholet, founder of the Alexander Hamilton Awareness Society
Once again, Dianne, you've made my Sunday better, more brilliant, more beautiful. More interesting. Thank you. -- Steve B.
I keep your presentations so I can reread them but this one is very special. What a pleasure to read, and to reread!! -- Ro F.
You said, "If you enjoyed this email, ..." Well, a lot more than that. I spent 20 minutes following links; finished by putting Wonder Woman on my to-see list, and I don't go to movies about superheroes (only those about human heroes). Thank you for getting my motor started this morning. -- Eric K.
Here's one thought I've been meaning to send you, something I often think when I read your posts: You have created a most amazing career—looking for, researching and writing about beautiful and heroic creations. What an inspiring example for any child, and what a boon to all of your readers! Thank you so much for sharing these great values. -- Catherine D.
Please keep me on your list forever! No need to ever ask me again:) Thank you for being such an inspiration to me! -- Liz I.
The recommendations always include items you can enjoy quickly (sculpture, painting) as well as others you can spend more time with (literature, music). Patreon supporters have access to a compilation of all recommendations. For samples, see my
Top Recommendations of 2017
and
Top Recommendations of 2018
.
It means a great deal to me to have people indicate with cold, hard cash that they value what I produce. Your support energizes me as I search for the kind of art we love. Join me on a quest to make your life and mine more enjoyable!
CURRENT & UPCOMING PROJECTS
1.
Innovators in Painting
.
I've met people who believe they can't enjoy art unless they've taken two semesters of art history and understand post-structuralist logocentric subversions of ideological imagery. I wondered if I could boil the history of Western art down to its essentials, providing in a few hours a framework that would encourage people to explore fabulous artworks that have been created over thousands of years. Answer: Yes! I've done it by focusing on a handful of innovations that gave artists greater power to make viewers like you and me stop, look, and think about art. I offered
Innovators in Sculpture
as a walking tour of the Metropolitan Museum in 2010, and published it as a Kindle book in 2015.
Innovators in Painting
, which also began as a walking tour, has been on the back burner because I haven't had time to rework the draft. After I publish
Innovators in Painting
in Kindle form, I'll create a combined print-on-demand version that will include both sculpture and painting.
2. Henry Kitchell Webster,
Collected Short Works and Related Correspondence,
vol. 2 (1913-1914)
3.
Greek Art
: print and ebook versions of a series of ten lectures I gave in the early 1990s. The Greeks developed a skill at depicting the human form that far surpasses that of the other peoples of the ancient world, and has seldom been equaled since. They also showed man as a heroic being, which is even more rare than anatomical accuracy. This book will put Greek art in the context of historical events and of changes in philosophy in the broadest sense.
PROJECTS COMPLETED
with the support of Patreon subscribers (thank you all!):
Four-volume set on Alexander Hamilton (details
here
and
here
)
Central Park: The Early Years (details here)
From Portraits to Puddles: New York Memorials from the Civil War to the World Trade Center Memorial (here )
Artist-Entrepreneurs: Saint Gaudens, MacMonnies, and Parrish (here)
Getting More Enjoyment from Sculpture You Love (here)
Henry Kitchell Webster, Collected Short Works and Related Correspondence,vol. 1 (here)
An ongoing series of public YouTube videos

MORE PUBLISHED WORKS
You can see my approach to discussing art in the books and essays I've published, listed
on my website
and on
Amazon
.
When I've received $600, I'll take two days off my day job to work on drafting and editing Innovators in Painting.
1 of 3
Become a patron to
Unlock 221 exclusive posts
Connect via private message
Recent posts by Dianne Durante